Baguettes next batch! Grine… snapping and crackling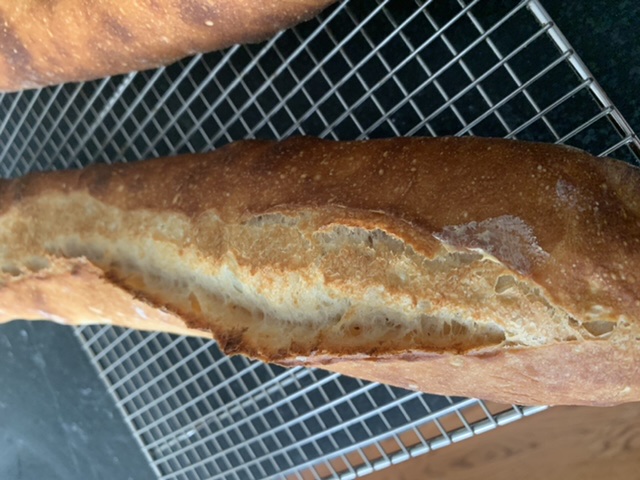 I

Incredible crumb . I'm using my stored YW starter not even building a levain. Can't believe how great these are coming out. 
am embarking on a journey to get a consistent baggie. This is my first batch. If I can keep this up I will be well pleased. Ease of making the dough, shaping, scoring, baking , crumb and most importantly flavor … everything went very well. 


I used the formula from the French baker video that was posted here a while back. He compared 3 French flours . I have T 65 so used that. I followed another baker's method. I wanted very little hands on and I got it. 


400g T 65
7 g salt
1.2g ADY 
40g active liquid starter 
264g filtered room temp water ( +10 g if needed) 
Whisk water yeast salt starter very well. Fold in flour till all very evenly wet. add 10g if needed. Cover rest 30 min. Fold on itself several times return to covered bowl. I  very lightly dust countertop and dough. 30 min do folds again. Should be non- sticky already and very extensible. 30 min do one last time. Dough should pull a window . Let rise til double. Covered retard in fridge overnight. Preshape 2 360g baguettes. Rest 30 min. Shape into 15-17" long rolls. Floured couche  covered til puffy . Preheated 500 degree  baking steel. Transfer loaves  razor blade for scoring and cover with a large lid( I used my graniteware roaster lid). Turn oven back to 460. 13 min covered . 10-12 min uncovered. 


I don't know how to post a video but the crackling and snapping was amazing! Fantastic flavor. Had ham and Swiss po boys. Just took two more out of oven and have a batch resting for tomorrow.