Oven set-up for evenly baked batards?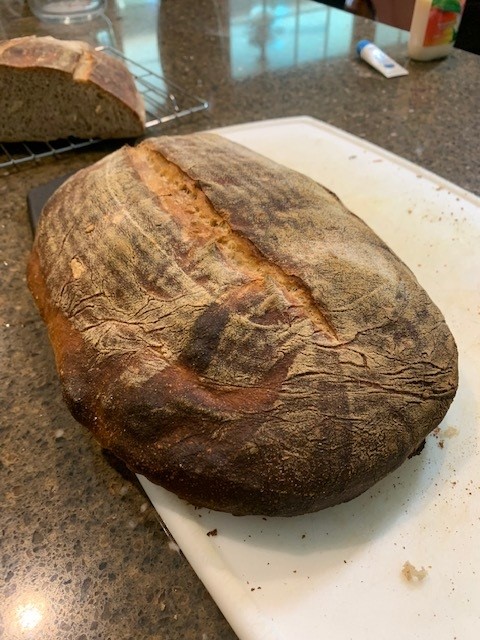 My first successful loaves were baked in closed dutch ovens but I've tried to move toward batards for ease of slicing, etc. Alas, I'm having inconsistent results, such as yesterday's result using Ken Forkish's Field Blend #2 formula (70% KA AP flour, 17.5% whole rye flour, 12.5% KA WW flour, 78% water, 2.1% salt, 0.2% yeast= 1/2 tsp, with 20% of flour from levain).
One problem I'm struggling with is over-baking of loaf tops and underbaking of the loaf bottoms.
On "bake" setting, my oven has heating elements both on top and on the bottom of the oven. I can't turn off the top heating element so have placed a baking sheet right below the top heating element in hope of protecting the loaf tops.  (It also has a convection bake where the heating element is at the back of the oven near a fan, which I do not use for bread baking.)
I placed the two batards on the baking stone and created steam by pouring boiling water onto the lava rocks shortly before and when loading the loaves. 
Yesterday's loaves seemed a bit overproofed and did not rise well in the oven. (I wonder if only a short bulk fermentation is needed for this formula in the summer months, or perhaps omitting or reducing the 1/2 tsp of yeast.) But I'd greatly appreciate advice about how to evenly bake the tops and bottoms of the loaves. 
Other variables:  I baked the loaves at 450 F per the oven thermometer shown above (which requires me to set the oven at 550 F). I preheated the oven for 45-50 minutes but wonder if the stone is still too cool for loading the bread. Perhaps with the stone and lava rocks between the bread and the bottom heating element, the oven remains consistently hotter above the bread than below. 
What oven set-ups have worked for other batard bakers?