Oat Porridge Sourdough (Tartine 3 Modified by Chelseasf @ The Fresh Loaf)
In planning meals for the week we decided that one night we wanted to just have a nice sandwich for dinner. A request was put in for an oat bread of some kind. Not having a go to recipe for this of course it was time to scour the fresh loaf. I ran across this beautiful post from Chelseasf and decided it was the way to go. I took her recipe and followed it but the hydration was way too high yet again. This is a trend I have seen in the Tartine recipes. I'm not sure how Chelseasf was able to produce such a beautiful loaf of bread. This one was another that got tossed into a loaf pan and baked off. 
I think I also ended up with a slightly over proved loaf as well as temperatures are on the rise and we all know weather will effect the bake. The results aren't bad but I honestly think could be much better. 
In an attempt to make sure that the bread was fully cooked I also ended up with a loaf that was a bit darker than ideal. Next time I will reduce the hydration (by adding in the oatmeal hydration into the overall hydration level). I really should not blindly follow directions and remember that soaker / porridge moisture must be included in the final calculations. 

RECIPE AND CALCULATIONS HERE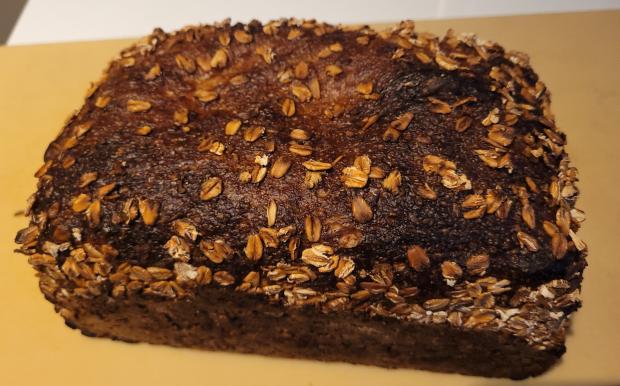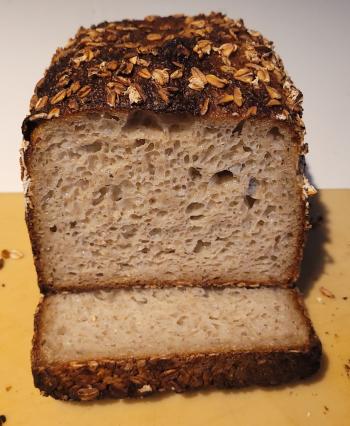 Tasting Notes: Just a good solid oat bread with a kick of sourdough flavor. Not super sour and the oats shine through. Crust is great but the crumb is a bit like a crumpet (again from the over hydration issue). I think with some adjustments this will be a super solid sandwich loaf. 
Time/Effort: 3 days (Growing Levain, Mixing Dough, Baking) Normal for sourdough for my process.
Would I make it again: Yes, with some adjustments for hydration. This strikes me as a very basic solid bread that will not be the focus of the meal but a good support for other things. Next time I need to do a sandwich loaf I can easily returning to this one.