92nd bake. 06/11/2022. Liezl Jayne's Oats & Seeds. 4th.
June 11, 2022.  92nd blogged bake.
This is Liezl Jayne's gluten-free Oats, Nuts, and Seeds bread.  It's also in the "Josey Baker Bread" book, with slightly different proportions, under the name Adventure Bread.
Recipe:
https://liezljayne.com/overnight-oat-nut-seed-bread-gluten-free/
I made a half batch for a mini loaf pan.
Submitted to the G/F Community Bake:
www.thefreshloaf.com/node/70572/impromptu-gluten-free-community-bake#comment-509641
Previous bakes here:
1. www.thefreshloaf.com/node/65803/21st-bake-09142020-oats-seeds
2. www.thefreshloaf.com/node/65927/23rd-bake-092620-oat-seed-2nd-try
3. www.thefreshloaf.com/node/66513/28th-bake-11292020-3rd-try-seeds-and-oats
I wasn't totally satisfied with my last attempt. It was delicious, but fell apart.
A comment here on TFL mentioned that ground psyllium husks behave and measure differently than whole psyllium husks, and that less is needed.  So instead of 2.5 tbsp of whole psyllium husks, I used 2 tbsp of ground psyllium husks.
Ingredients (full batch):
2 cups rolled oats (dry). I assume (and used) the thick old-fashioned variety, not the smaller quick-cook.
1/2 cup flax seeds (linseed).  I assume whole, and not toasted.
1/2 cup pumpkin seeds. I used dry-roasted ones.
1/2 cup sunflower seeds.  This time I used roasted-in-oil, but this came out a bit too oily,  so I will use dry-roasted next time.
1/2 cup raw almonds. 
4 Tablespoons chia seeds.  I used whole and dry ones.
5 Tablespoons psyllium husks. 
2 cups water. 
4 Tablespoons coconut oil (melted). 
2 teaspoons xylitol syrup (or 100% pure maple syrup, or honey). 
I used honey. 
1 teaspoon fine sea salt (1/2 teaspoon coarse). 
(makes roughly 12-16 slices) 
Instructions:
mix all of the ingredients together in a bowl until well blended. 
grease a bread pan with additional coconut oil. 
pour the batter into the bread pan and smooth out the top with a back of a spoon (can dip a spoon into melted coconut oil to help smooth it out). 
cover the filled bread pan with a cloth and leave it to sit overnight (or for 3-10 hours). 
preheat your oven to 180 degree's Celsius/ 360 Fahrenheit. 
place the bread pan in the oven and bake for 20 minutes. 
after 20 minutes remove the bread from the pan, and place it upside down on an oven tray. 
bake the bread for another 30-40 minutes (upside down). 
once the bread is baked, remove it from the oven and leave it to cool before cutting it (difficult because it smells so good, but important). 
once the bread has cooled, slice and serve. 
top with unsweetened nut butter, tahini, avocado, cashew nut cheese, eggs or any other topping of choice. 
eat & enjoy! 
once the bread has cooled fully, store in an airtight container in a cool place to keep fresh.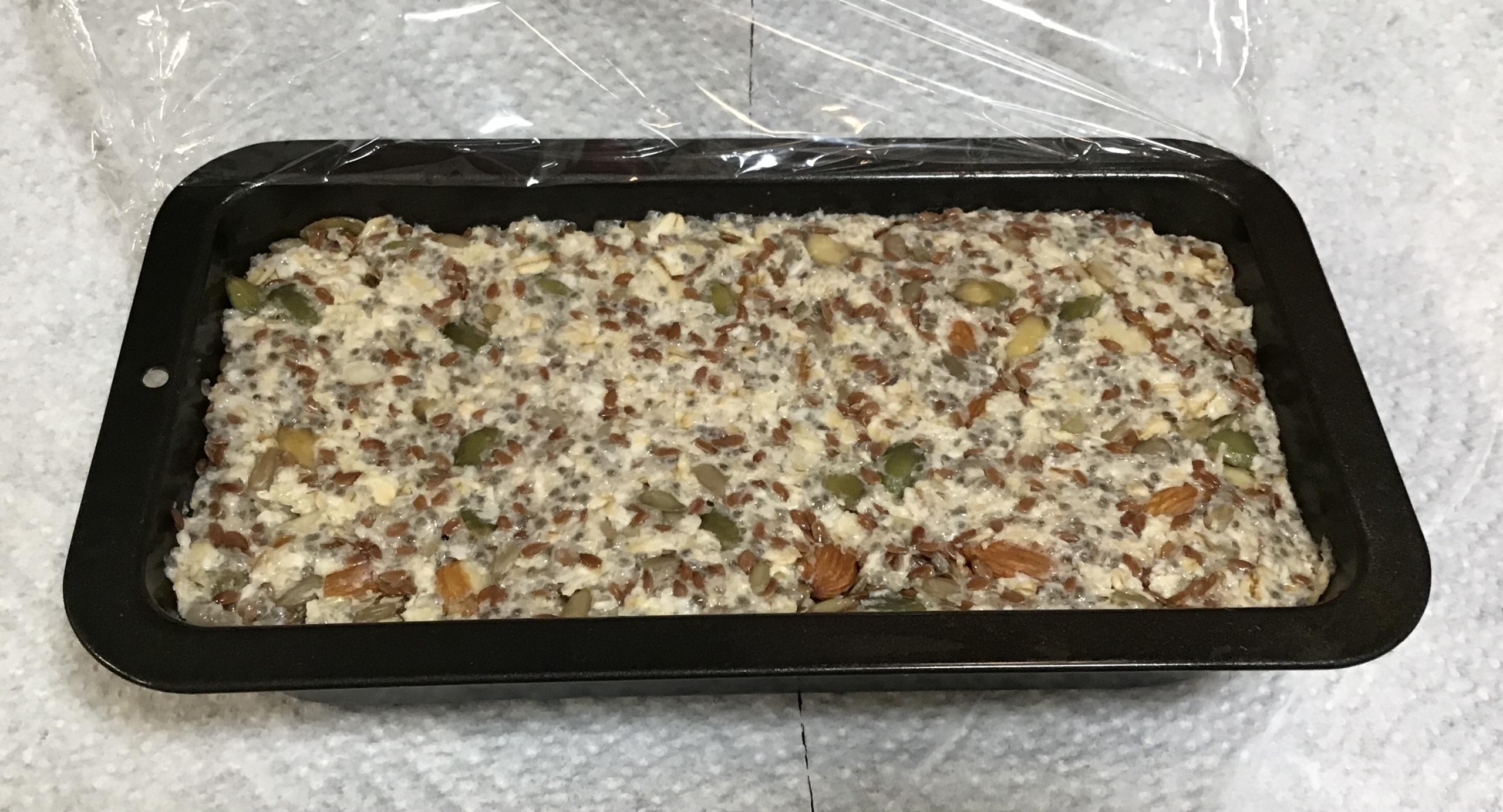 After baking, internal temp 208 F.