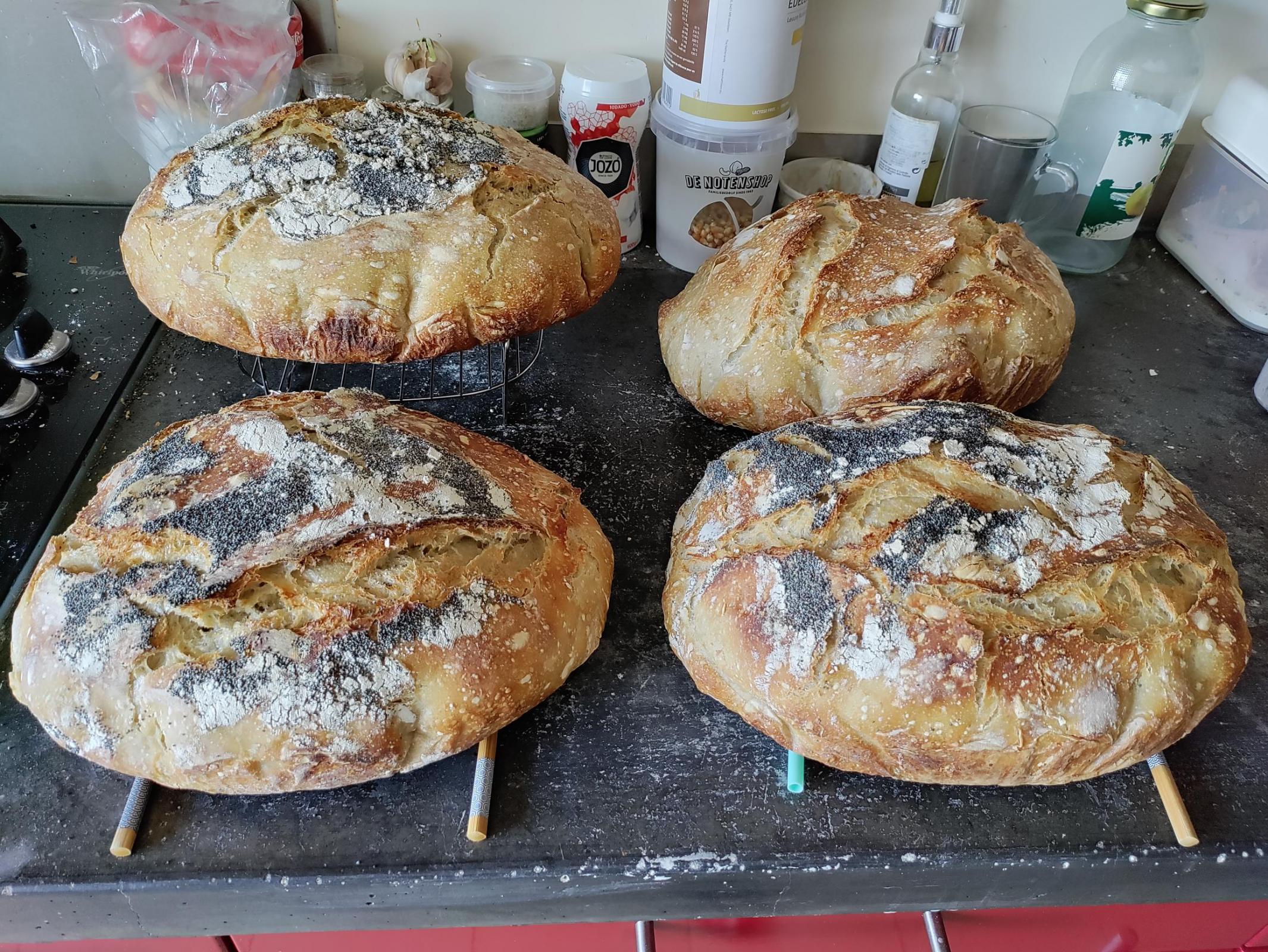 Hi forum - First post here, I thought I would share my little bread journey for now and ask for advice and opinions of what I might be doing wrong and what could be better. Beware, English is not my first language. I attached some photos for science. https://imgur.com/a/b5P75Xu
after few youtube videos, I made a sourdough starter with half whole meal and half white flour. Chose cheapest flour in supermarket as I got the impression it didn't matter. Its quite active, I keep in the fridge and feed it once a week, even though it goes down to the normal level in 4-5 days. But every time I feed it it bounces back, so I'm guessing its not an issue. I usually feed it once then feed it a second time. The second time is what I use to bake. When its risen to the max, I use it. I feed it 100g water, 50g whole meal and 50g white.
I follow these measurements :
1000g Flour (75%white and 25% whole meal)
700g water
150g started
15g salt
I mix everything then let it autolyze 30 minutes before slap an fold on the counter. I usually do that for like 4-5 minutes until it gets well together then put it in a bowl and start stretch and fold after 30 minutes, then every 30 minutes for 2 hours. I then put it in the fridge overnight. In the morning, I take it out and let it rest 30 minutes before taking it out of the bowl. I place it on a gently floured surface and then stretch it in a long way and fold it 3 folds. Then I roll it and make it roundish before putting it in the bowl again. 
I start to heat my oven and dutch oven at 230C for about 45 minute and then put the dough in the oven for 30 minutes covered and then 30 minutes uncovered at 200C. Comes it quite tasty and nice most of the times!
Questions maybe you can help to avoid me doing lots of trial and error:
- What happens if I cook it longer with the lid on ? or shorter? 
- What happens if I cook it at higher temperatures ? 
- Why is my dough falling apart after the day in the fridge ? I think I should get it to be stronger. Its the same when I remove it to put in the over, it falls apart, but it still rises and its delicious. 
- Does the thickness of the Dutch oven impact the bake ? If so, how ?
- Am I wrong to assume that I should see bigger holes in my bread?
- I usually slice and freeze in ziplock bags. Any more eco-friendly way to keep bread in the freezer?
- Can I safely swap flour brands without killing my starter ? as long as I'm using 50% Whole meal and 50% white.
thank you :)