3rd loaf attempt still going wrong :(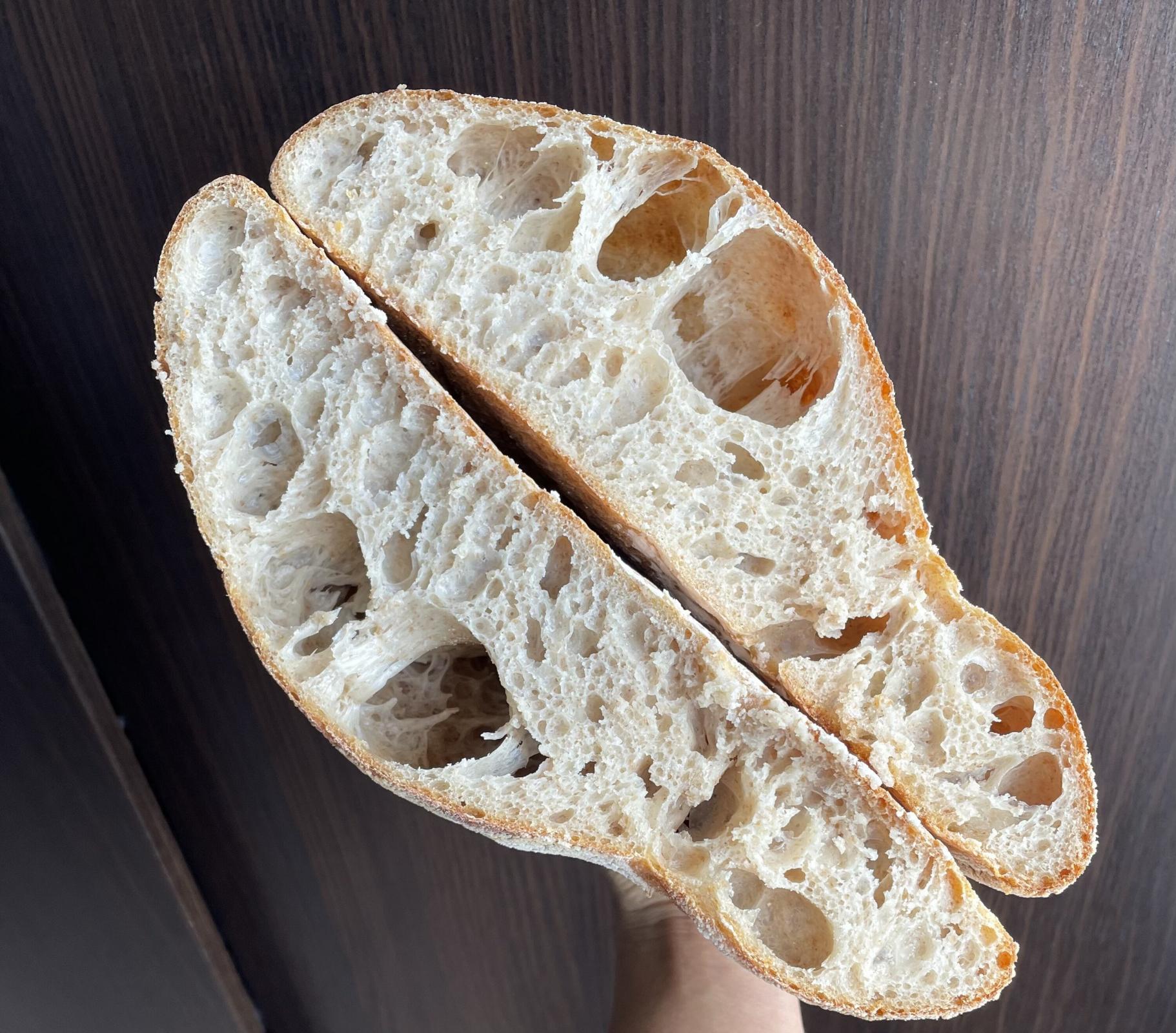 3rd attempt and it's still going the same! All my loaves look like flat discs and have crumb separation at the top, you can see the pyramid shape too where I 'slashed' it (with scissors, no razor blade), and it collapsed. This is after I've taken lovely advice from a previous post :(.
Please correct me if I'm wrong but this is overproofed right? Having taken previous advice and from hours of researching I followed all the possible videos on shaping and building dough strength. I created my surface tension, there was a beautiful windowpane at the end of bulk.
I was definitely overproofing previously but I still don't get what's going on, process below.
Maurzio's: https://www.theperfectloaf.com/best-sourdough-recipe/#tasty-recipes-11311-jump-target.
I did an overnight levain instead, fed my starter 1:5:5 the night before and used 75g as recipe states. Made an autolyse as instructed too. I used the slap and fold technique to incorporate the starter, then rested for 30 minutes to add the salt and extra water. Did a lamination fold after this, I also took a sample for my aliquot jar. Calculated my hydration to be 80% (is this too high? But my dough holds up very nicely?).
3 sets of stretches and folds and 3 sets of coil folds (bit more gentle near the end) every 30 minutes. Then I rested until it had been total 5 hours of bulk fermentation (from when I added the starter). The dough was kept in my oven with the light on, along with my aliquot. I had all the signs of a good bulk and none of overproofing. Aliquot had risen about 25%, dough had lots of bubbles on the top, few on the sides. It was doming nicely at the edges, and when stretching a small piece had an AMAZING strong windowpane. Cute little wobble too.
Pre-shaped, no tearing, it came out of the bowl cleanly. Rested for 30 minutes then final shaped, making sure not to use too much flour, degass big folding bubbles, and creating surface tension. Dough didn't spread too much, as I've experience previously. Then put in a bowl lined with a towel and rice flour (not a banneton xx) and stuck in the fridge for 13 hours.  I like to think it passed the poke test, but the dent didn't completely fill up, hence why I'm thinking overproof?
For baking, I preheated my oven to 250C, with a baking stone in the middle, and a roasting tin on the bottom. I took my loaf out and it was the least it's ever spread, so I was hopeful. As soon as I cut it started to spread and my heart sunk. Slid my loaf in, poured boiling water on the bottom and turned oven down to 230C. Steam bake for 20 minutes, and there was definitely enough, I could see it rising from the oven vent even at the 20 minute mark, then another 25 minutes until I was happy with the crust colour.
I've taken all the advice I've been given but am still not sure what stage is going wrong! Is my fridge too warm? Should I stop bulk earlier? Is my shaping that awful? Is my oven too hot? Please help!