Benito's 100% Whole Wheat Sourdough Hokkaido Milk Bread 2.0
Should have made this one sooner. Benny has hit on something really lovely here with 100% WW Hokkaido milk breads, and the recipe is simply superb.

This bake was done by following his 2.0 version of the recipe as his later versions seemed to show that a small amount vital wheat gluten was a good thing.

As always there are some deviations. Obviously my flour was different. I used a 'sprouted' hard-white wholemeal flour for this bread. Normally that flour is a little bland and doesn't make much of a crust, but it actually was perfect for this recipe and is actually the locally grown flour with the highest protein that I can find.

Another thing is that my usual sourdough starter seems to be a little bit of a delayed bloomer sometimes on sugary doughs. When I looked at the sweet stiff levain there was growth after 12 or 13 hours, but nothing like Benny showed in his pics: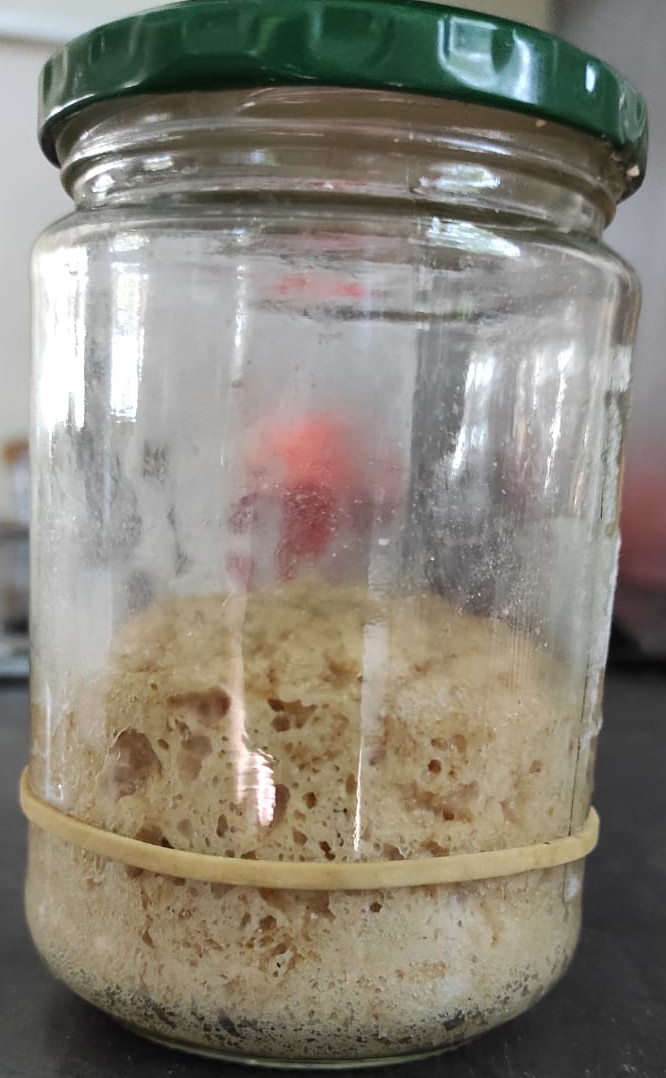 So, I got a little nervous that this one would just take forever and did substitute 10g of the full-cream milk with some yeast water to act as insurance (taken from the sediment at the bottom of the jar, which I believe to be more potent). I did also keep back 20g of the milk as per the recommendation. I do think that culturing a sweet stiff levain for a few days before the next bake might be prudent for getting a starter that is already acclimatized to enriched doughs.

The other thing is that most of the common loaf pans in my part of the world are broad and flat rather than the classical "Pullman" shape. I do have a Zenker pan which is a little like the Pullman, but that is one huge pan! So, I opted for one of my medium sized pans that is a little broader and fatter - 24cm X 7cm X 13cm, just a touch smaller in volume than Benny's recipe, but I didn't scale down the recipe and kept it the same.

The new video from Benny with the shaping is what finally planted the idea in my mind that I need to make the bread. Shaping was fun, although I did struggle to make 4 identical rolls, as usual could get 3 the same, but the 4th, well, there is always one. And maybe with some experience I'll eventually be able to roll them up so that the centres of the rolls don't stick out on the ends. But the rolls were super tight and strong and could feel that they were ready to give good oven spring when they went into the pan.

When it came to the final proof, I did find that the bread was looking quite ready for baking at about 4 hours after shaping, judging by the aliquot jar: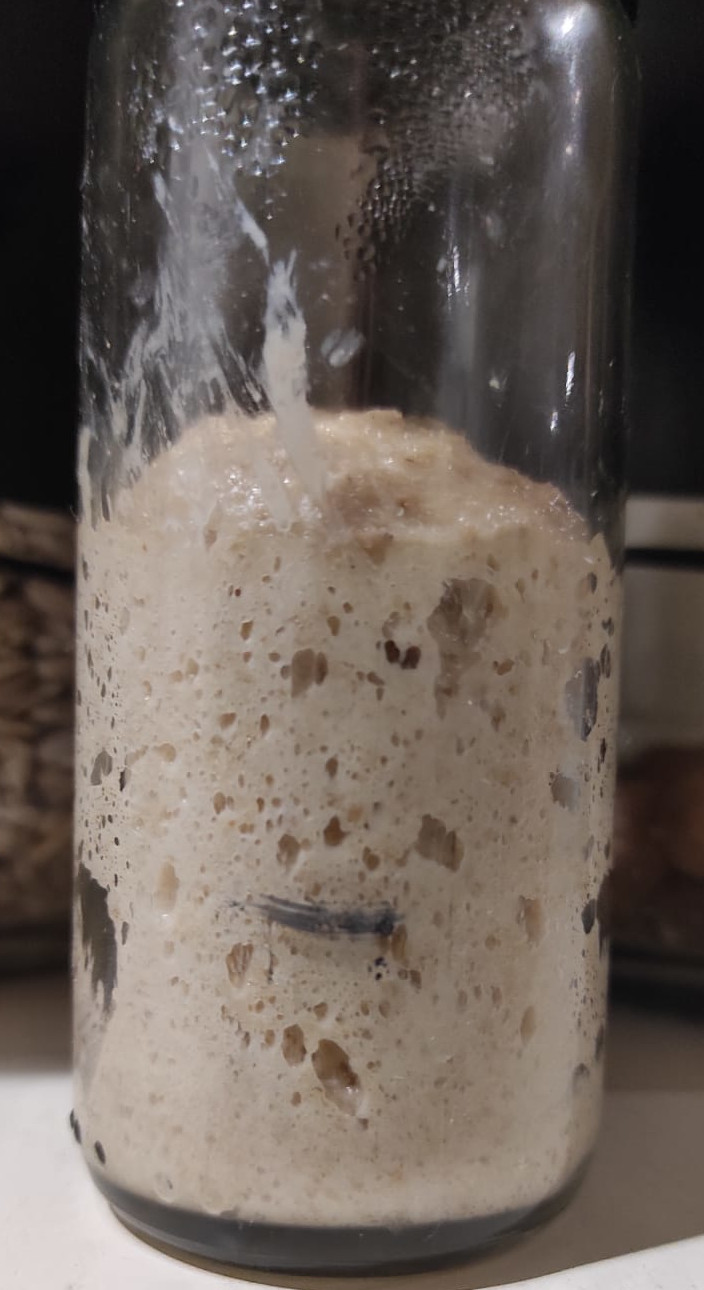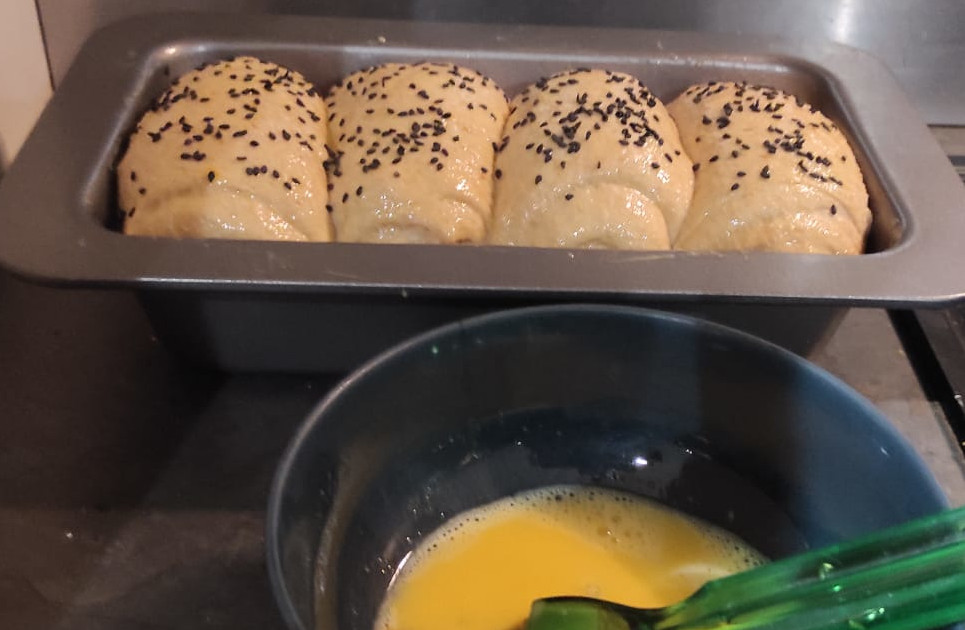 I could have gone an extra hour (to 5 hours), as the aliquot jar after baking looked like this after baking, but was worried about overflowing the pan spectacularly and still got great oven spring: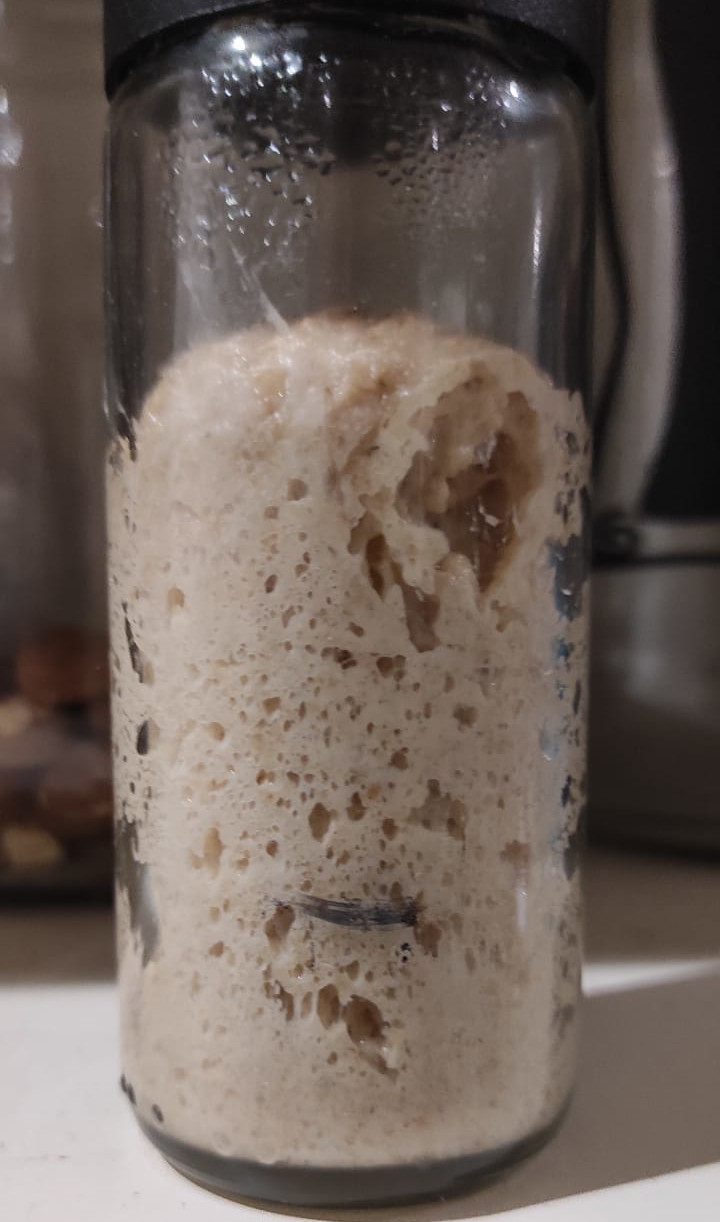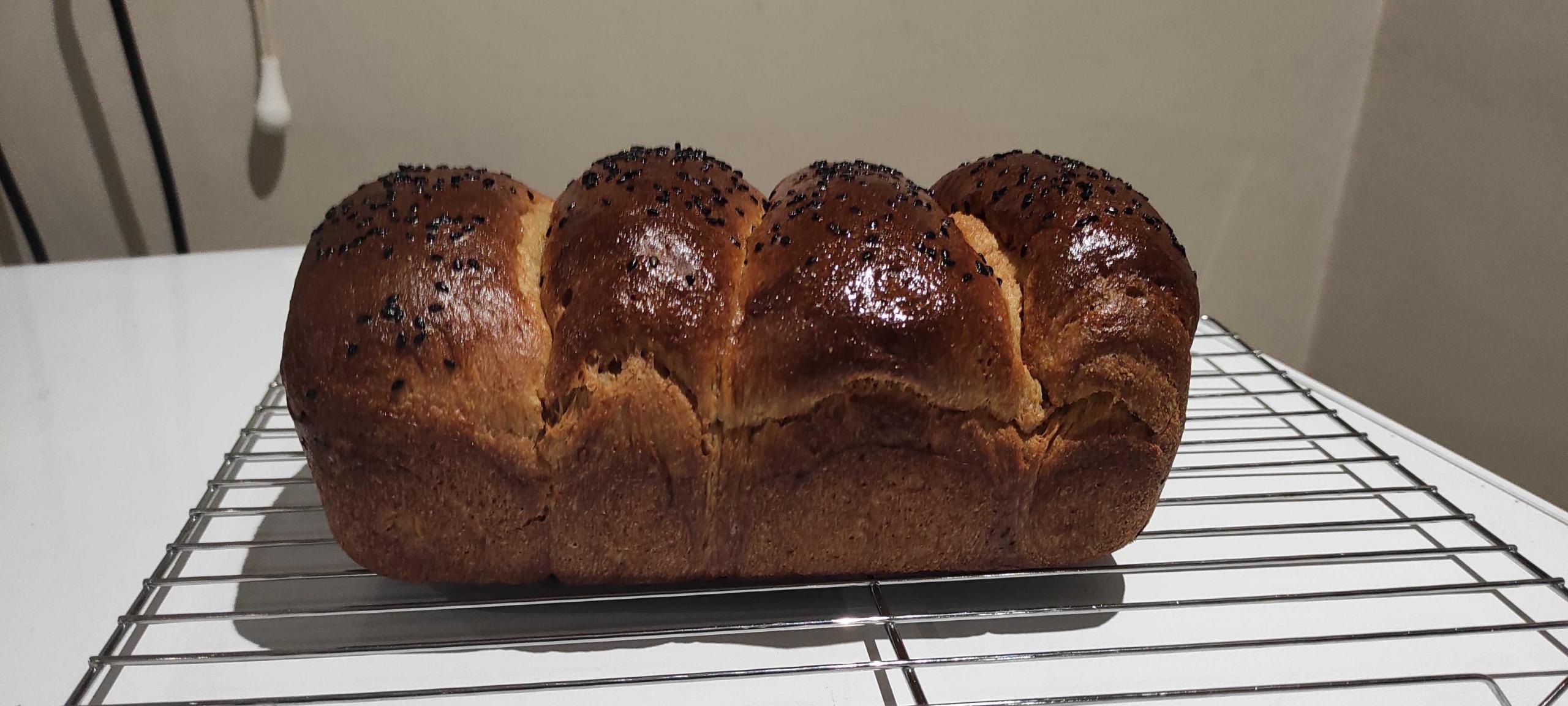 There's a chance that the YW gave this a speedier ferment, also, I think using a sprouted flour might have given some boost.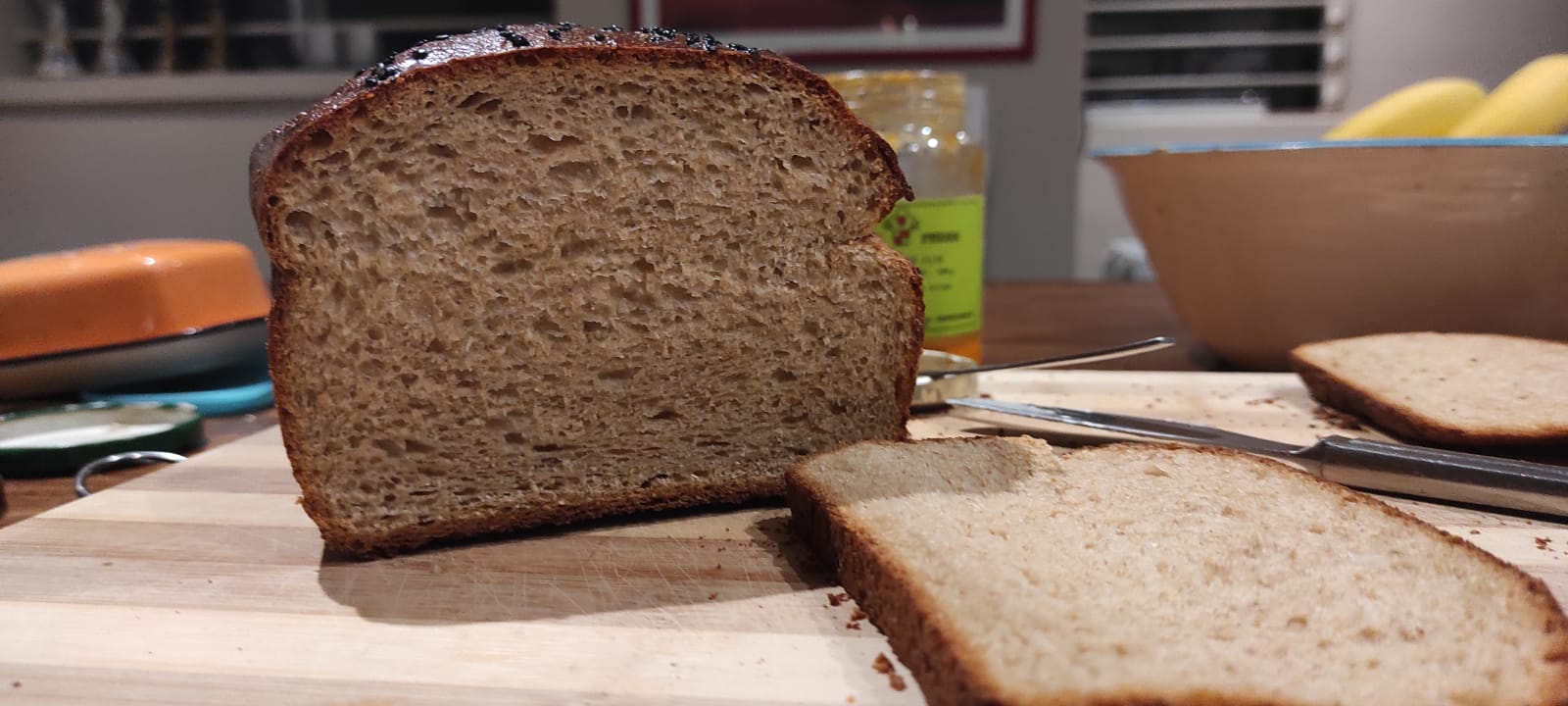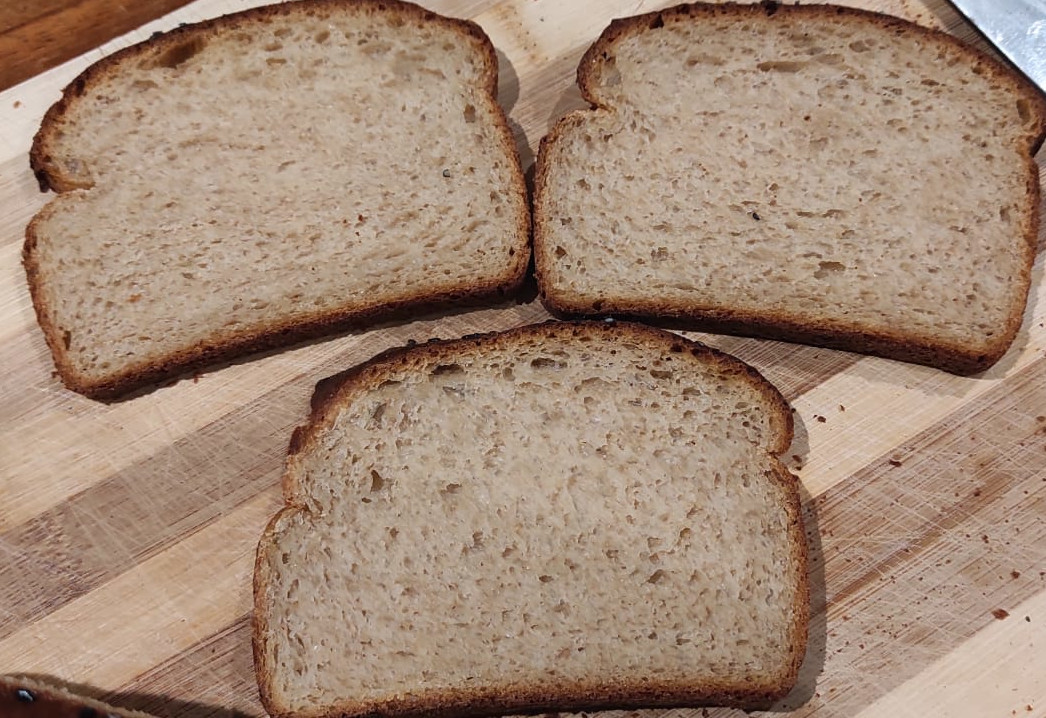 The amazing thing about this bread is I couldn't believe it was 100% whole grain, it is super soft and doesn't have that astringent whole wheat taste that you can sometimes get. Using a hard white flour was a good choice, it turned out, although I probably will throw in some red wheat next time, or try another wholewheat altogether just to see the difference. The smell after baking was particularly intoxicating and the kids and I just hovered near the kitchen waiting long enough for it to cool down to taste. Super bread and super recipe, highly recommended.
-Jon