February 21, 2022 - 5:14am
YW 86% rye 13" Pullman loaf 1862g TDW
Delicious! I wrapped the finished 13" Pullman loaf in linen towels and left it 24 hrs. Like a tender rich cake. Very cool mouth feel and a lovely crisp  deep toasted crust due to plenty of butter to prevent sticking. This dough was WET! It contained 2 YW levains one white and one Rye . It also contains my trinity of EVOO -honey - yogurt. 


I saw it rising in a VERY uniform fashion as I did the bulk ferment in the pan. I counted the ridges on the pan sides to watch the progress. At one hour I saw one bubble break the surface! Triumph Paul said stop the room temp ferment immediately and I did. It continued to rise in the fridge with the cover on while it retarded till the next morning. Baked at 450 top on 20 min lowered to 400 for 20 min top on then 25 min top off. Couldn't be happier. Such an easy rye . One bowl one pan stir proof retard bake. Can't ask for more balanced flavor or a more beautiful crumb.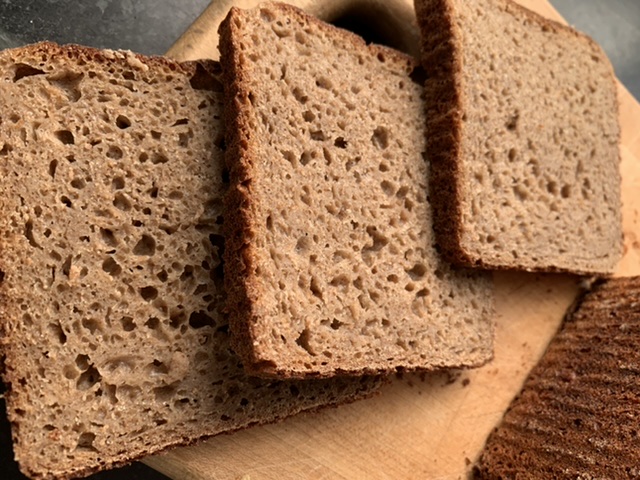 Make levains 35g white starter feed with 125g YW 125g T65 ( or other white flour)
                      35g rye starter     feed with 125g YW 125g rye flour ( all rye was ground slightly coarse in Mock Mill) 
ferment till fully developed. Overnight in the microwave with light on produced great growth. 
Dough. I autolysed the the dough ingredients separately from the levain at room temp overnight due to the coarse grind. 
627g coarse rye Mock Mill
557 filtered room temp H2O
90 g total Trinity - 30g each EVOO/honey/yogurt
18g salt
Mix everything together the next AM making sure it is all blended. Easy to do by hand. Butter your large Pullman and lid very very well. Place dough in and smooth top with a wet spatula. Leave in a warm place, I used the radiator in a sunny window. Mine took only one hour to see the " first fermentation bubble". Put lid on and place in fridge overnight. Bake in 450 preheated oven for 20 min covered. Lower to 400 and continue covered bake another 20 min. The slide cover off and say " whoa" as it will be so brown and full to the top and continue to bake 25 min. Remove from pan after about 10 min to let it loosen. Wrap in linen for 24 hrs. Slice and enjoy. c