February 1, 2022 - 5:30pm
Weekend Bakery Semolina Pullman
The learning continues.  Thanks to receiving a cornucopia of suggestions on my previous bake of the Bouabsa Pullman I moved forth and applied some of those changes, further upgrading my nascent Pullman pan skills.
Previous improvements over the first bake were documented in the linked-to post above.  I decided to move away from the IDY Bouabsa dough to a Levain semolina dough.  Rather than be a traditionalist and use a formula ready-made for a Pullman, I selected the Weekend Bakery Semolina dough.  
I'd made these before as baguettes about two years or so ago.  They differ from my go-to semolina formula with a 37.5% semolina / 62.5% AP flour mix vs. my usual 60/40 mix.  Also comes in at higher hydration of 72% vs. ~67%.
Further changes applies this time:
Increase the loaf size to 900g
Butter the pan rather than spray canola oil.
Allow more time for the in-pan proofing than before.
Concern for a too dark top, I tented the loaf for the final 10 minutes, probably too many minutes. 
Steam for ~22 minutes total.  At half way through I removed the loaf from the pan and then steamed the oven again.
One suggestion I did not follow through on was to score the top of the loaf.  The surface was so delicate at bake time that I was concerned about ruining the loaf.  Next time.
The loaf baked for ~33 minutes @ 430dF but still did not come as high as the loaf pan.  One "mistake" that may have been detrimental - I took the dough out of the overnight retarded BF container to cleave off the additional 550g of dough, and then placed the 900g back into the container to warm up.  I imagine this disturbed the dough somewhat.  I should have divided the dough into two separate containers after the countertop BF.  Lesson learned.
Overall I'm pretty happy with this bake and considering that semolina exhibits a relatively tight crumb, at least in my kitchen, I think the finished product came out just fine.  Considering the lower percentage of semolina in the formula, the flavor is a little shy of what I look for in a semolina bread.
Here you can see where the dough decided to score itself.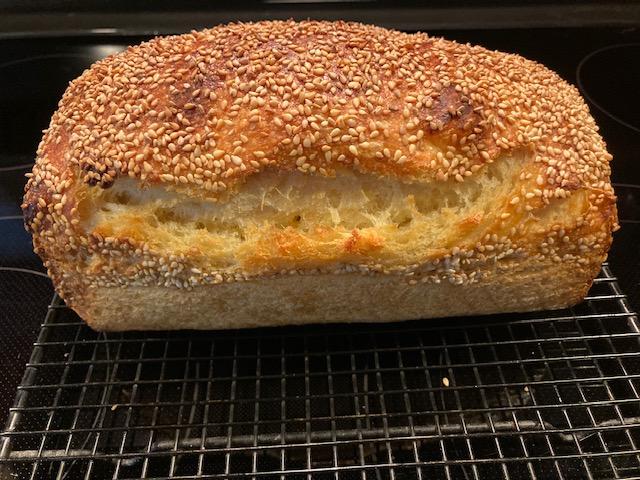 A view from the End Zone.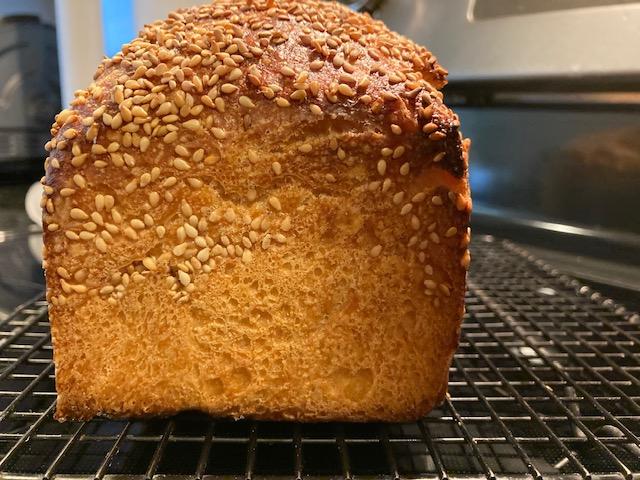 These 3 little piggies went to market.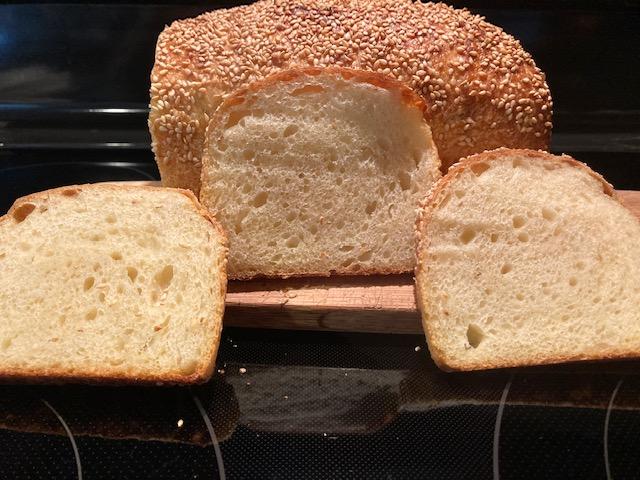 A relatively evenly distributed crumb with an evenly colored bake all around the crust.
 I think toast is almost always sexier than plain bread.