January 29, 2022 - 12:38pm
Two days ago, misinterpreting what Dan was after,
 I posted a Pullman loaf that baked up short and dense.  With the feedback from several folks, a few YouTube videos and a consultation with Mr. Hamelman via his book, I made a series of changes, seemingly all for the better.
For that bake I went directly from retard to Pullman with a very tight roll, baked at the normal Bouabsa temp of 480dF on a cookie sheet cooling rack  The changes I made this time:
3.5 hr warmup from retard to shape until the dough grew 50% in the container - perhaps could have waited 4 hours to reach closer to ambient temp.
Shaped by gently docking/flattening, a letter fold, turned 90 degrees and rolled up firmly but far from tightly.  Dough reached about halfway or a little more in the tin.
Baked at 430dF directly on baking deck
Removed from Pullman tin when releasing steam at 13 minute mark.   No tenting required.
Baking time was reduced from ~38 min to ~33 min even though the oven temp was dropped 50dF.  In both instances, I shaped the dough on a wet surface with moist hands in an attempt to keep as much raw flour off the dough as possible.
For a first adjustment with a dough not designed to be a Pullman, and limited loaf pan experience, so far I'm pretty content.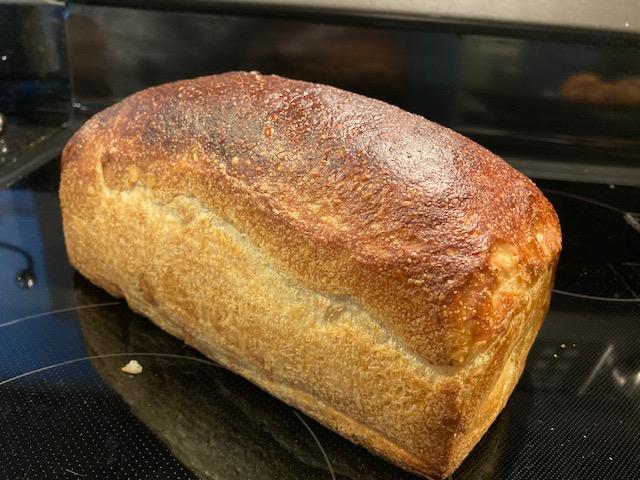 The oven spring compared to the remaining portion of the previous run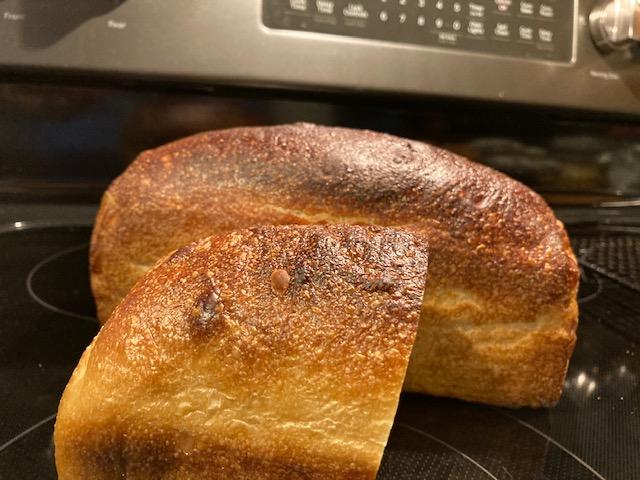 You can see the Pullman pan behind the loaf.  Only the crest of the loaf came up as high as the top of the Pullman.  The dough never proofed as far as the pan top.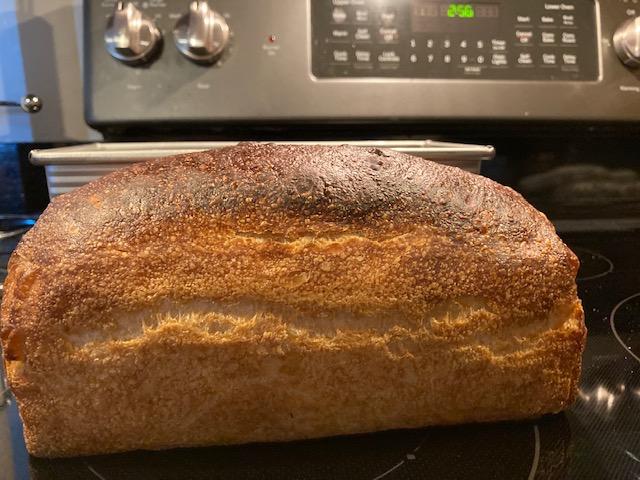 The crumb.  Definitely softer and more open.  I think this is a nice step up from my first attempt.