January 23, 2022 - 5:46am
Dave Miller's method for semi dehydrated starter storage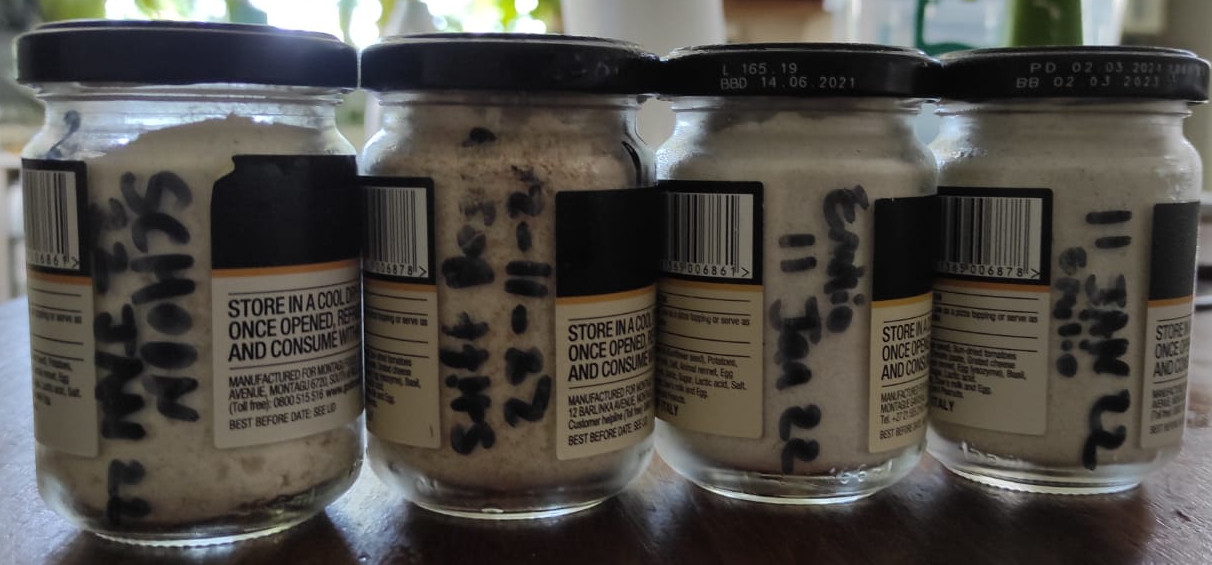 Just wanted to write to say how well Dave Miller's method of starter maintenance with a semi-dehydrated stage is working for me. Learnt about the method from a forum post here that referred to this web page.
Basically I just take a small amount of starter (typically 12-13g) and rub it between my fingers in the flour that I feed the starter with (60-65g for me) until there are harder crumbs within the flour. Then the crumbs are kept buried in the flour in a water tight container in the fridge. I collect pesto bottles and small honey or mustard jars for the fridge storage.
So far it has worked out very well for me. I need to revive the starter a day earlier than if I was feeding every day, there is that minor inconvenience, but now it has enabled me to keep three different starters (Desem, my regular rye starter and now a more sour starter; and it helps with keeping them distinct as they're not being fed at the same time). Another inconvenience is that I sieve out the hardened chunks and hydrate those first for an hour or two before adding in the flour they were buried in.
The revived starter comes back with good strength and vigour, think the article mentioned that Dave Miller does it this way as a reliability thing.
Have successfully revived a 4 month old jar from the fridge, but no reason why it couldn't be much longer than that so long as the containers used are waterproof and I guess kept refrigerated.