January 19, 2022 - 3:52pm
Sourdough Bread with 31% Freshly-milled Whole Wheat Flour
Today's bake is loosely based on Ken Forkish's "Overnight Country Brown." I increased the levain and did the "overnight" in the fridge after dividing and shaping rather than in bulk at room temperature. Well, the hydration is higher too - 85.5 versus 78%. The result is a moderately sour, crusty loaf with a fairly open, deliciously moist and tender crumb. The flavor is more straight ahead wheaty than my favorite multigrain sourdough, but this is also a spectacularly delicious bread. I had some almost cooled with a light smear of butter, along with a bowl of split pea soup for lunch.
Here is the formula and method and some photos:
Sourdough Bread with 31% Home-Milled Whole Wheat Flour
David M. Snyder
January, 2022


Total Dough 

Ingredient

Wt (g)

Bakers' %

Bread Flour

675

67.5

Whole Wheat flour

314

31.4

Water

855

85.5

Salt

21

2.1

Total

1865

186.5
Note: The whole grain wheat,is milled in a Mockmill 100 mill set at its finest setting. The flour is milled immediately before mixing.
| | | |
| --- | --- | --- |
| Levain |   |   |
| Ingredient | Wt (g) | Bakers' % |
| Bread flour (hi protein) | 144 | 75 |
| Whole Wheat flour | 36 | 25 |
| Water | 144 | 75 |
| Active starter | 36 | 25 |
| Total | 360 | 200 |
Dissolve the starter in the water. Add the flours and mix thoroughly.

Transfer to a clean container, cover and ferment until ripe. If you don't use it immediately, it can be kept in the refrigerator for up to 3 days.
| | |
| --- | --- |
| Final Dough |   |
| Ingredient | Wt (g) |
| Bread flour (AP) | 524 |
| Whole Wheat flour | 276 |
| Water (85-95ºF) | 684 |
| Salt | 21 |
| Active levain | 360 |
| Total | 1865 |
Procedures
Mix the flours with the water to a shaggy mass.

Cover and let sit at room temperature for 20-60 minutes. (Autolyse)

Sprinkle the salt over the dough surface and add the levain in 4 to 6 portions.

Mix thoroughly. (I start by folding in the salt and levain with a silicon spatula. Then, I use the method Forkish specifies – squeezing the dough between my fingers alternating with stretch and folds in the bowl. I wear a food service grade glove and dip my working hand frequently in water.)

Transfer the dough to a lightly oiled, clean bowl large enough to accommodate doubling in volume. Cover well.

Ferment at 80ºF for 3 – 3.5 hours with stretch and folds in the bowl at 30 and 60 minutes, then a stretch and fold on the board at 1:45-2:00 hours. The dough should have nearly doubled in volume and be quite puffy.

Transfer the dough to a well-floured board. 

Divide the dough as desired and pre-shape in rounds. Cover with a cloth and let rest for 20-30 minutes.

Shape as boules or bâtards and place in floured bannetons. Place these in food-grade plastic bags sealed with ties and let proof for 30-60 minutes at room temperature. Refrigerate 8 hours or up to 36 hours at 40ºF.

The next day, pre-heat oven. Let the loaves sit at room temperature while the oven pre-heats. You can bake on a baking stone with steam for the first part of the bake, or in Dutch ovens, as you prefer. The oven temperature and length of the bake will depend on which of these methods you choose and on the weight and shape of your loaves, as well as on how dark you prefer your crust. When done, the loaves should sound hollow when thumped on their bottoms. The internal temperature should be at least 205ºF.

Let the loves cool completely on a rack for 1-2 hours before slicing.
I baked in Cast Iron Dutch ovens at 475ºF for 30 minutes covered, then 20 minutes un-covered at 460ºF.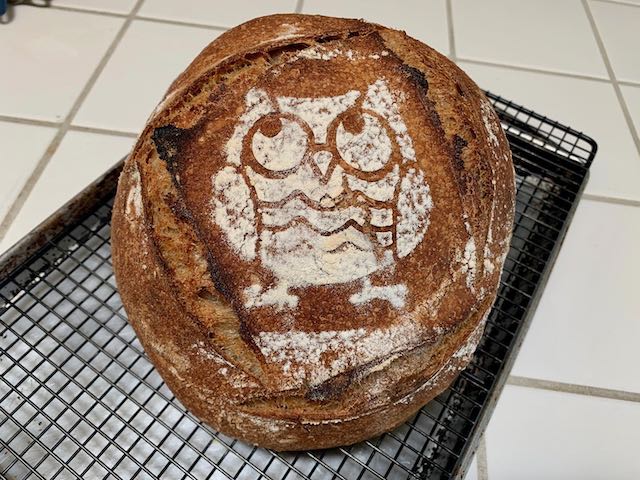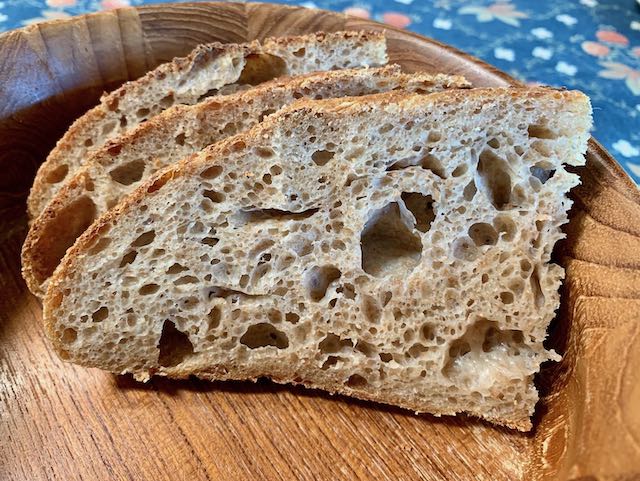 Happy baking!
David