January 16, 2022 - 10:13am
Tried New Flour, Got New Problems. Questions for the forum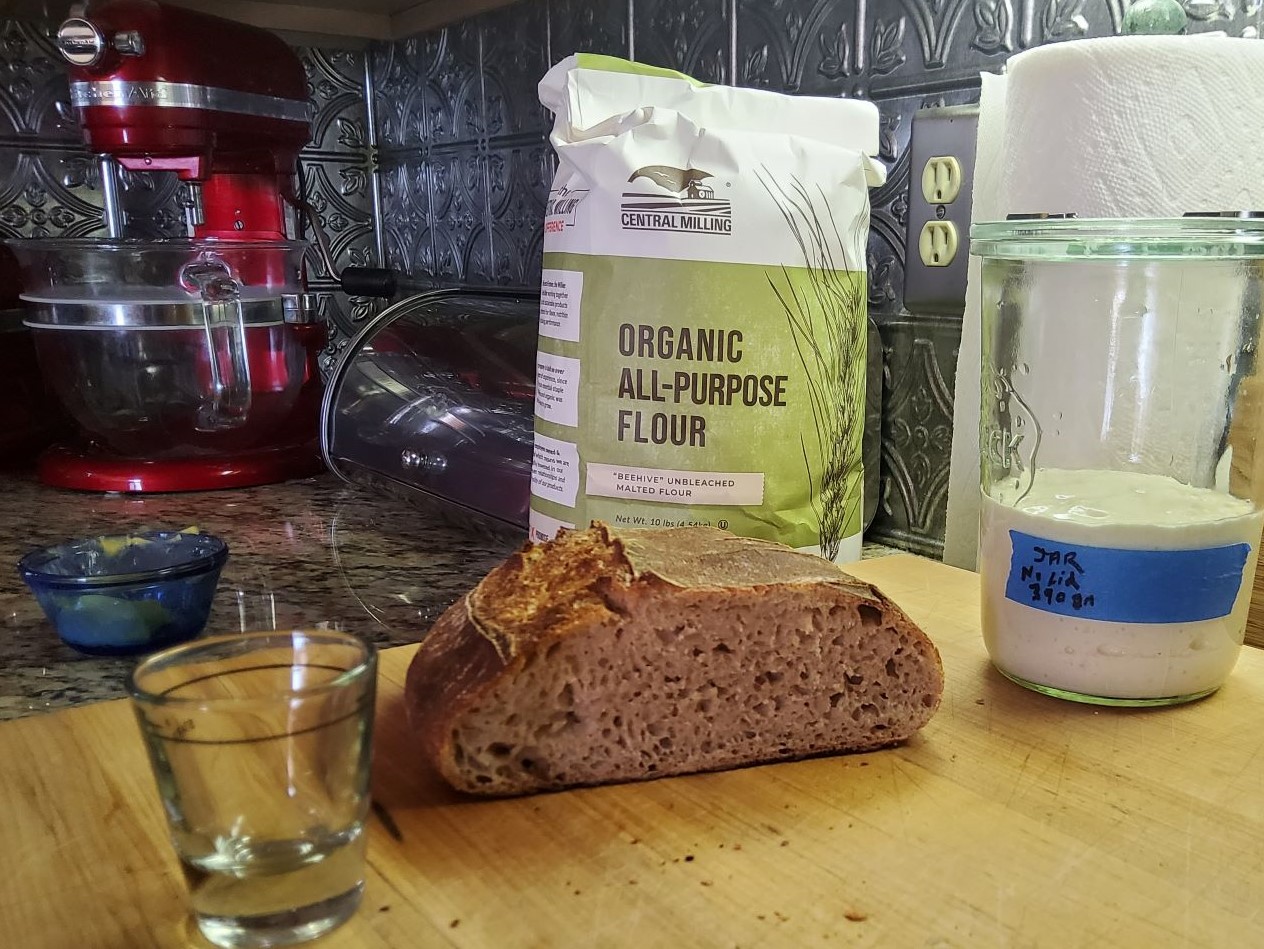 I apologize if this is a bit wordy...
Costco had an unbelievable deal on CENTRAL MILLING AP flour, so I took the bait. I did notice after getting home that the new flour was only 10.5 percent protein compared to the 11.7 of KA AP White that I normally use.
Using the new flour and same recipe I am accustomed to https://www.thefreshloaf.com/handbook/san-francisco-style-sourdough, I made this mess... notice the rise is only about 1/4 inch higher than a shot glass.
OBSERVATION:  After mixing the dough (flour, salt, starter, and water) the dough seemed a tiny bit wetter than normal.  I took no steps in correcting this (did not add a little more flour).
OBSERVATION: Normally, with KA AP, I only need to do about 4 stretch and folds (about 2 hrs).  With this CENTRAL MILLING flour, I immediately noticed problems during my stretch and folding.... the development of gluten was slow and and what developed was very weak. Therefore I continued stretching and folding for another 2 hours (a total of 4 hrs, stretched and folded every 35 or so minutes). After my final 6th stretch and fold, the dough was barely pulling away off the tubberware proofing container without tearing. 
Which leads me to my first question: Can the strength of a dough or gluten development be reversed by too many stretch and folds?
After pre-shaping and final shaping I put it into a batard banneton where it sat on counter top for 2 hours. During the two hours, only about 3/4 inch rise in dough took place. After the two hours I placed it into the fridge over night for retard. Dough seemed to rise another 1/2 inch overnight.
The day before baking, I pulled my starter from fridge, portioned off 100gms and fed the 100gms with 100gms of new flour and 100gms of water (100 percent hydration). Newly fed starter sat on countertop for 15 hrs (it rose and peaked) before using.
I don't want to assume I did nothing wrong and do not want to judge the flour prematurely. but taking a look at my past picture posts, I have have produced some good loaves.  Are there any clues to what might have gone wrong? Was it the drop in protein content?
On a positive note, the bread tasted fine.