January 11, 2022 - 3:30am
Sourdough still too dense, crumb too crumbly?
Hi everyone,
I've been baking sourdough for a few years now but have not yet achieved the ideal crumb. They have mostly been too dense :( 
Can anyone help me troubleshoot my dense crumb? When my partner and I eat the sourdough, the crumb is not as "stretchy" as other sourdough we have had. My one is always a little bit gummy and breaks easily rather than stretches. Any help would be much appreciated!!
I recently baked a fig leaf sourdough which had a fairly open crumb around the edges but was more dense in the centre (top cross section is the centre of the loaf, middle and bottom cross section are the edges).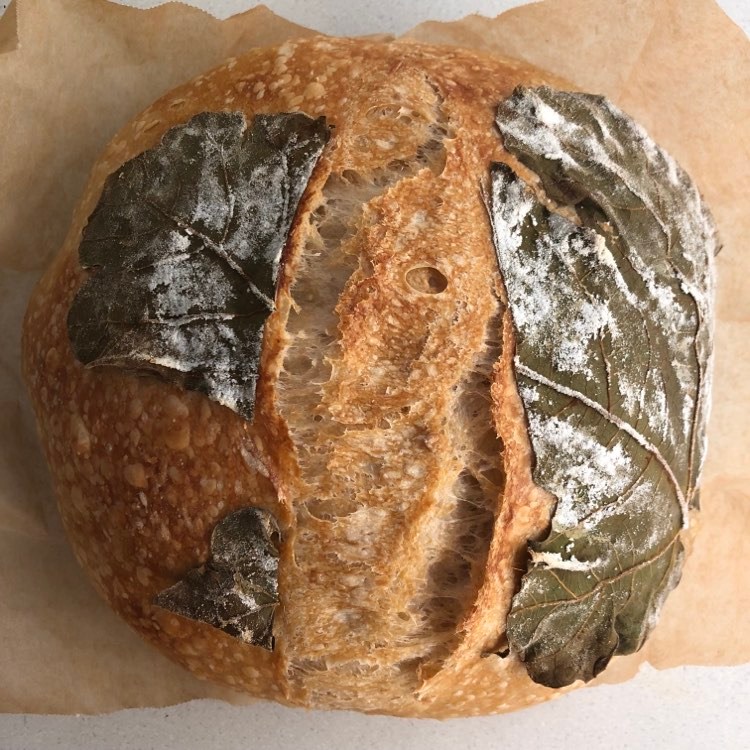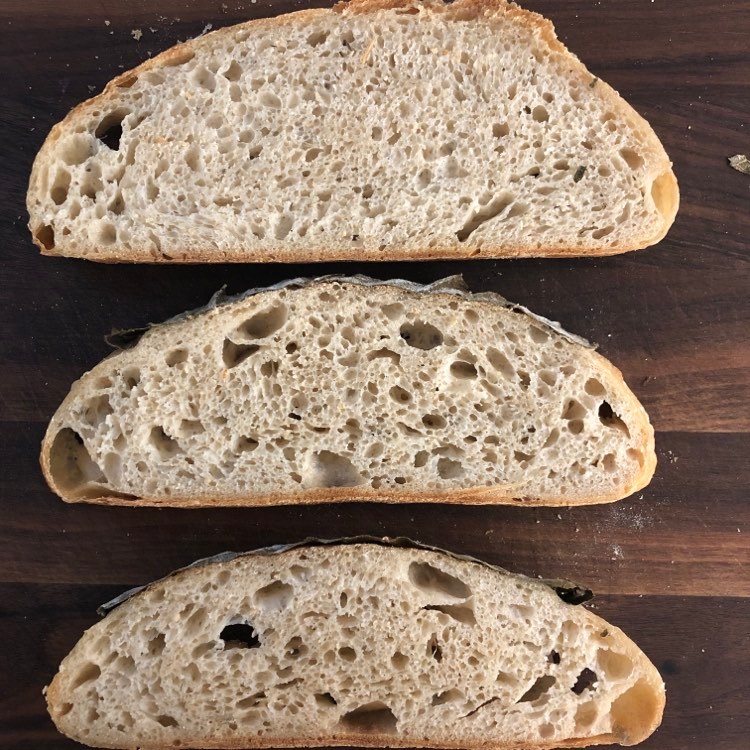 Weather: 25 degrees Celsius, quite humid
Recipe: 75% hydration, 24% wholewheat flour, 76% white bakers flour, 2% salt. 
My method:
LEAVEN: Leaven mixed and left for 9 hrs overnight (this was a bit long and it has slightly collapsed). 
MIXING: Mix water, flour and leaven and autolyse for 45 minutes, after which I mixed in the salt and the small amount of remaining water.
FOLDING: 5 folds, either 15 min or 30 minutes apart. 
BULK FERMENTATION: Total bulk fermentation time was 4.5 hrs until it had doubled in size. When I poured the dough out onto the surface of the benchtop to shape, I need to use my hand / scraper to get the dough out to prevent ripping the gluten / dough. It doesn't come away from the side of the container cleanly. 
SHAPING: Rough 1st shaping into a round ball, 2nd shaping into a boule
COLD FERMENT: Fridge ferment for 22 hours.
BAKING: Preheat dutch oven to 250C for 30 minutes, drop to 230C and bake bread for 20 minutes, drop to 200C remove lid and bake for another 20 minutes.