December 1, 2021 - 12:26pm
71st bake. 12/01/21. More SOTSOT in a clay pot.
Dec. 1, 2021. Bake #71.
The taste of the previous batch of muffins was good, though perhaps a little too sweet. But they were way too dense, with no oven rise except for some tunneling because I added baking powder to the batter instead of dispersing it well in the dry flour.
This has less flour (therefore higher hydration), less honey, less oil, more baking powder, and the BP was properly dispersed in the flour. Other ingredients just had minor tweaks.
These were baked without a baking stone, higher up in the oven, and on aluminum foil shiny side down. The center of the bottom was a bit pale, while the side crust was well browned, so I will bake with shiny side up next time.
More photos of the clay pots and the instruction/recipe booklet at: https://www.thefreshloaf.com/node/69351/clay-flower-pot-baker-recipes
Soaker:
15 g old-fashion rolled oats (the thick ones). 
15 g quick-oats (not instant). 
12 g whole dry chia seeds. 
6.7 g whole dry poppy seeds. 
15 g yellow corn meal. 
20.7 g dried shredded coconut, unsweetened. 
200 g bottled water, at room temp. 
After 20 minutes, added: 
53 g honey. 
25 g powdered fat-free milk, Kroger brand. 
50.4 g more bottled water at room temp. 
1 tsp whole fennel. (Maybe should have used 3/4 tsp, and put it in at the beginning.) 
Dry:
50 g roller-milled WW durum, Sher Brar Mills Fiber Wala. (I had used up my Patel stone ground WW durum.) 
110 g Bob's Red Mill stone-ground WW flour, from red wheat. 
50 g Arrowhead Mills organic AP flour. 
5 g salt. 
1.5 tsp pumpkin pie spice. 
3/4 tsp ground ginger. 
30 g almond flour, blanched. 
3 tsp baking powder. I remembered to stir it well into the flour! Could have gotten by with 2.5 tsp. 
When combined, added:
93.5 g bottled water at room temp. 
23 g peanut oil. 
13.5 g grapeseed oil. 
When using WW, I like to add oil last, so that the bran, and the larger particles of the stone-ground flour get the water first before any oil. When it gets oil too soon, that seems to interfere with water absorption.
Baking: 
Pre-heated oven to 375 F.  No baking stone was used. Clay pots were freshly oiled on the inside, and not pre-heated.  3 pots were used, and were filled about 50%. Baked at 350 F, for 44 minutes.
Results:
Great!  The batter wasn't as sticky as before. Good oven rise, muffins came out soft, but well browned.  No sticking at the bottom of the pot. Waiting for them to cool, then running a knife around the sides did the trick.
The shredded coconut was softer this time because it was pre-soaked, and the coconut flavor did not dominate. The fennel, pumpkin pie spice, and ginger came through.  The fennel should have been in the soaker from the beginning, and dialed back a bit.
Adding water to the clay pot immediately after removing the muffin, allowing it to soak a bit, makes for easy cleanup.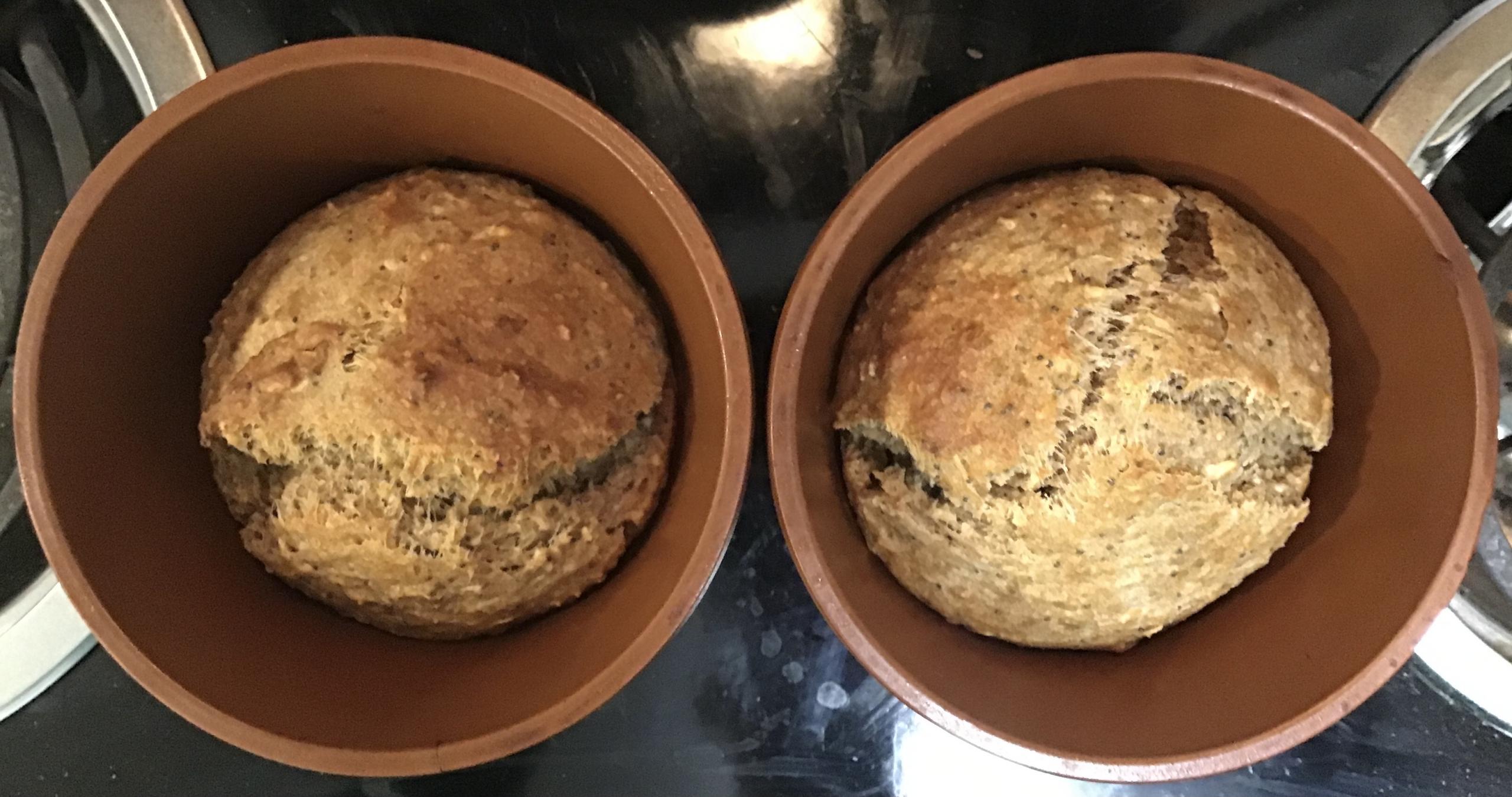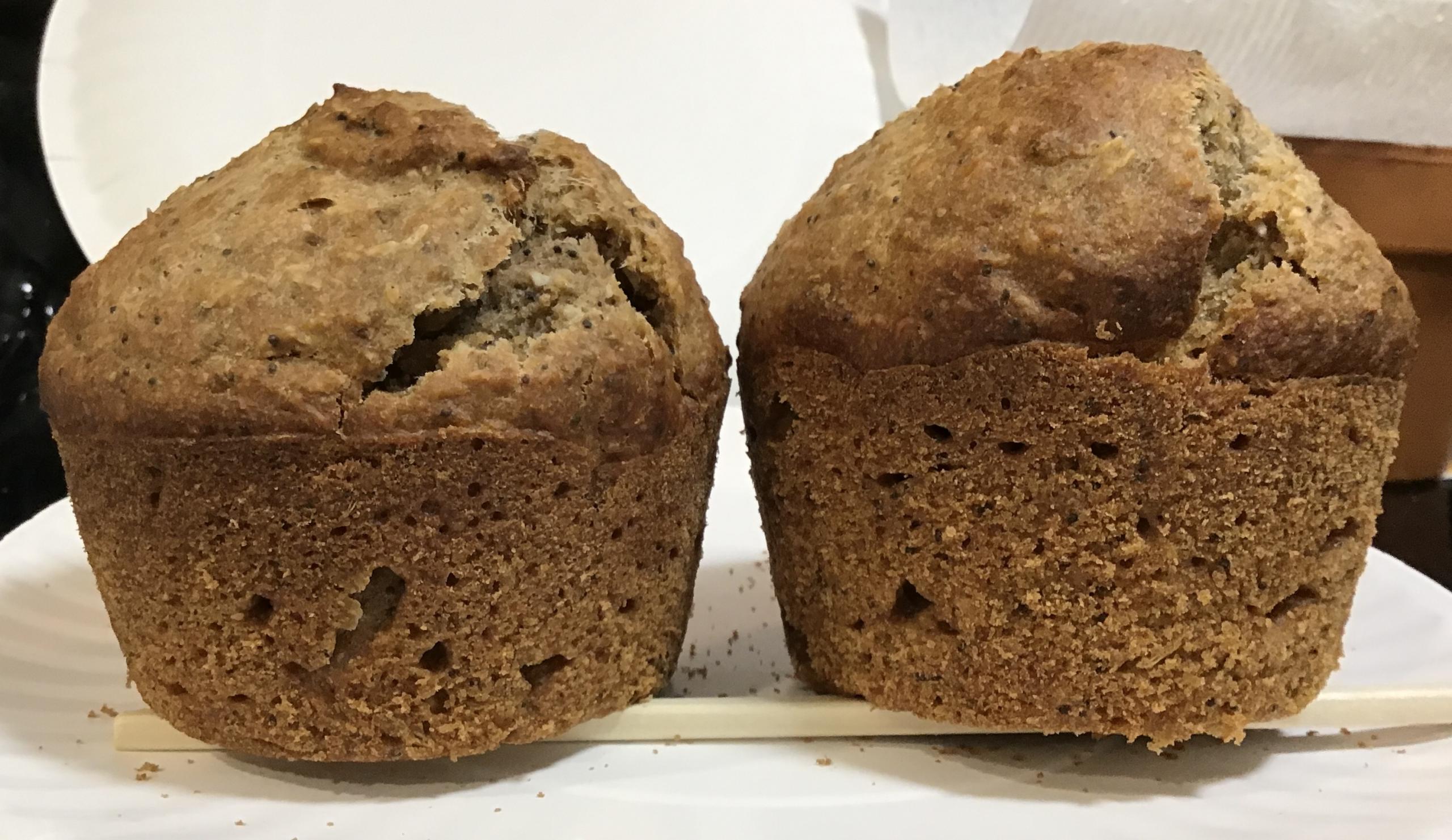 Undersides: