September 15, 2021 - 10:47am
58th bake. 09/15/21. 100% WW bannock.
Loosely based on (i.e. "inspired by") this formula: https://en.wikibooks.org/wiki/Cookbook:Scottish_Wheat_Bannock_Bread
My take:
1/2 cup Sharbati atta, Swad brand.
1/2 cup Bob's Red Mill, stone ground whole wheat.
1/4 tsp salt, Himalayan pink.
1 tsp baking powder, Rumford.
1 tbsp regular olive oil.
3/8 cup bottled spring water.
1/8 cup instantized dried milk, Kroger brand.
NO added sugar. (Original called for sugar.)
additional water was added during mixing/kneading,  between 1/8 and 1/4 cup.
Pre-heated toaster oven and Lodge 9.25" diameter round handle-less cast iron griddle
https://www.amazon.com/Lodge-Logic-Round-Griddle-Handles/dp/B00I4XNEE4?tag=frogllabout-20
at 400 F while mixing/kneading.
The iron griddle and this oven tends to scorch the bottom of breads, so I place the griddle on a circle of aluminum foil, shiny side up.  I tried shiny side down, but then the bottom doesn't brown enough. The foil was in place during pre-heat.
Added 1/8 cup powdered milk to 3/8 cup water, mixed.
Mixed dry ingredents separately.
Worked in the olive oil into the dry ingredients. Original recipe called for butter.
Added milk/water. Mixed. Could tell it was going to need more water. Probably had too much flour, as I merely used measuring cup to scoop directly from bag.
Worked/kneaded in small amounts of water until it felt like a nice dough. Forgot to measure additional water.
Pressed out dough by hand to about 8" diameter disk.
Reduced toaster oven temp to 350 F.  Oiled the griddle. Loaded the dough. Docked it a little. Placed in toaster oven. After a 10 minutes or so flipped  the bannock. After a few minutes, flipped again. Last half of bake was at 325 F.   This oven runs a bit hot.
Total bake time was about 25 minutes. I just went by looks and didn't keep exact track.
Used the toothpick test. Seemed nicely done and browned.
My cheapy probe thermometer broke so I could not take temp. 
Top: (Note: top was browned by baking it upside down for a bit.)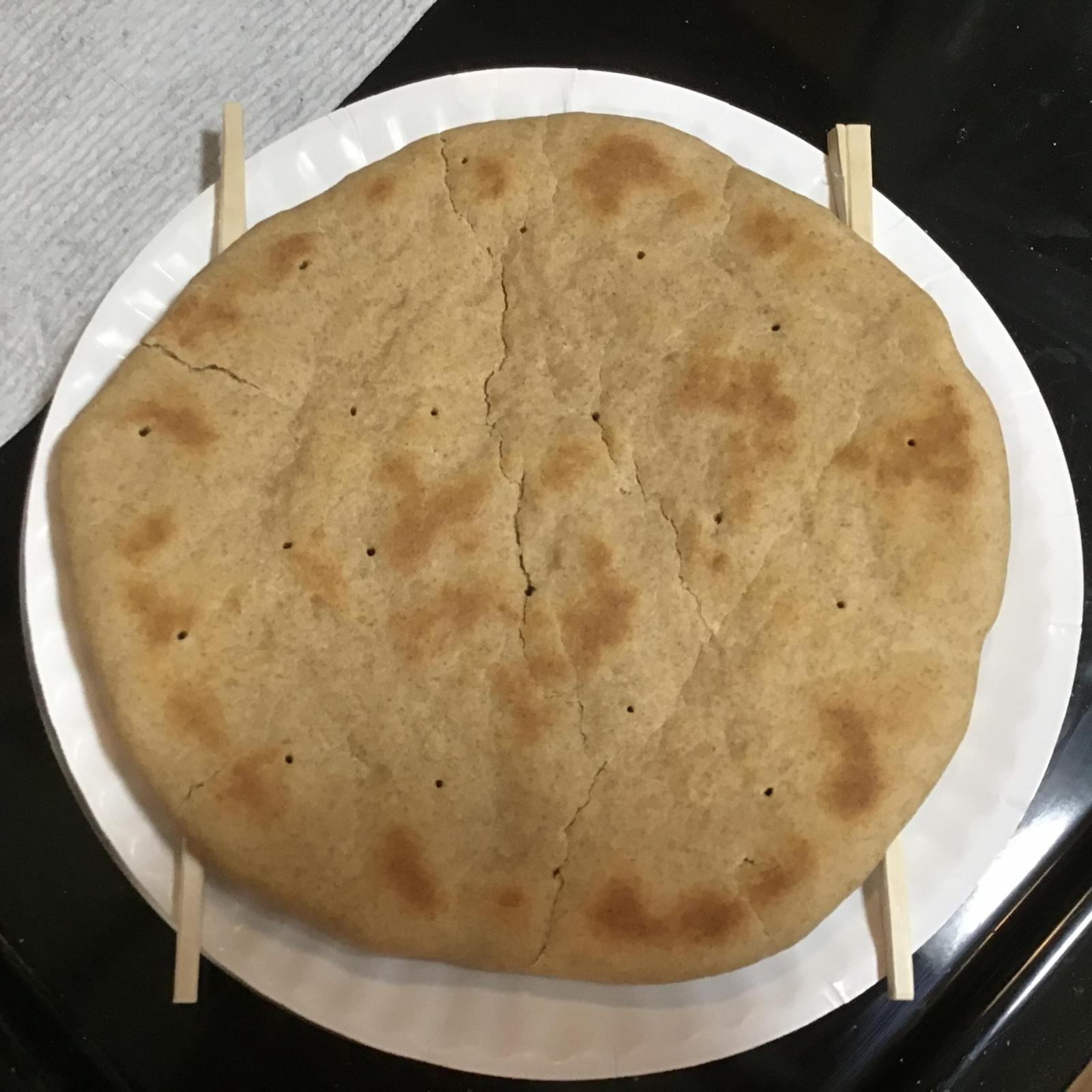 Bottom: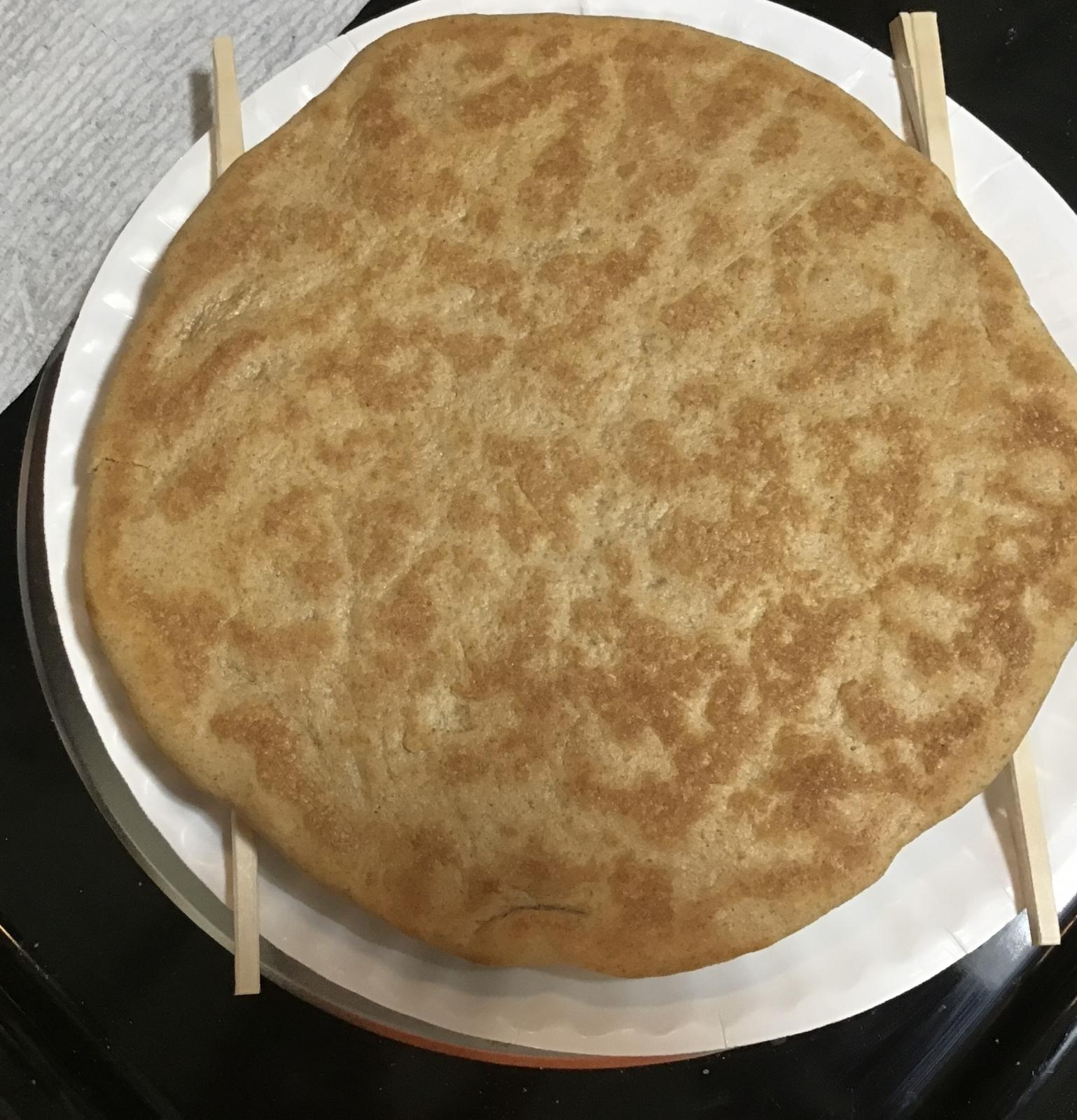 Side: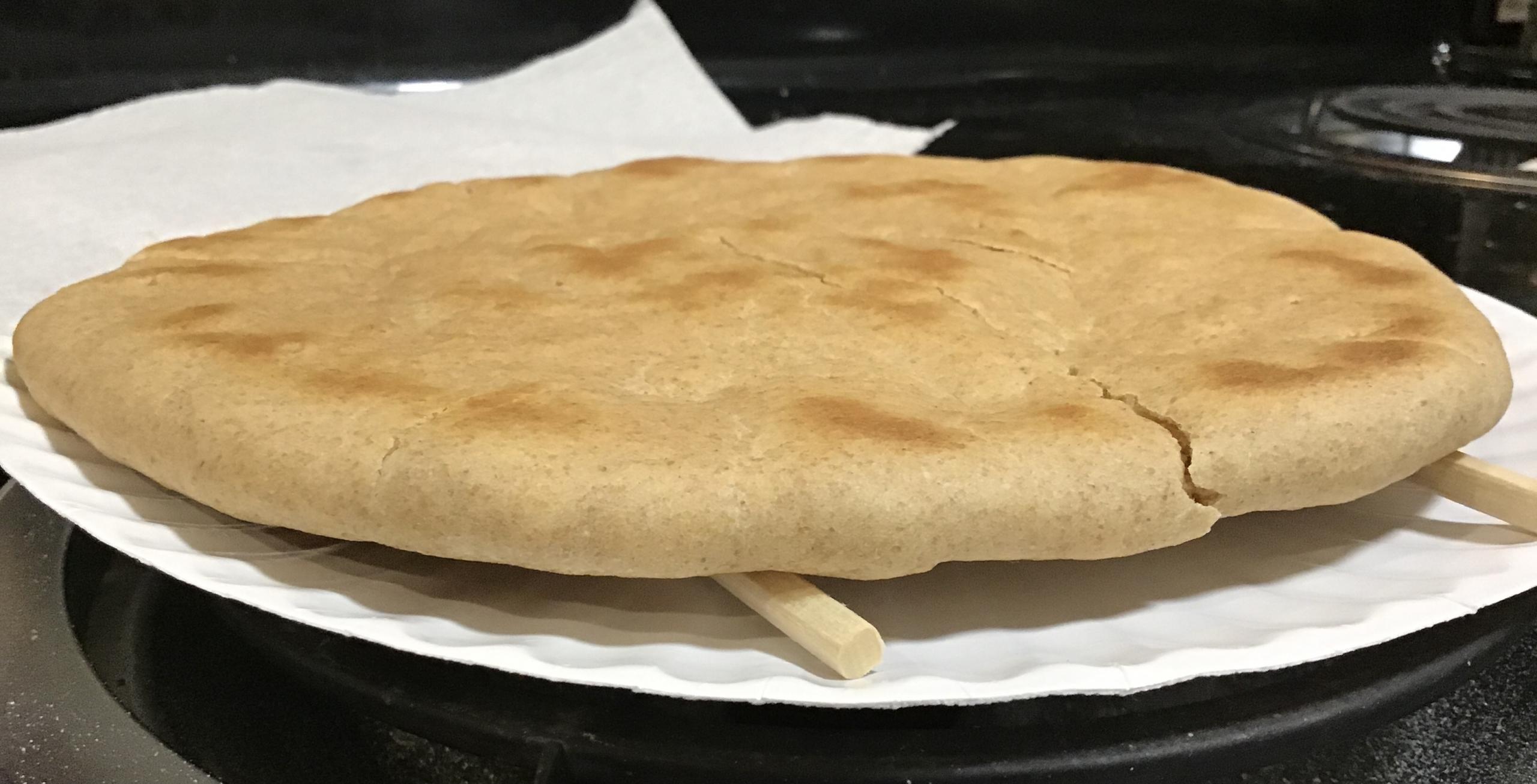 Crumb: