September 10, 2021 - 9:10am
Barbari bread, chapati, marbled matcha shortbread & another coconut loaf
We've eaten 8 of these Barbari breads in the last 5 days. Only thing is, both times I made these, there was a rush for dinner time, so I feel that maybe they were a lil under-proofed so they got very puffy during the bakes (or maybe I didn't press the dough enough during shaping). Also, I made them with onions and cheese on top!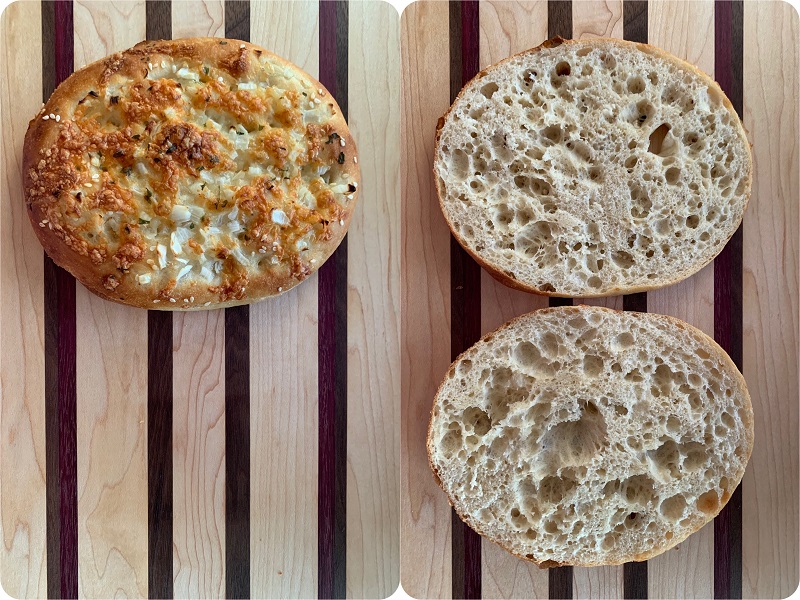 The roomal or glaze used for this bread is amazing. I'm starting to wonder if I could use it for loaf breads or other bakes even. Much like making Tangzhong, this glaze is cooked until it's thick, then brushed on the dough once it's cooled. It leaves a golden, crispy crust that I really like. There's a variation of it using baking soda, I've yet to try.

Barbari bread (Nan-e Barbari)
Adapted from
https://breadanddreams.in/nan-e-barbari/
https://www.unicornsinthekitchen.com/sourdough-barbari-recipe/

Dough
100g sourdough starter (I used barely doubled starter)
230g water
250g all purpose flour
100g atta flour
5g sugar
8g salt
2g instant yeast
15g unsalted butter / ghee

Roomal / Glaze
2 tsp all purpose flour
1/2 tsp sugar
1/2 tsp light olive oil
60g water

Topping:
Seeds like Nigella, sesame, black sesame, caraway
I used some sesame seeds, Havarti cheese and chopped Vidalia onions


Chapati / capati / phulka / roti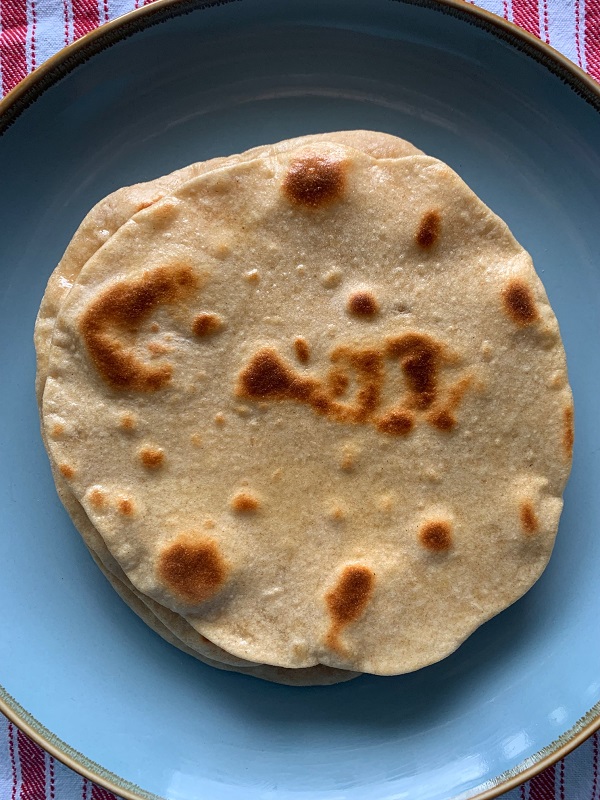 These are rotis I used to eat at our neighbour's in the late 80's (how time flies) and each time I get some atta flour, I remember them. Nothing beats freshly made, warm roti :)

Adapted https://veenaazmanov.com/indian-chapati-whole-wheat-tortilla/

Makes 4 rotis (about 6-8")
200g atta flour
1 tbsp light olive oil or ghee
3g salt*
140g water

Another batch was made using my liquid starter, these were chewier.
100g ripe sourdough starter (100% hydration)
160g atta flour
1 tbsp ghee
3g salt*
90g water

Ghee was used to brush on the hot roti, before serving.

*salt: this is a reduced amount as I'm no fan of salty roti for breakfast. Also, the Sharbati atta I'm using has a light sweet taste that shines through.


Marbled Matcha Shortbread Cookie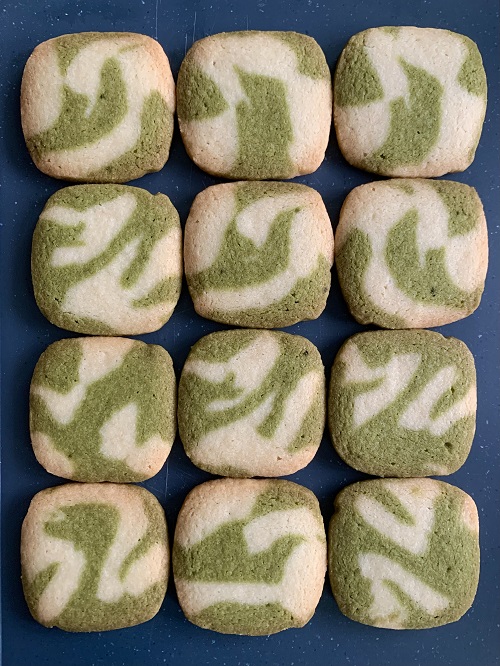 Now, here's something I've only made once this year. Why? There's at least 6g of butter per cookie; more than a teaspoon of butter each. :D

Last year I made these with a lemony twist, and baked them as a sheet before slicing them mid-bake. And most of them were given away, thankfully.

For this batch, I wanted to see swirls of matcha in the cookie (I've been making and eating matcha boba pearls too!) and to make a small batch, like enough to keep us in buttery heaven for a few days,.. or a week.

The ratios I use for my shortbread are based on butter instead of sugar. The internet tells me the ratio is 1:2:3 for sugar, butter and flour. This makes ridiculously sweet cookie if I wanted it buttery.

So, here's my ratio for buttery, mildly sweet, airy shortbread cookies:
1 butter: 1.25 flour : 0.35 superfine sugar
1 butter: 1.25 flour : 0.4 confectioner's / icing sugar

Adapted from various sites including: https://www.recipetineats.com/shortbread-cookies/ and https://www.popshopamerica.com/blog/marbled-vanilla-green-tea-cookies/

Makes 30-32 medium square cookies
240g all purpose flour
10g cornflour
3g salt
200g unsalted butter, room temperature
70g superfine sugar or 80g confectioner's sugar

Flavouring
4g matcha powder sifted into 1/2 the cookie dough
1/4 tsp vanilla extract into 1/2 the cookie dough
    

Sift together flours in a medium bowl. Set aside.

With a stand or hand mixer fitted with a paddle attachment, whip butter with sugar until fluffy and pale, scraping down the sides of the bowl every minute.

Add salt and continue whipping for a minute.

Fold in or mix on low, sifted flours until just combined. 

Remove half the dough onto the counter.

Sift matcha powder to the half of the dough in the mixing bowl.  Fold (or mix on low) until evenly combined.

Add vanilla extract to the other half. Fold until all the vanilla is absorbed.

Divide each dough into 2 pieces. Roll each piece into strips of about 15cm/6" long, then twist and fold these 4 strips together.

Shape the dough into a log. Fold the log and twist it once again.

Place the log-shaped dough on parchment paper and wrap it. Flatten the sides to shape it into a square. Wrap the a dough with cling film. To help keep the shape of the dough, I used an empty cling-wrap box.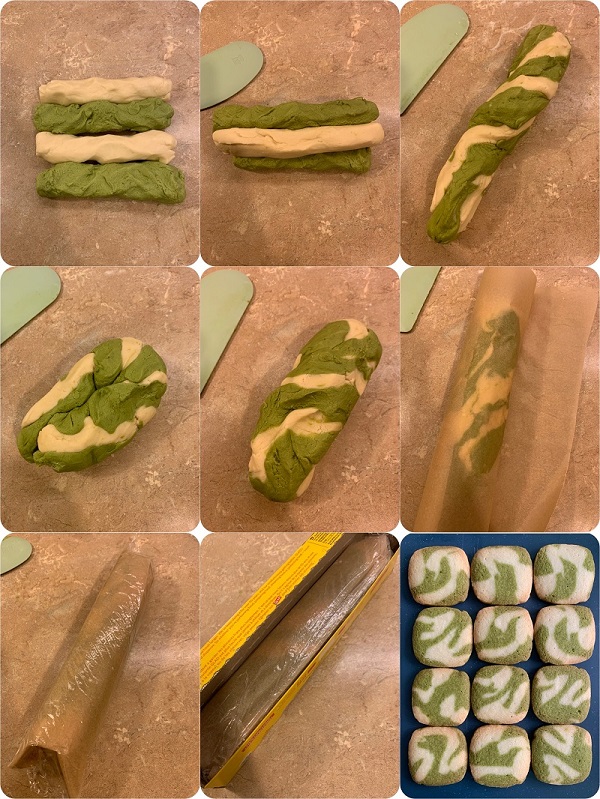 Place the dough in the fridge for at least 2 hours or overnight..

Preheat the oven to 160°C/325°F.

Slice the dough with a sharp knife into 5mm or 1/4" slices and place on a parchment lined baking sheet, keeping each cookie about 2cm or 1" apart (the cookie spreads a little due to the butter). Chill the sliced cookie for about 15 minutes, if they've begun to soften too much.

Bake the cookies 15-20 minutes, until the edges are golden brown. Let the cookies cool completely before storing in an airtight container.


Coconut Loaf bread with butterfly pea flowers and pitaya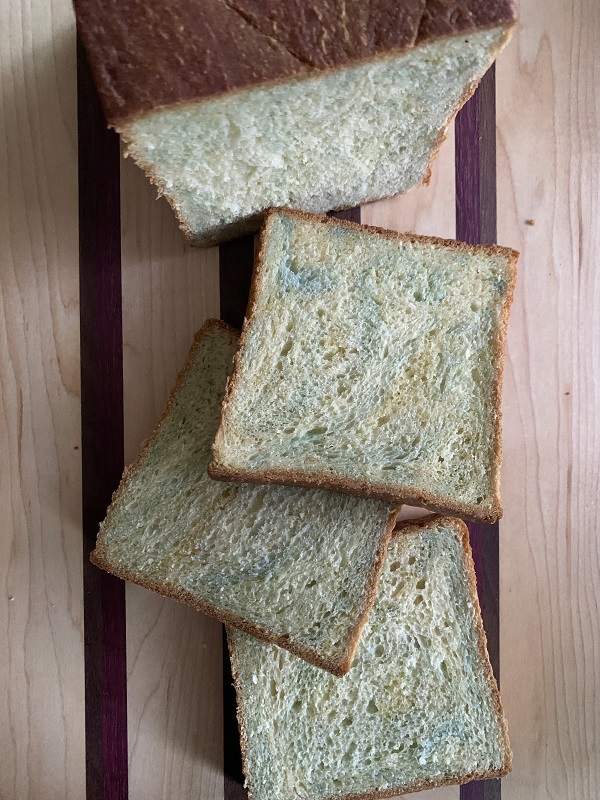 I made a variation of my coconut loaf, this time with butterfly pea flowers for blue and pitaya puree for a pink colours.
Well, my pitaya pink disappeared, and I was left with a pastel blue and faint brown streaks of pitaya pink.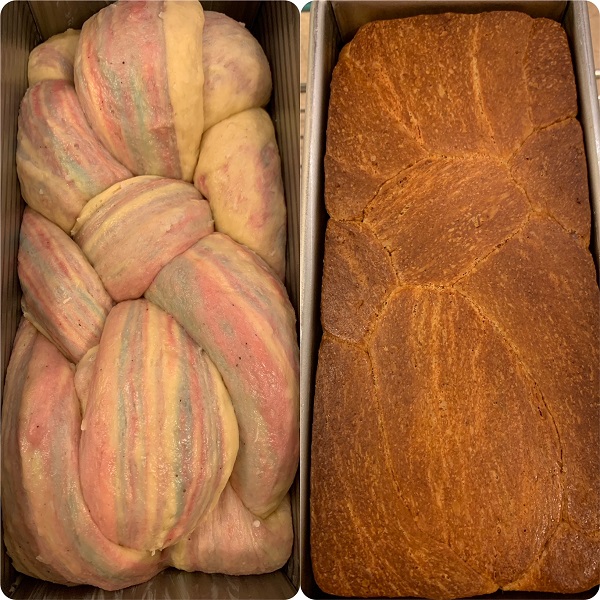 Oh, that was one scary colour combo! Good thing, it's an edible, fragrant loaf, I don't mind the missing pink hues now :D

okay, have a happy weekend!

- Christi