September 8, 2021 - 5:15pm
My first babka! I am not counting the one I tried last week that was a complete, greasy mess that never did a thing. That one was a yeast based recipe that I think was faulty from the get go, and to date is the only batch of dough I have ever just thrown out. 
I used Maurizio's babka recipe. Until just a few weeks ago, all my bread had been mixed/kneaded by hand, as I did not have a mixer. After much research and some input from Mariana (thank you, Mariana!), I decided to go with a Bosch compact mixer rather than trying to work with a food processor. Ordered in April, and it just arrived a couple of weeks ago. After reading his recipe/process several times through, I dove in. So glad I did, it came out really good. 
Lessons learned during this bake:
 - I don't know if it's true for all enriched doughs, but this loaf did not grow very much in size or have such obvious signs of fermentation as my usual bakes. I was glad I had used a glass bowl, so I could see the tiny bubbles through the sides and bottom of the bowl. 
 - Work quickly while rolling out the cold dough and spreading on the toppings. In my warm kitchen, the dough started to proof and get puffy, making it harder and harder to work with for rolling.
 - Don't assume any particular step will work easily. "Place the rolled-up log on a baking sheet and place it in the freezer for 15 minutes" part took longer than it should have. The first 2 baking sheets would not quite fit in the freezer.
 - I used Nutella (thanks to Danny for posting how to thin it out and make it spreadable). Next time I think I will try to make Maurizio's chocolate filling instead. The Nutella tended to glom onto the knife while slicing the loaf, and I had to keep cleaning the knife between slices. I was quite proud of myself for not getting cut, lol. 
This was a hit for both of us, as well as some nearby friends we gave some to. You couldn't taste the Nutella, the flavor from the dark chocolate was more prominent. The coconut was just enough to give a little extra flavor and was a pleasant addition chew-wise as well.
Will definitely do this again, probably at the holidays. 
Pics:
Getting the filling ready. I froze the chocolate first, then just smashed them inside the baggie to get small chocolate chunks/chips/dust.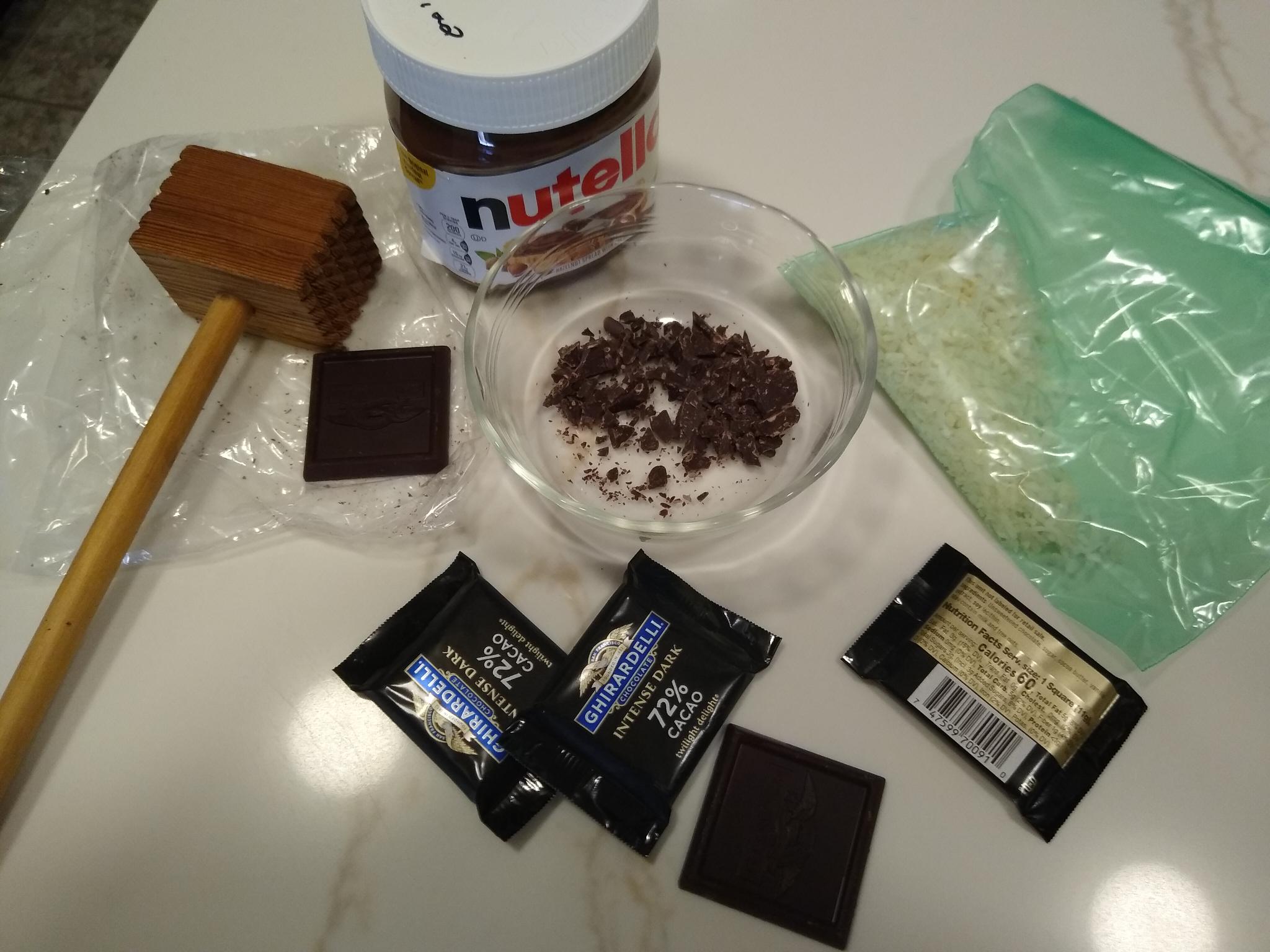 Filling in place, ready to be rolled up: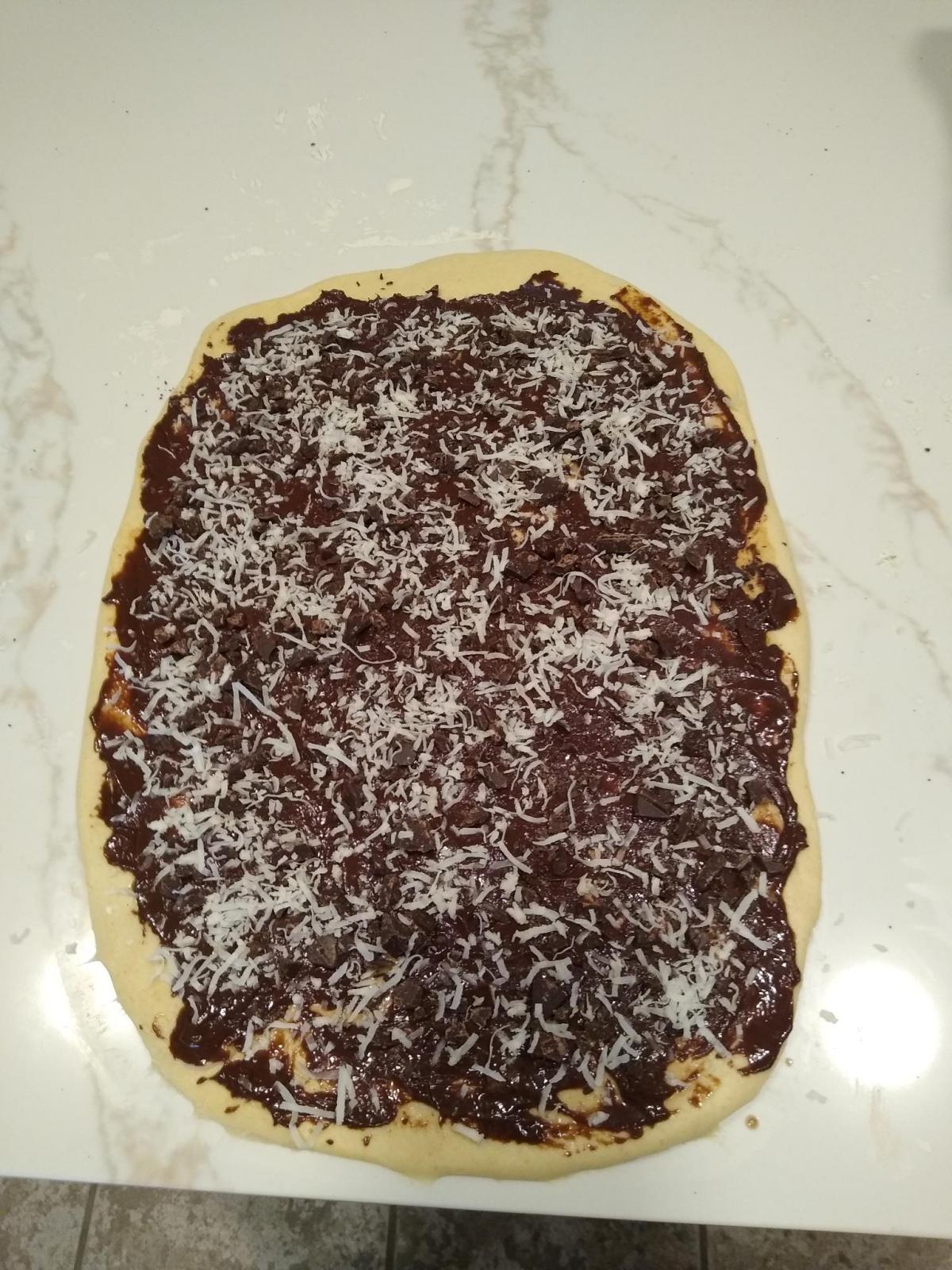 Proofed, coated with egg wash, and ready for the oven:
 Cooling. I sprinkled a little more coconut on top, then used the simple syrup glaze to sort of glue the coconut in place: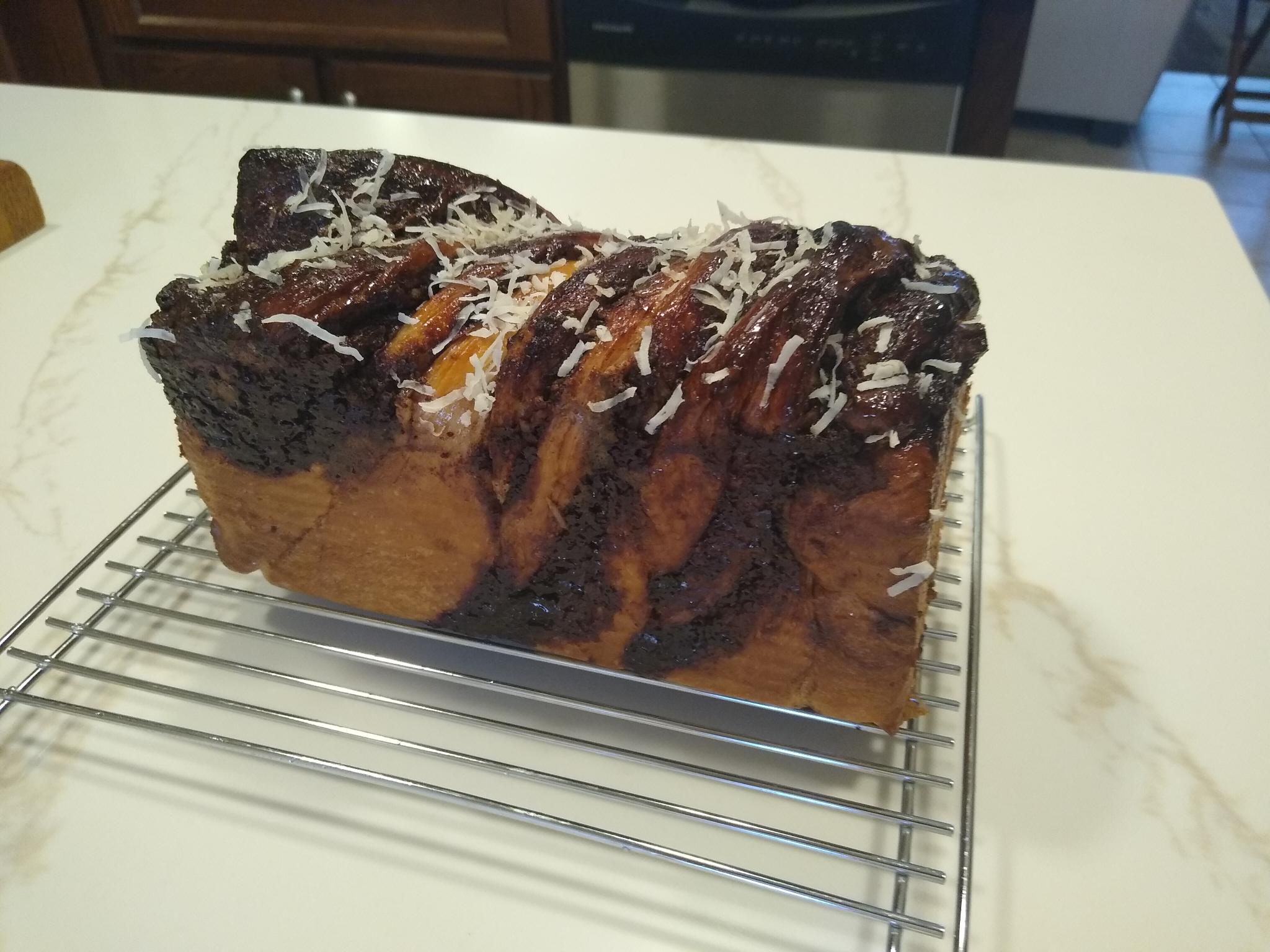 Yummy crumb: