Braided loaf with Sharbati atta, matcha coconut loaves and other bakes
Hey everyone,
It's been very HOT lately! I'm so glad August is almost over and the weather is getting slightly cooler. On our way home from Niagara, we stopped by a branch of Panchvati for some Indian snacks and sweets. I left with a bag of Sharbati atta and murukku. I like how smooth this version of atta is compared to others. And at about 25°C, this flour made my starter double in 2.5 hours! I converted my AP/spelt starter to atta for by feeding it 1:5:5, 3 times. I'm convinced this flour would create new starters way faster (I made mine with spelt long time ago).

So, I made some breads these last few weeks between trips to Gaspésie and going for a 'shower' at the Niagara Falls (poncho kept my bag dry only). My apologies for the long post. :P

Braided atta loaf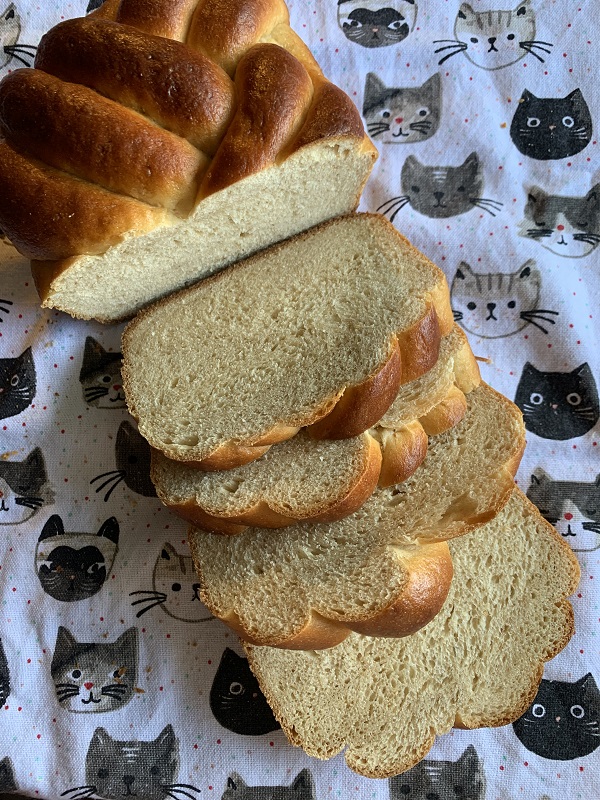 A lil bit of instant yeast was added to this loaf as I wanted this loaf ready in a few hours and I didn't know how the atta starter worked. Baked in a 9 x 5" loaf pan at 180°C 40-45 minutes

Tangzhong
20g all purpose flour
100g milk

Dough
165g soured milk (1 tbsp lemon juice + 160g milk)
90g atta starter (100% hydration)
1 large egg
40g sugar
2g instant yeast
207g atta flour
84g Kamut flour
64g all purpose flour
7g salt
40g ghee
Eggwash: egg, milk and a pinch of salt

Matcha coconut loaf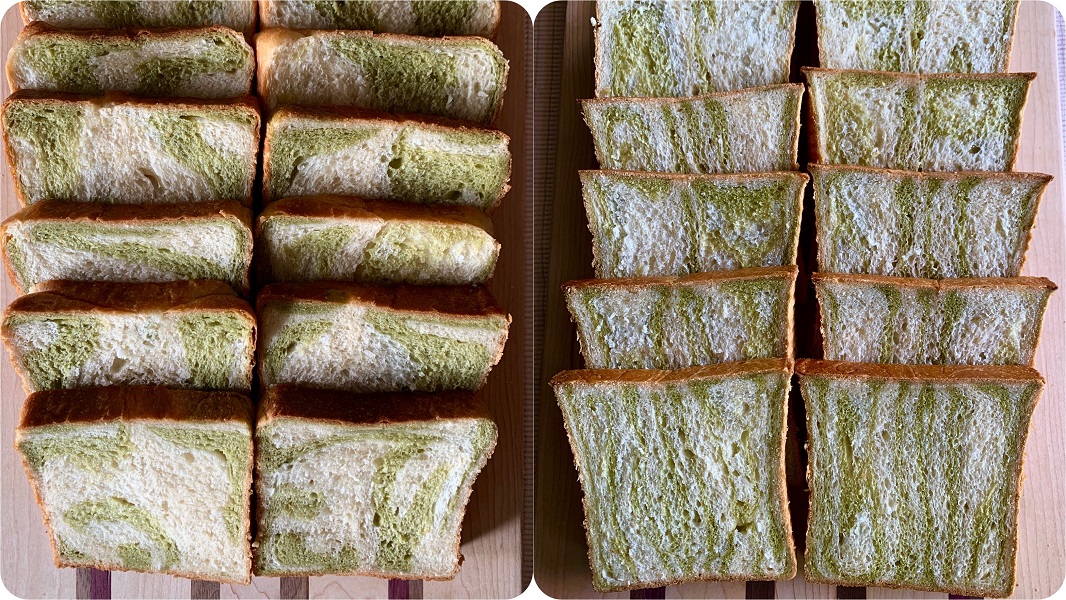 I made two loaves of the same bread for our trips. I wanted to see how the colors would look like with different ways of rolling the doughs. I think laminating the doughs together might give me more uniformed lines. Either way, matcha + coconut is tasty! Baked in a Pullman 9 x 4 x 4" 180°C 25 minutes with lid on, 20 minutes without. The second loaf had a longer 2nd proof because life got in the way. :)

Tangzhong
20g all purpose flour
100g milk

Dough
All of the Tangzhong
115g soured milk
90g starter (100% hydration)
1 large egg
40g sugar
4g instant yeast
6g salt
200g all purpose flour
120g Kamut flour
20g unsalted butter
20g coconut oil

Just after mixing the dough:
to 1/3 of the dough:
Mix 2g matcha powder with 5g water. Add to the dough and mix until dough is pale green and smooth.

to 2/3 of the dough:
Add 20g unsweetened desiccated coconut to the dough and mix until smooth.


Blueberry sourdough with atta flour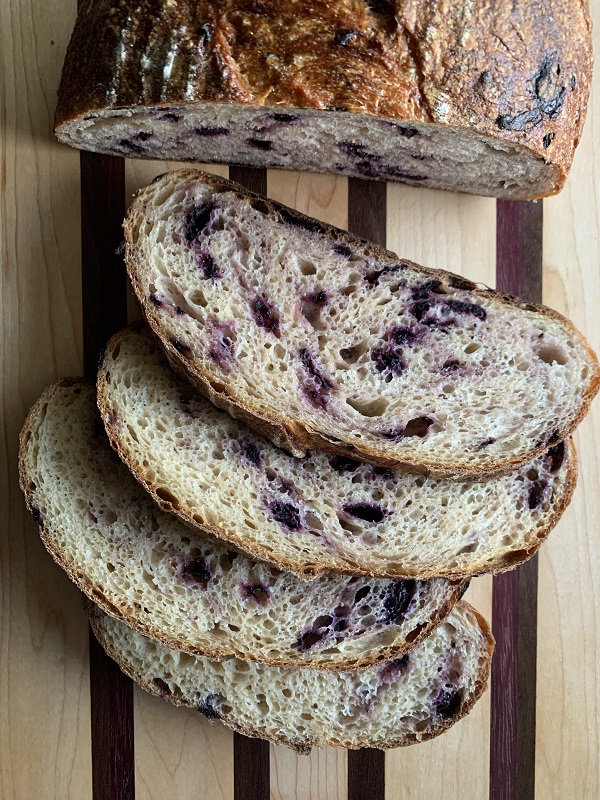 While making blueberry compote, I reserved some blueberry skins (I read about this from: Natasha's Baking) to test with atta flour in a sourdough loaf. This is a same-day loaf that I find rose faster than the others before probably due to higher ambient temperature on that day and the flour. The blueberry skins  were laminated into the dough with some pulp. I forgot about adding a lil bit of citrus zest for a lil burst of flavor. While this was fun to make, I realize it's much too tedious just to get blueberries in the dough without changing its pigments' intensity. For a same-day loaf, this one had a light sourness which I like!

Dough
200g water
80g atta starter (100% hydration)
110g atta flour
100g all purpose flour
50g Kamut flour
5g salt
5g coconut oil
40g blueberry skins (from about 150g blueberries)
3 tbsp blueberry pulp


Onion & yogurt flatbread
Qashqari patir and qatlama layered breads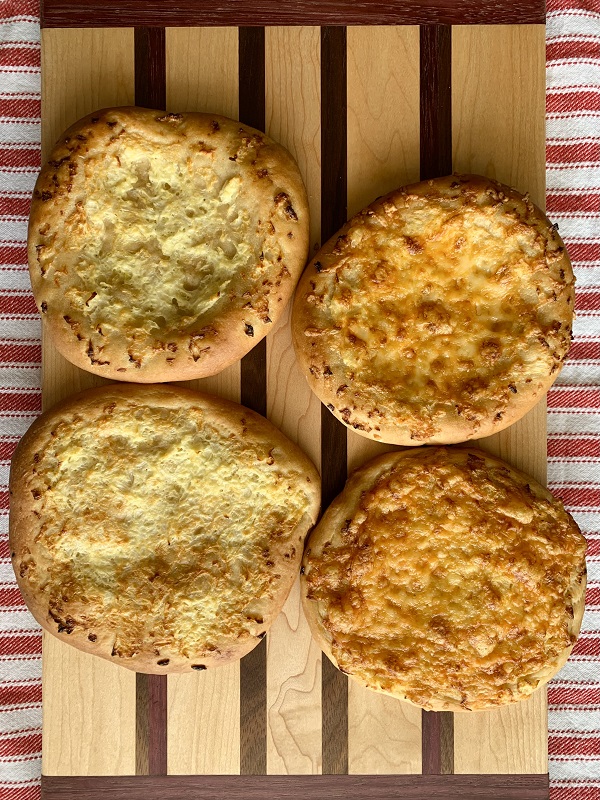 Adapted from: The Art of Uzbek Cuisine and Tasty Arbuz

Unlike piyozli that are usually rolled with onions (raw or caramelized), these were topped with a mix of chopped onion, yogurt and egg yolk.

Shaping the dough for qashqari patir was quite easy, but I wanted to see if the dough can be used in layered bread/qatlama patir instead. This method of making flaky flat bread is very similar to our Malaysian roti canai (I must attempt this soon).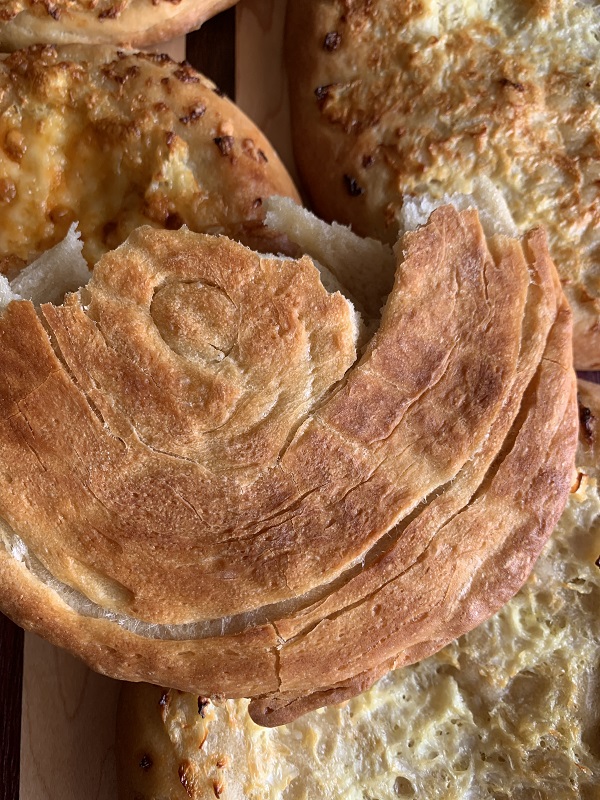 The atta and Kamut made this dough soft and easy to stretch and shape. Once baked the layered version had crispy layers and tasted so good thanks to the brushing the dough with some ghee, onion topping and cheese. The normal qashqari patir is softer and chewy. Onion + yogurt + cheese =  yum!

190°C 25 to 30 minutes until the edges and topping are golden brown - I noticed Malika did not include baking temperature and time on her site.

Dough (6 flat breads)
230g *onion water
90g atta starter (100% hydration)
2g instant yeast
115g Sharbati atta flour
240g all purpose flour
7g salt
10g ghee / butter, a bit more to brush on dough for layered version

*Onion water
200g onions, chopped fine (I used Vidalia)
200g water
Short cut: mix these roughly chopped onions in a food processor with water, use 'chop' mode and pulse for 30 seconds until the onion bits are smaller than 1cm.
Pour the mixture through cheesecloth or a sieve and squeeze out the water. Set aside the leftover onion pieces for the topping

Onion topping
Onion bits
1 egg yolk
2 tbsp plain yogurt (I used plain Greek)
Optopnal: shredded cheese (I used cheddar and Swiss


Cinnamon twists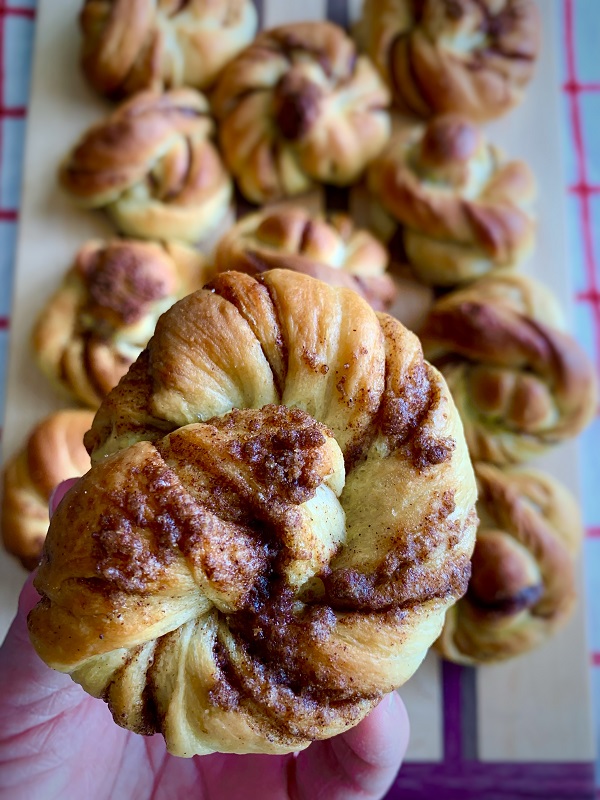 We love these cinnamon buns/twists as they're really great snacks on our road trips. I have posted one in the past, but this time, I used my other recipes. There are so many ways to shape buns, I simply spread the filling, letter fold the dough, roll it out a bit, slice into 8-12 strips, and twisted each strip until they formed a bun, almost like making a hair bun!

Bake at 180°C 18 to 25 minutes until the tops are golden brown.

Tangzhong
20g all purpose flour
100g milk

Dough
All of the Tangzhong
120g milk
1 large egg
1/2 tsp vanilla extract
280g all purpose flour
50g Kamut flour
5g salt
a pinch of ground cinnamon
25g sugar
6g instant yeast
60g unsalted butter
10g light olive oil

Filling
15g unsalted butter, melted
80g brown sugar
15g all purpose flour
3 tsp ground cinnamon (or more)
a pinch of salt



Banana bread with blueberry compote
Here's where the blueberry compote went into.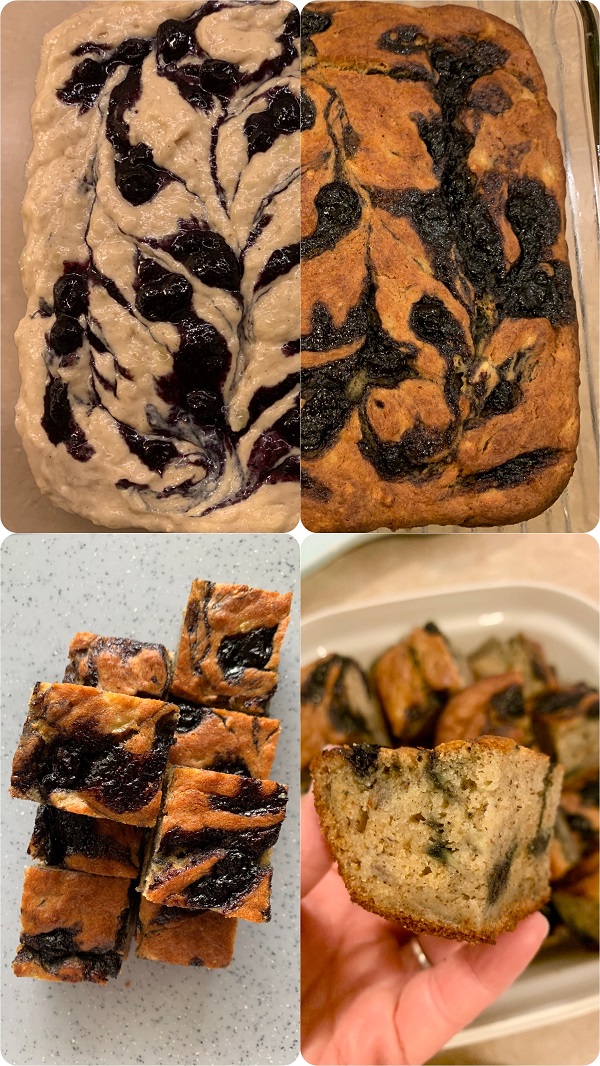 Mix wet and dry ingredients separately, then mix them together until just combined. Pour half of the batter into the greased pan, drop teaspoonfuls of compote over the surface. Top with the rest of the batter. Add spoonfuls or pipe the rest of the compote and swirl.

Bake in 8 x 8" pan (have yet to test in a loaf pan), 180°C 40 to 50 minutes

Wet ingredients
300g mashed ripe bananas, with some chunks (about 3 bananas)
50g coconut oil
30g sugar
30g brown sugar
1/2 tsp vanilla extract
2 large eggs
120g yogurt

Dry ingredients
140g all purpose flour
60g whole wheat flour
1 tsp baking soda
1/4 tsp ground cinnamon
1/4 tsp salt

Filling & topping
1/3 cup blueberry compote



Banana coconut baked oatmeal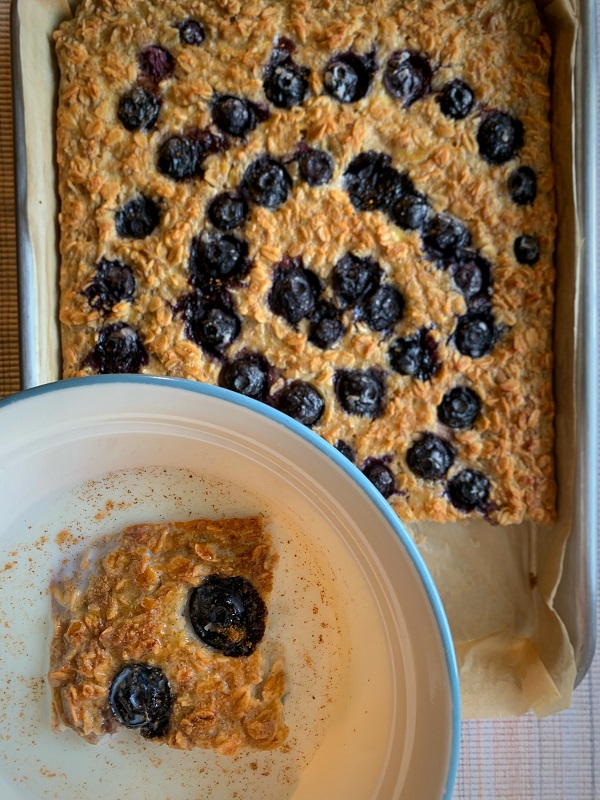 There's barely any traces of flour in this one. It is one of my favorite breakfasts with a bit of cinnamon and milk and sometimes with some fruits or berries. A tray usually gives me breakfast for about 4 to 6 days depending if hubby is eating as well or not. He eats them like a soft cookie. I place these baked and sliced bars in a resealable bag and chill them to keep moisture and air out.

Wet ingredients
300g mashed ripe bananas (about 3 bananas)
20g unsweetened desiccated coconut
240g milk
120g Greek yogurt
30g maple syrup (or honey)
1/2 tsp coconut extract (optional)
1 large egg
30g unsalted butter, melted
20g coconut oil

Dry ingredients
200g rolled oats
1/2 tsp baking powder
1/4 tsp ground cinnamon
1/4 tsp salt

Topping
120g blueberries tossed in 1 tsp flour or fine sugar
Other toppings or add-ins: cranberries, toasted nuts, sliced banana, chocolate chunks/chips, cinnamon crumb or anything you like with breakfast

Mix wet and dry ingredients in 2 separate bowls. Add dry ingredients to the wet ingredients and mix until just combined. Pour into greased and lined baking sheet (quarter or 8" square). Add toppings and bake at 180°C for 50-60 minutes until the top is firm and golden brown.


Okay, until next time! :)
- Christi