Matcha swirl sourdough and other bakes
Happy August! :) I'm happy with the same-day sourdough loaf I made over the weekend. Shaping was ok but my scoring was completely wrong. Luckily the loaf turned out well and it's got a hint of matcha scent that I like.

Matcha Swirl Sourdough
175g all purpose flour
45g Kamut flour
10g spelt flour
165g water
70g ripe starter (100% hydration)
5g salt
5g olive oil
1 tsp matcha powder (I used culinary grade matcha) mixed with 1 tbsp water

Ambient temperature 21-24°C.
Autolyse: 2 hours
Bulk fermentation:  4 to 5 hours (30-50% increase in volume)
Final proof: 45 minutes at room temperature. 2 hours in the fridge.
Bake at 230°C for 20 minutes with lid/steam on; 20-25 minutes without lid/steam until internal temperature is at least 96°C/205°F
- I left the loaf to cool in the oven until the next day before cutting into it.


The other bakes I've made recently are:
Coffee swirl sourdough loaf (recipe here) - I used instant coffee with cocoa powder for this loaf. I think it'll be better with just cocoa powder.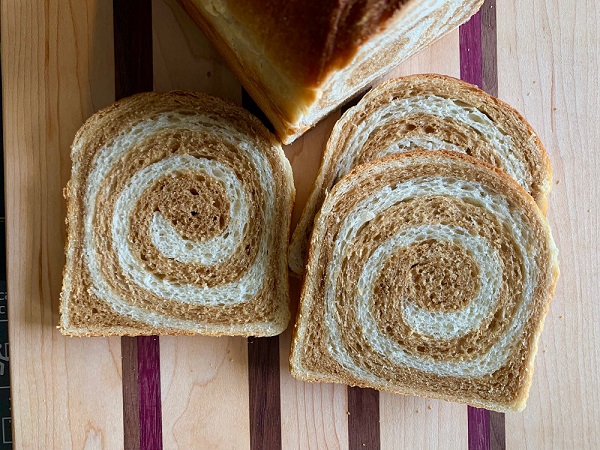 Puran poli - a stuffed flat bread typically made with a sweet lentil filling. I love the warmth of this flatbread thanks to ground ginger, cardamom and nutmeg.
I chatted with the microbiologist behind ZestySouthIndianKitchen on the alternatives to lentil for the stuffing. Swathi (or Saraswathy) was happy to explain, I could easily use chickpeas/garbanzo beans - removal of the skins took awhile.
I adapted her recipe and changed the amounts of sugars (it would be overly sweet with the amounts of jaggery and sugar) Dough preparation and cooking steps can be found on Swathi's website.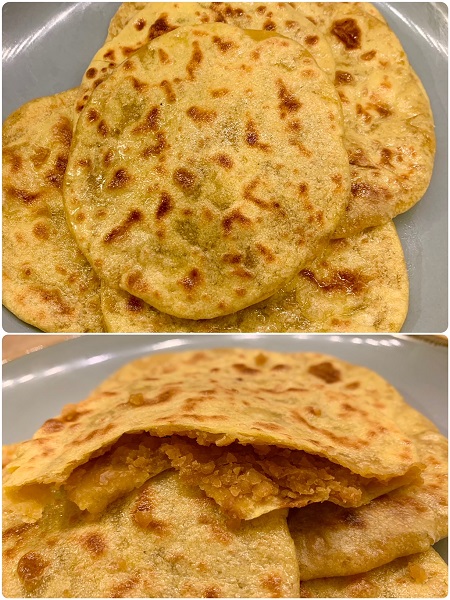 Dough:.
200g all purpose flour
50g Kamut flour
1/4 tsp salt
1/4 tsp ground turmeric
3 tbsp light olive oil
1 tbsp sesame seed oil
135g water

Filling:
300g chickpeas (about 1 can)
50g brown sugar
40g sugar
1 tsp molasses
1/4 tsp ground ginger
1/4 tsp ground cardamom
a pinch of nutmeg
Butter for brushing each flatbread

Filling preparation:
Wash and rinse chickpeas in cool water. Drain and place the chickpeas in medium pot. Cover with water, making sure all the chickpeas are submerged. Bring the mixture to a boil over medium heat. Reduce heat to medium low, or a simmer and let the chickpeas cook for 5 minutes.

Remove from heat and rinse the chickpeas in cold water. Remove chickpea skins (if any), drain and pat dry.

In medium saucepan cook the chickpeas together with the sugar, brown sugar, molasses on medium heat. The mixture will become watery as the sugars melt. Continue cooking until the mixture begins to thicken.

Remove from heat and stir in ground ginger, cardamom and nutmeg powder.

With a fork, gently mash the chickpeas into a paste. This filling will thicken as it cools. Once cooled, divide the filling into 8 - 10 portions. Roll each portion into balls to be used to fill the dough.


Garlic, herb and cheese loaf
I used the same recipe for garlic herb rolls in this loaf. And increased the shredded cheese to 150g just to finish the last of my block of cheese.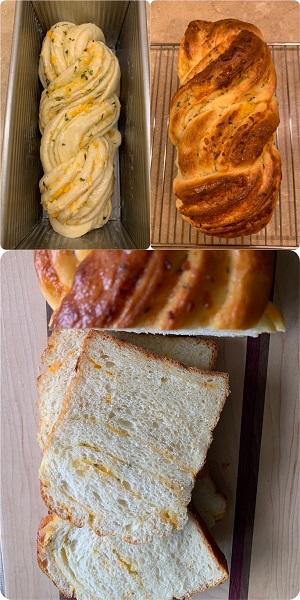 Rum raisin coconut cookies
Made these without any leavening for a shortbread-like feel.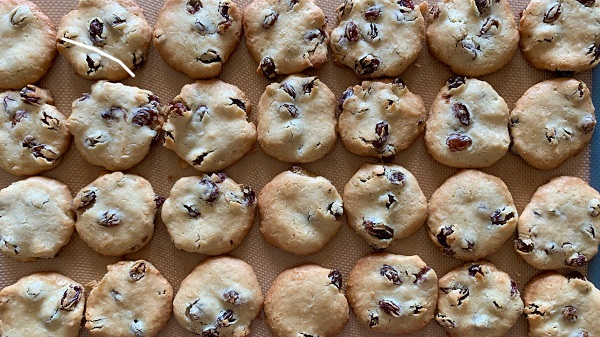 Raisins
100g raisins
1/4 cup rum

Cookie dough
80g unsalted butter
30g coconut oil
50g sugar
1/2 tsp coconut extract
1 large egg
1 tbsp rum (from soaking raisins)
120g all purpose flour
10g cornflour
1/4 tsp salt
50g unsweetened shredded coconut


Soak raisins in rum overnight. The next day, drain and pat dry. Set aside excess rum.

Whisk together all purpose flour, cornflour and salt in a bowl. Set aside.

Preheat the oven to 150°C/300°C.

In a mixing bowl, add butter, coconut oil, sugar, coconut extract and egg. Beat gradually from low to high speed until the mixture is pale and fluffy. Add rum and continue mixing until homogeneous.

Gently fold in the flour mixture and coconut just until no bits of flour can be seen. Cover and chill the dough for 60 minutes.

Scoop 1 tbsp portions of cookie dough onto parchment lined baking sheets. With the back of a wet spoon or finger, flatten each cookie dough to about 3cm in size. Bake for 20 to 25 minutes until edges of the cookies are golden brown. 

Remove from the oven and leave the cookies on the baking sheet for 5 minutes. Then, transfer the cookies to a cooling rack.


6" Clafoutis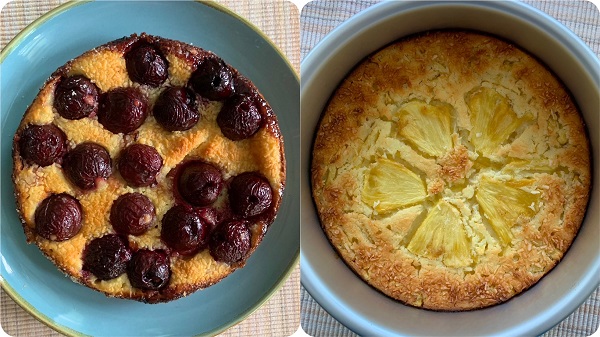 We're finding cherries in every store now; since my husband hates them, I've all of them to myself (yay!)

This is a really easy dessert to make, almost similar to making Dutch babies except with less flour. I made 2 versions of clafoutis - one with cherry and one with pineapple coconut. The batter is the same for both.

Adapted from https://kellyneil.com/julia-childs-cherry-clafoutis/


25g all purpose flour
1/4 tsp baking powder
1 large egg
20g sugar
100g milk 
8g unsalted butter, melted
A pinch of salt 
1/4 tsp vanilla/coconut extract
30g unsweetened shredded coconut, toasted 
150g pitted cherries/diced pineapples
Preheat the oven to 180°C.
Butter 6" baking pan and lightly coat with sugar.
Whisk together all purpose flour and baking powder. Set aside.

In a saucepan over medium low heat, warm butter, sugar, milk, salt, and shredded coconut until butter is melted and sugar dissolved. Remove from heat and let the mixture cool for 15 minutes. Add vanilla/coconut extract and egg. Whisk the mixture for 1 minute. Add in flour mixture and mix until batter is smooth.

Pour about 1/3 cup of batter into prepared pan and bake for 6 to 8 minutes. This step creates a base so that the berry/filling will not be touching the base of the pan and burn during the bake.

Remove the pan from the oven and carefully pour the rest of the batter. Arrange pitted cherries/pineapples evenly in the batter. 

Bake for 45 to 50 minutes until the edges are golden brown and the middle of the batter is set (wobbly, not shiny). 

Remove from the oven and let the clafoutis cool slightly for about 30 minutes.