Ammerland Black Bread/Ammerländer Schwarzbrot - Ginsberg
Well, lol, as an actor, if dress rehearsal blows opening night has a chance.  I'm really loving Stanley Ginsberg's The Rye Baker and am drawn especially to dense, really aromatic and really dark rye breads.  I was introduced to them by my wife and her family (all Estonian), they are served constantly and I love them but never baked them.
Oops.
I think a few things may be at play, just guessing.  Based on the formula I didn't expect the bread to ferment so explosively, so much so that it was well above the 9" pullman by the end of fermentation.  In the oven it sprung significantly.
Normally I bake so the loaf basically sits right in the middle, with the crust just above that line.  We rent and we have a small oven.  Even though the oven drives me crazy with an inconstant thermostat and it cooked a long time at 350 v. the 375 of the formula, the top of the bread was too close to the top oven surface.
I also wonder if my attempt at "light molasses" parsing was not conducive to the right "tone" in the caramelization.  The recipe calls for light corn syrup, light molasses and malt syrup (I believe).  I like more aggressive flavorings in "things that are meant to be bold" (e.g., don't be stingy with the caviar - it's meant to be luxury), so I tried to parse light molasses with 75% Brer Rabbit "full flavor" molasses and 25% light Caro.  Too dark?
I wasn't close to 60 minutes after pulling the foil (formula calls for 60-75 minutes), so was hesitant to pull the loaf even though it was literally right up against the cliff to burnt.  Internal temp 209F.  Should have pulled it.
The only other note I'd add is that I don't think my poor, elder KA can handle this 4 pound, heavy as hell dough.  Really got hot and labored too much; had to start and stop many times.  I added additional water in two additions.
It was a total joy to make as this is my first rye outside Hamelman 3-Stage 70-90%'s, and it's in that N. German line.  I just bombed.
I want to make this or another in this vein the third of my "training triad," three breadsI want to work one exclusively in order to better learn.  The others are Hamelman's VT SD, and Gerard Rubaud's pain au levain, with the latter being the major focus.
Cooling now, will do a crumb shot.  If we can slice through it.  And sorry for the goofy rotation - straight in my photos, can't figure out how to straighten here.  Lol: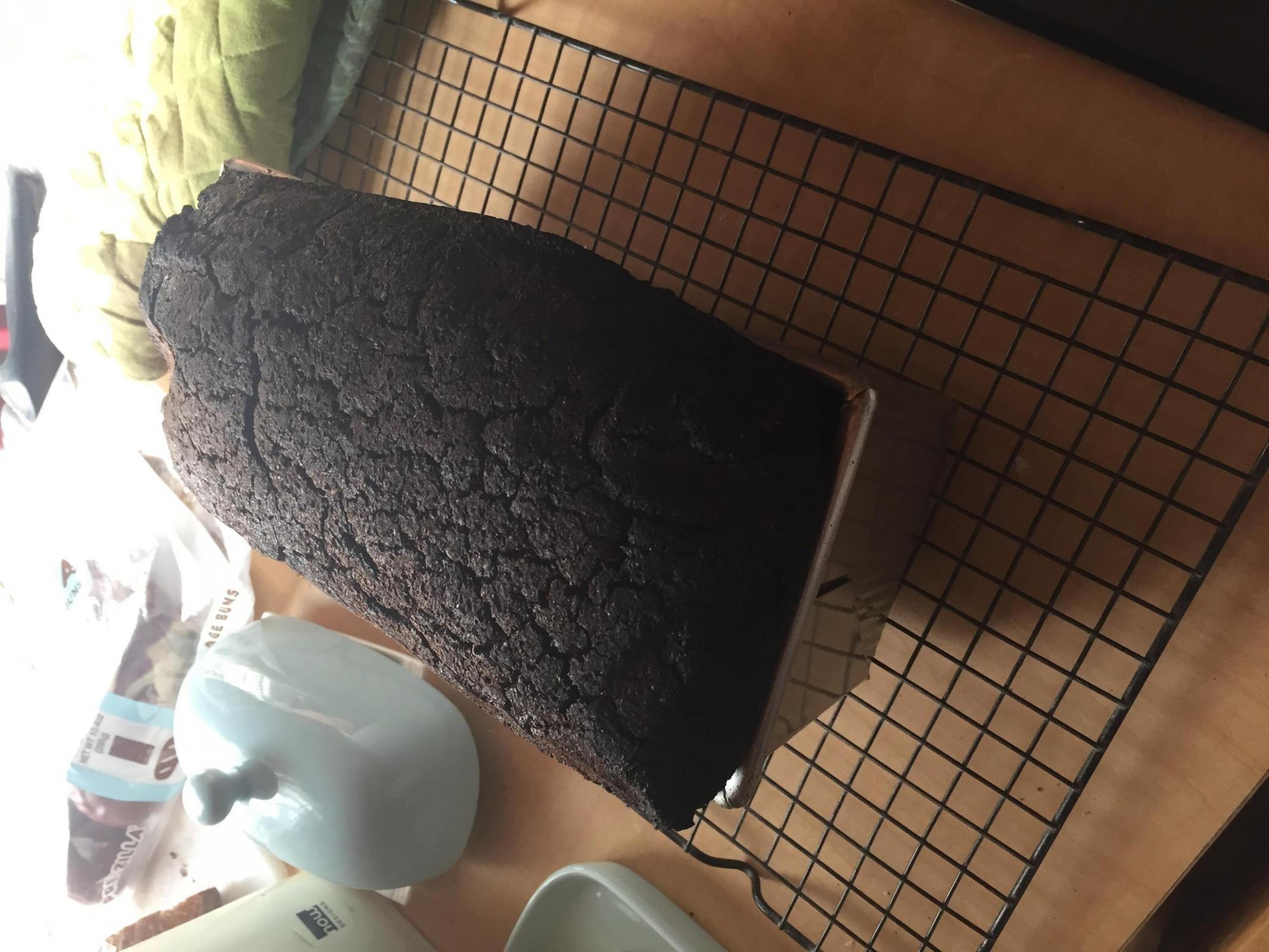 Edit:  Hmm.  Edible topless?