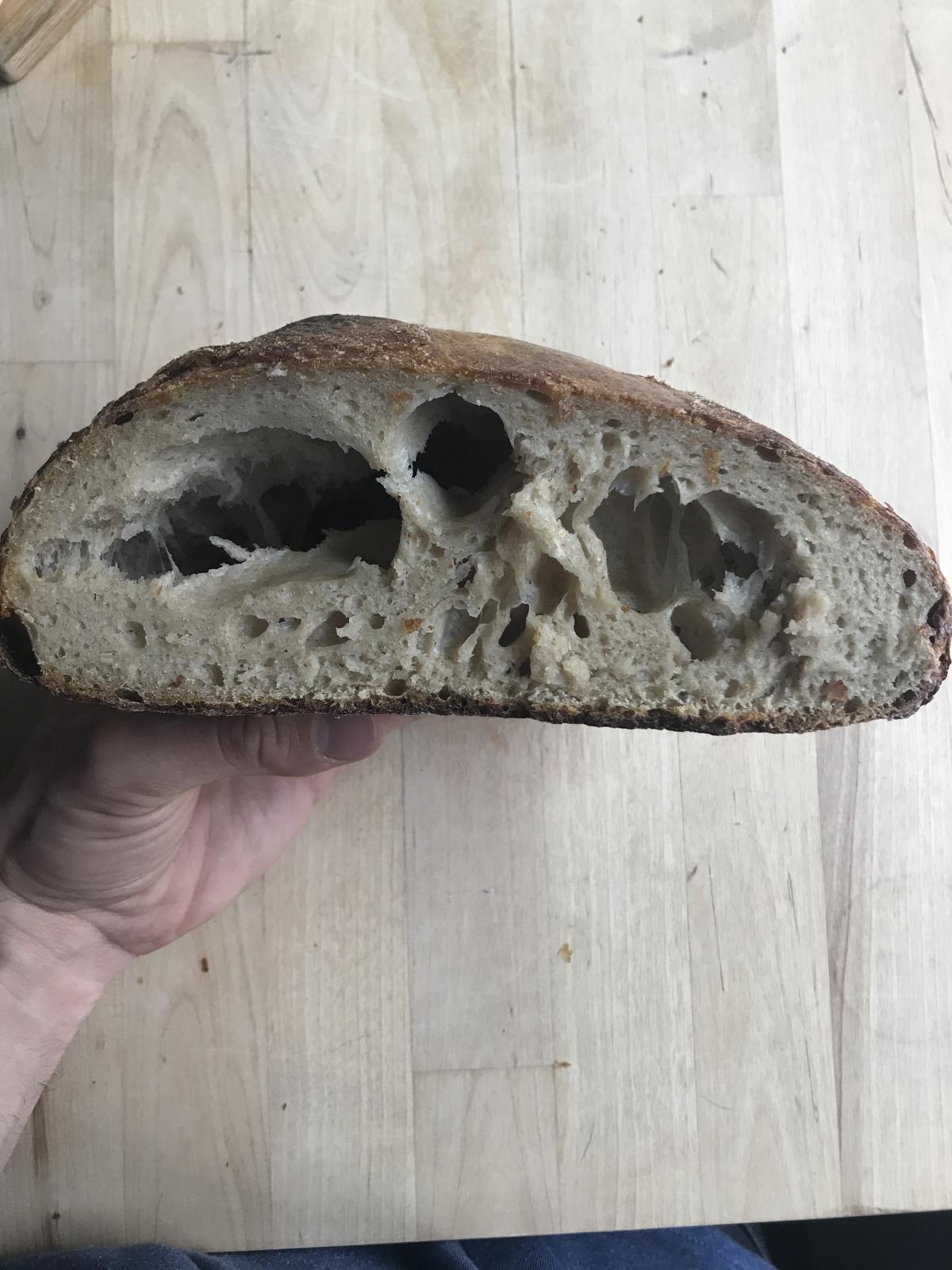 Hey fellow bakers, 
I'm at my wits' end with sourdough baking and am hoping for some guidance on what I'm doing wrong.
My loaves are coming out terrible! Massive holes, it can almost be an empty calzone, also no ear whatsoever, just flat and shiny. I've tried so many different recipes, read many forums and watched many videos, everybody seems to be saying contradicting things - it's underproofed, no it's overproofed, oven's too hot, not hot enough, etc... No matter what I tweak, it comes out bad... Always tasty and edible in the end, but getting really tired of these dense yet hollow loaves. 
I've gone through many different recipes, but these days, I'm trying to follow the Tartine recipe (75% hydration), and I'm cutting it in half to make one loaf. Here's what I'm doing:
450g King Arthur's Bread Flour
50g Whole Wheat
100g starter (fed 6-8 hours before baking with 25g starter, 50g bread flour, 50g whole wheat, 100g water at 85F)
350g water + an extra 25g added later with salt
10g salt
If you know the recipe, I'm following it exactly. If you don't, basically:
- I fed the starter, let is rise 20-30%, Tartine guy insists to use a young starter so that it's not exhausted by the time it bulk ferments. This time it took about 5 hours for me. Starter passed the float test with flying colors, could've probably used it as a life jacket. 
- Autolyse, rest 40 min, add salt (I've experimented with adding a bit of Rubaud method, and a coupe slap and folds) , and boom, we're in bulk ferment. 
- Bulk ferment: 5 hours, stretch and folds every 30 min, started getting a little bubbly on the sides of glass bowl, puffy, smooth, elastic, grew about 20%, all good signs
- Preshape into a taut ball, nice bubbling, feels bouncy, gassy, holding its roundness. rest 20 min. 
- Final shape as he does it in the book, looks just like the pics/videos, and into the baneton it goes.
- final proof in fridge for 12 hours (I've experimented with 8 hours, 18 hours, covered, uncovered). I do the poke test, and it springs back very slowly, so should be good. 
- take loaf out of fridge and preheat cast iron Lodge Combo Cooker at 500F in my gas oven for 30min. (I have a thermometer which shows that oven actually runs about 30F hotter than what it reads on the dial, so I have it set to 470F)
- gently putting the loaf into the pan, scoring with a razor blade bread lame, looks like it sags apart sometimes after scoring. Scoring at a tight angle, just off of the center to "encourage an ear"
- put in oven, bring temperature down to 450F (420 for me), bake 20 min
- Then for the sad part - I take the lid off, often looks flat, sunken-in at parts (so very sad). Then bake for another 30 min, which about 5 minutes in, it starts to puff up like a balloon, deceiving me into thinking it's a delayed oven spring, but it's really just a hot air balloon. 
What am I doing wrong!? Please, somebody help. 
Thank you so much!