Here we report an experiment designed to increase a levain's natural yeast titre.  Possible* novel aspects are (1) an "Overnight" version of Raisin Yeast Water (ORYW) and (2) growing SD levain in undiluted RYW.  (*nihil sub sōle novum when it comes to bread baking but I don't recall seeing exactly this described before)

Materials & Methods

The day before preparing a dough, the water destined for the levain was measured into a pint Mason jar.   1 tsp honey and 1 Tbsp raisins were then added.  The jar was sealed, shaken periodically and incubated @ RT (~60-65˚F) over the following ~24h.  Next day, the raisins were removed and refreshed SD starter and flour were added.  The levain was grown to youthful maturity and used to make a 2kg, 60% whole wheat miche by our standard formula and process.

Results

Overnight Raisin Yeast Water was pre-tested as a SD inoculum diluent by inoculating some with leftover starter and flour.  A water diluent control was included (an ORYW + flour control [i.e., minus starter] was unfortunately omitted).  The ORYW treatment ("RW" in the three time points shown) expanded faster and ended higher than the control.  This wasn't replicated or precisely quantitative (I now have Fermentation Tube envy, Benny), but confirmed that the ORYW doesn't negatively impede starter performance in terms of expansion (CO2 production).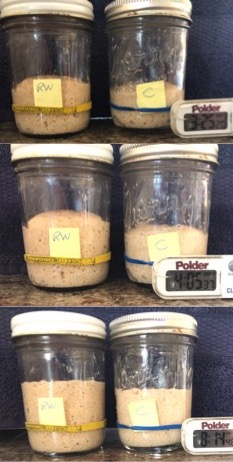 When ORYW was then used to dilute ripe SD starters for bakes, the resulting doughs rose abundantly and produced loaves with satisfyingly soft and lacy crumbs (first row below: last week, second row: this week).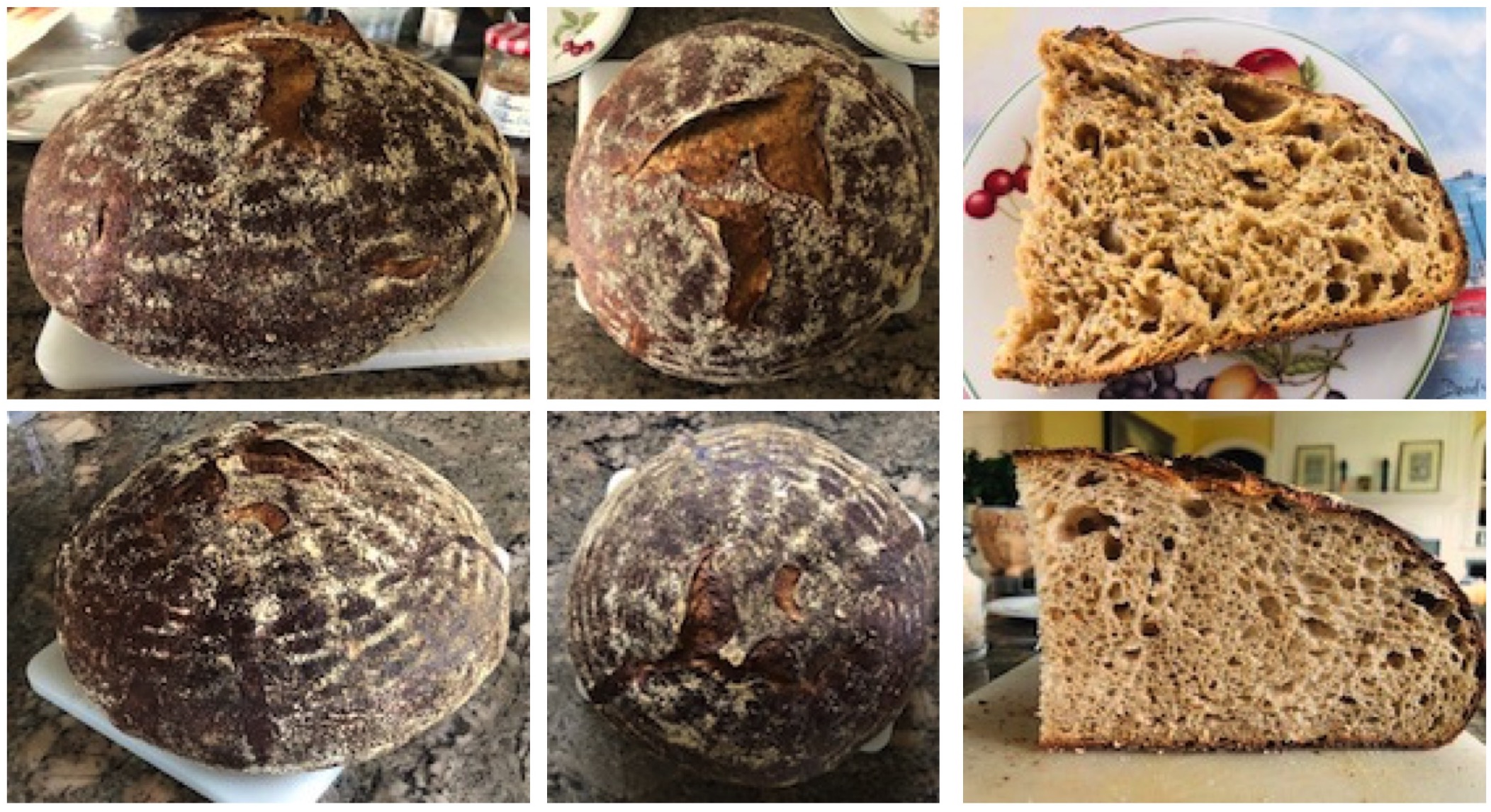 Spring has sprung here in New England and our household temperatures have climbed into the 60˚'sF.  The second week's ORYW trial was somewhat over-fermented owing to this compounding factor.  It would have been more timely to test ORYW+SD two months earlier when kitchen temps were ~10˚F lower and Messrs. Brod &  Taylor were struggling to keep the children warm.  That's when our doughs need extra encouragement.  To paraphrase the proverbial bottom line: Whenever one manipulates fermentation conditions, mindful vigilance of the dough's progress is essential.

These loaves' flavor was normal/excellent for our weekly 60% fresh milled whole wheat miche.  If I use my imagination, they are less sour, but perhaps only because I expect the added yeast to have competed with the flavor- and acid-producing bacteria.  Sourness normally builds over days but hasn't seemed as pronounced in these breads, which suits us fine.

Conclusion and Discussion

ORYW can be effectively used as a SD starter diluent to build a levain, with salutary effects on loaf volume, texture and (if maximal sourness is not an objective) flavor.  Beyond the tests reported here, the outcome of this manipulation will be subject to many variables including starter, honey and raisin amounts and diversity as well as ORYW incubation time and temperature.  It is entirely possible that the yeast provided by another honey, raisin or fruit source (e.g., a higher titre, long-term RYW culture) would vanquish SD microbes in a starter, resulting in effectively a pure RYW levain.
Happy Baking.