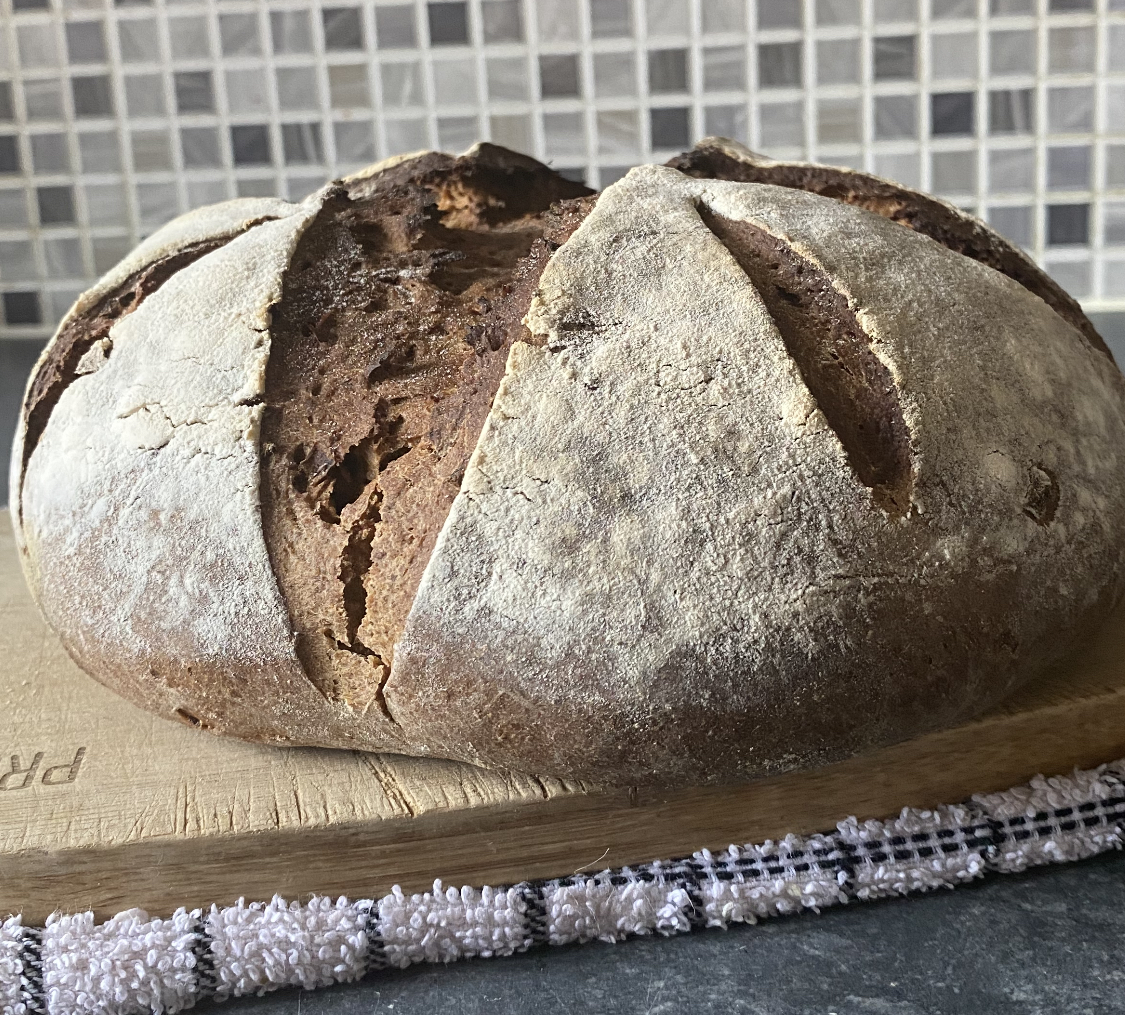 My first attempt at a sourdough rye loaf.
The proofing time by the instructions was off by about another 2 hrs. The recipe said anything between 1 and 3 hrs but a good reference for it being ready is if it has gone pillowy and lighter feeling. This extended the proof time to 4/5 hrs more, the 5th hr being cos I forgot to preheat my oven.
This felt so different to the standard white loaf I usually work with so I want to be sure I'm understanding the correct quality's for this sort of bread and that I'm not confusing it with what I'd normally do.
mixing- very stiff, dry and tough, looked terrible at this stage, but with the lack of gluten from standard white flour, am I right to assume it's meant to be this way? it was a very dense mass. I heard off rye breads being sticky, should I add more water to make it easier to work with? 🤔
shaping- it did not look smooth at all so I let it relax for 30mins but it made no visible difference. This was not in the instructions but I felt it needed it so I could shape it nicely as it was not being very compliant with my needs; the instructions said to shape it the moment you've kneaded it, but this would have been difficult. 
It almost had a lumpy look to it even after I'd shaped it, but it was really tight and again not like anything iv made before when it's at this stage. It was not very sticky or stretchy like my normal white bread when I'd have it at this stage, almost no give in it at all. My thinking again was that it's from the lack of gluten , is this a correct assumption?
Bulk ferment and final proof- the recipe asked for the levian to be feed from a ripe starter from the night before and left at room temp overnight, explaining this would act as a bulk ferment stage so there was no need to do this during the mixing process. It doubled in size and looked good. 
the final rise though; well, not knowing what to look out for, it looked quite ridiculous, I'd shaped it into its lumpy looking boule, and as usual turned seem side up into a prepared bowl. It took the better part of 3 hrs to actually relax enough to form around the bottom of the bowl. Does it take this long for rye to relax? 
there was next to no visible rise at this stage unlike the bulk ferment stage, but it did eventually relax into the bowl and spread a little. It still felt dense and far too heavy to be ready but I understood that it should be ready when it sort of softens or goes a bit lighter and billowy? and that it won't necessarily rise at all.
the bake- 45mins total in a Dutch oven, 30 mins covered, 15 uncovered. 
It rose!!!! Surprisingly, but only a bit, I'm not sure how much it should rise during its oven spring stage. (again this is with rye flour and not white flour- I should I expect this) but it worked great. Still felt really dense like a underproofed white loaf, am I looking at this the wrong way? As it otherwise looked like it worked. I suppose if I think of this as characteristics of a white loaf, then iv done a few things wrong. But not having worked with rye before, I dont understand what I'm looking for. 
Bake appearance- a heavy loaf once baked. 
the scoring along the top was me trying to copy the picture that came with the recipe. It looks very similar; along with the rest of the general look of it. Could I have scored the x a bit more shallower? Or is this again a good characteristic? it seemed to split? as it baked. again not like my normal bakes so am not sure if it's meant to bake in that way.
taste- and smell are both amazing, a touch bitter so maybe next time il use less coffee or treacle as personal preference. I little dense in the mouth almost cake like but otherwise really good. Not springy as such when you bite into it; no bounce to it, if you squeeze it a little.
All in all I'm really pleased. But as this is my first go, I'm not sure if iv got it all right and understood. Are these standard differences in this sort of bake? And have I done well for a first try? 
iv other photos of the inside of the loaf as well, and a few more of the outside look as well