Chandley Compacta Pico Artisan Oven Review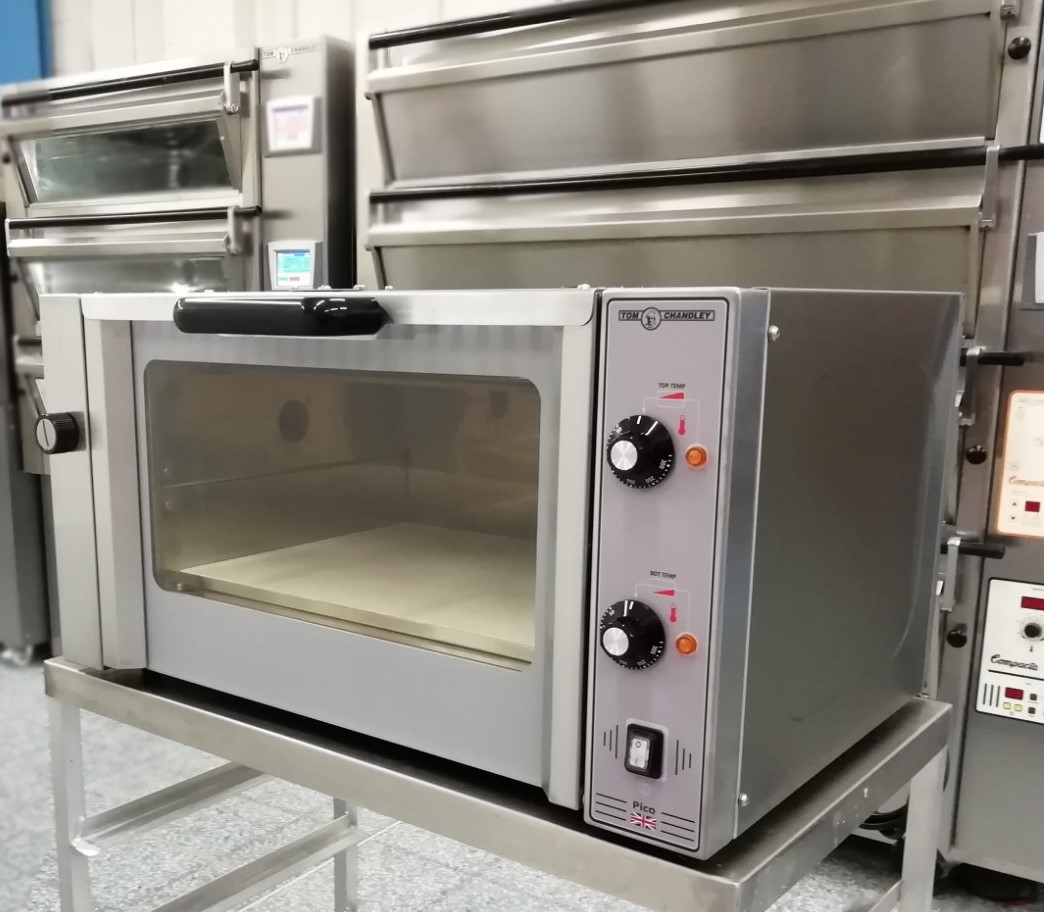 The Chandley Pico is a scaled down professional Baker's deck oven. The case is heavy gauge stainless steel. The door clasp grips the door tightly closed and requires a firm tug on the thick door handle to open. The controls are simple, mechanical, and straight forward; no digital here. It looks like it will work for a hundred years. I use the term "professional" here on purpose. This oven is a functional tool, designed for the baker to produce perfect loaves in small batches. It is not a high-end residential specialty oven. If you look closely, the metal panels have tooling marks. Some of the edges show mechanical punch marks. This oven was not made by a robot in an automated factory. It almost feels hand-made by craftsman. If you want a kitchen showpiece, look elsewhere. If you appreciate a well-designed, functional piece of equipment that just works and works well, this oven should fit the bill.
Basics
·       Exterior: 30" Wide plus vents x 25" Deep x 16.5" High (762 x 635 x 420 mm)
·       Interior: 18.5" wide x 15" deep x 7.5" high from stone to upper heating coil
·       240v single phase. This oven came with a U.K. plug. I swapped it with a U.S. 6-20P
·       Independent controls for the top and bottom heating coils, marked in degrees Centigrade
·       Built-in steam chamber. You need to fill it when loading the oven. Manual vent on the left side
·       Top temperature is 320°
·       No inside light.
 What's great about it
·       This oven accepts standard half-sized 18" x 13" sheet pans.
Neither the Rofco B5-B20 nor the Häussler Mono will
·       The built-in steam chamber doesn't take up any baking space
·       The controls are basic and analog. One on-off switch, two dial thermostats. There are no electronics here to get messed up and require a reboot to operate. No clock to set
·       Heats up fast
·       Reasonably priced
·       Produces great bakes
·       Arrived well packaged and undamaged
What could be improved
·       The door is two pieces of glass that are open at the top and bottom. There is no easy way to disassemble for cleaning between the two
·       The door is spring loaded and when open on my oven is a bit higher than the baking stone. At counter height, the hot edge of the door can easily touch your forearms when loading and unloading and cause a burn. Wear long mitts or long heavy sleeves or be extra careful
·       The included flask to pour water into the steam chamber has a rounded bottom so you can't set it down when it is full of water. I put the flask into a cup to hold it up
·       It's a little tricky to fill pour the water from the flask into the steam chamber
·       Some of the protective plastic covering was under the screws, so I needed to loosen the screws to remove the plastic. Not a big deal
·       Maybe a high-temp pizza option.
Why did I choose the Chandley
Here in the U.S. it is hard to find a reasonably priced bread oven. I was seriously considering the Rofco B5 or B10 but was put off by the 6" baking height and lack of steam. Adding steam meant subtracting baking area which is already at a premium in a small oven. The next size up was a Häussler Mono which I felt was a bit pricey for the size. Any counter top bread oven actually made in the USA was well over $3000. Someone on TFL mentioned the Chandly so I started researching that. It had more internal height, built-in steam, and, when I was shopping was 750 GBP or about 1000 USD. It seemed a bargain. Unfortunately, shipping from the U.K. to the U.S.  almost doubled the price. But I believe Brook Bake LLC will be importing them to the U.S. which should help bring the cost down a bit. You can email andy@brookbake.com for more info on that. If you do order one, I highly recommend you get one or two of the optional baking trays. They are heavy aluminum and fit perfectly inside the oven. You can also use them as a peel to load. I'm very pleased with this purchase. I'll try to add some pictures later.
Cheers,
Red