February 21, 2021 - 6:14pm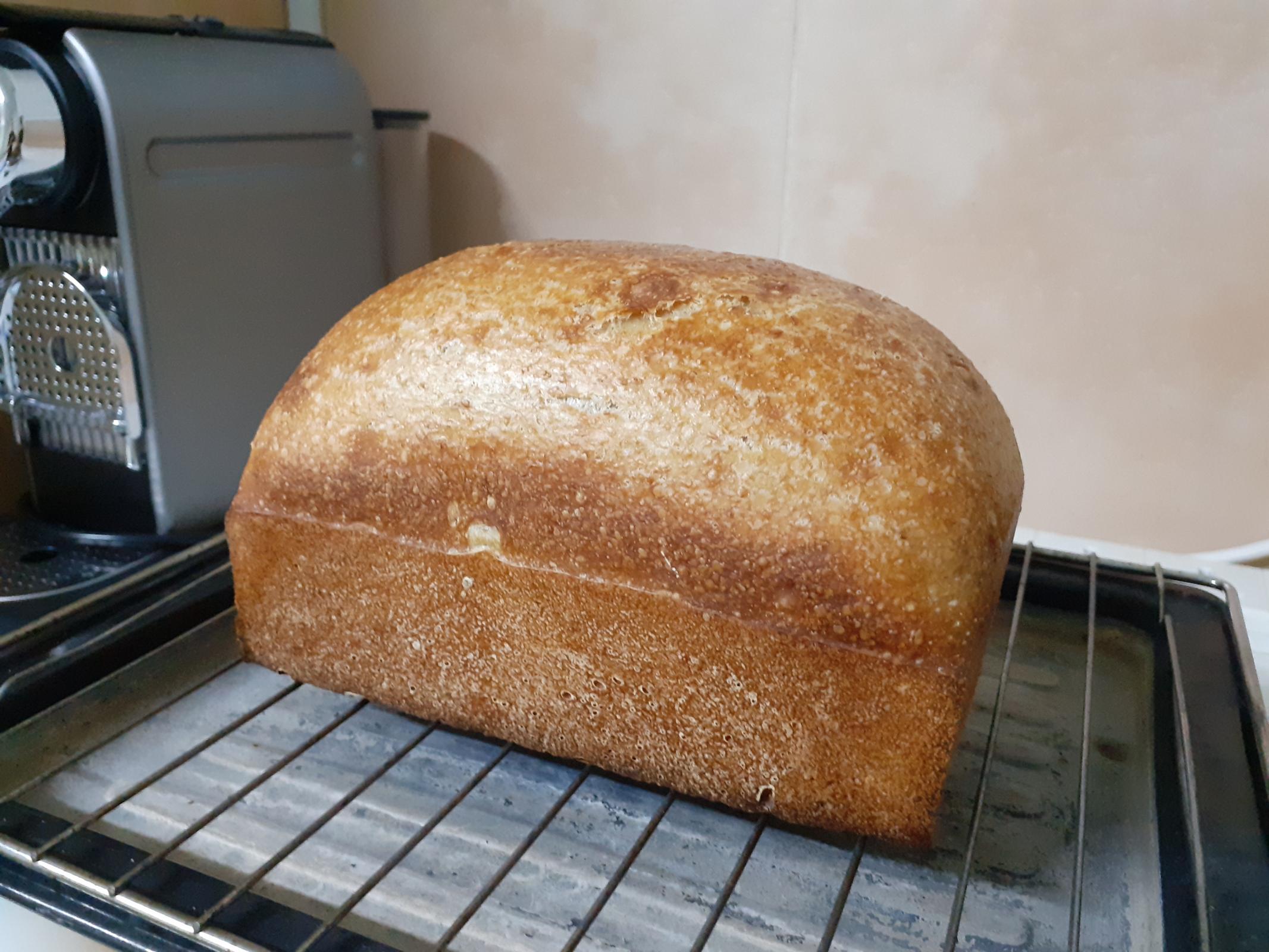 Well it's been a very long day. If good bread takes time then this is going to be one very tasty loaf. However I shall not count my chickens before I've seen the crumb and had a taste but so far so good. 
Bought this beer with an idea to harvest the live yeasts and attempt to bake a loaf with it. While drinking the majority of it, making sure to save the dregs at the bottom of the bottle, I was reading up on this beer to see if anyone else had tried it. It is a popular tasty beer and some enthusiasts had tried to do this however with the idea to brew their own beer rather than bake with it. One comment struck me that I might have hit a brick wall when I read... because it's been matured for 100 days the yeasts are not very active. Challenge accepted! 
Mixed a 90% hydrated pre-ferment using the beer and some bread flour. Over the course of 24 hours not a lot happened. Bubbles seemed to appear but then fizzle out. Every so often I stirred it. The mix had an appearance of a dough that's fermented by way of texture of the pre-ferment but no actual rise nor any apparent bubbles. At the end of 24 hours, which coincided with bedtime, there were more bubbles on top but still no rise. Added some more flour to thicken it up when immediately I picked up a new aroma of chocolate. The alcohol smell had disappeared half way through and it mellowed out a lot. This new nice aroma was interesting and because there was more bubbles in top I was hoping for a nice surprise come morning. Lo and behold the next morning it had clearly doubled... Onto the recipe. 
400g bread flour 
100g whole wheat flour 
350g water 
10g salt 
105g pre-ferment 
One hour fermentalyse then added the salt and proceeded onto the bulk ferment. My goodness it took it's time. The dough developed well but the chocolatey aroma had gone. The bubbles were very slow at first, then a few big ones started to appear which was encouraging but still no rise. Decided then it was going to be a game of patience. I will not move on from the bulk ferment till the the bulk ferment is done and the dough gets the nice aroma back. 10 hours later...
It was an odd dough. Now full of bubbles and smells good but only a very modest rise. Time to shape and hope for the best. Into the Pullman it went and while it shaped up well with a nice feel to the dough it probably rose by 50% when it seemed to lose its dome, flatten out and loads of bubbles appeared on the surface. It would not rise anymore so after 2.5 hours it was thrown in the oven hoping for the best. 
...and much to my surprise the magic happened in the bake. Was expecting a modest rise and flat top and instead the oven spring was excellent and had domed top. The baking aroma was very good, the colour looks very inviting and from the feel of it the crust is thin with a nice crackling when gently squeezed. I'm still holding my breath expecting a false crumb so while I'm hopeful, the joke might be on me when it comes to slicing what looks like a nice loaf. 
You can see the flat line where the dough stopped rising and the amount of oven spring. There's probably going to be a huge bakers cavern but let's wait and see...
I could have spent a few more days developing the beer starter and I'm sure it would have gained a lot of strength to become a fully matured but I was out of bread and locked into a deadline. I'm confident if I did this again with some more time spare the whole experience might be different. This was a fun experiment on a schedule. 
As I thought... Needed some more strengthening before using. Bit of a false crumb but atleast there's no bakers cavern. Taste is excellent and overall a success. With a bit more time, just an extra day or two, this could have had perfect results. I'll return to this recipe with some more planning next time instead of a last minute experiment.