January 14, 2021 - 3:43pm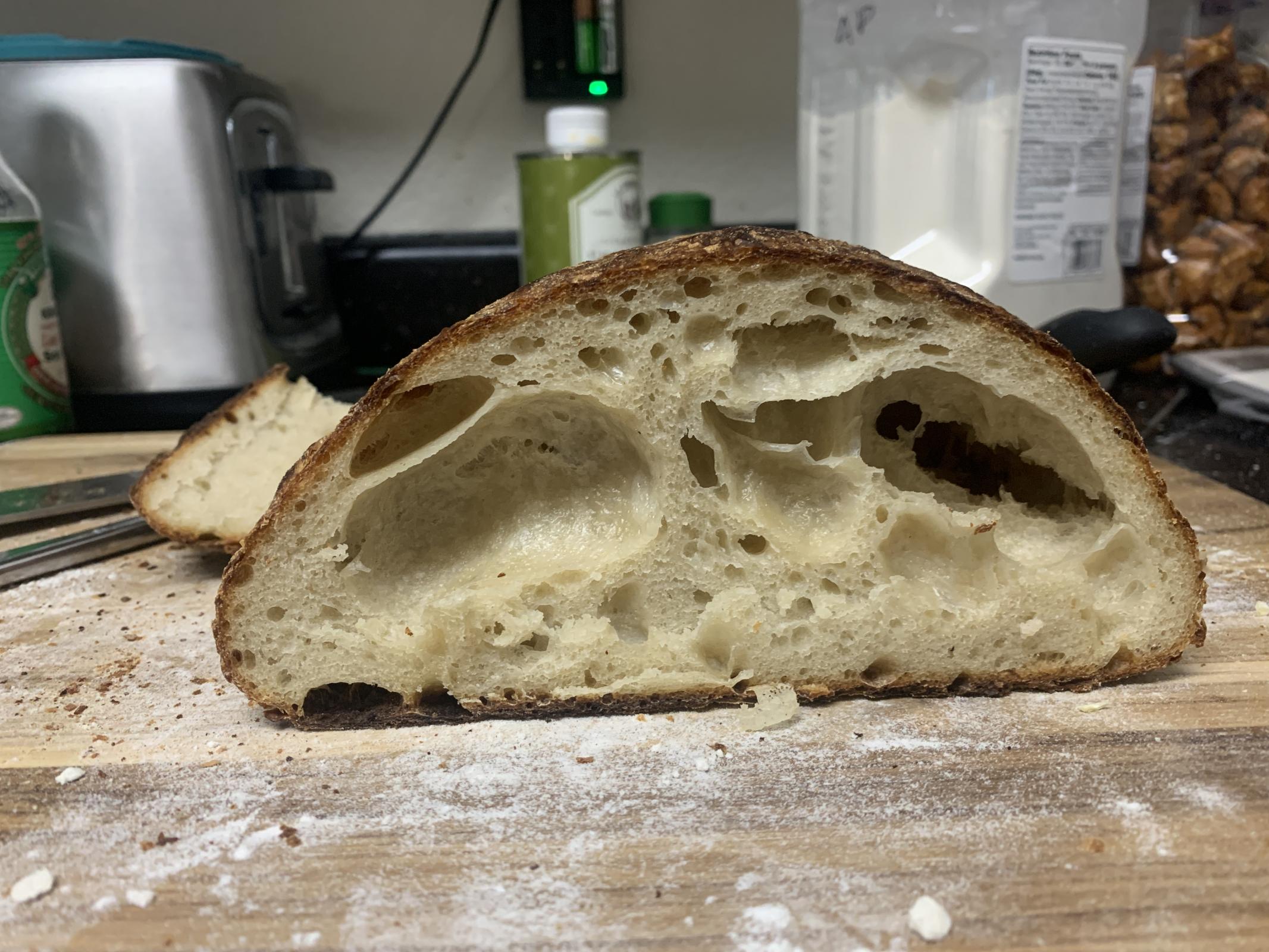 Well I made a another loaf and it seems like the crumb is still pretty dense.  In a previous comment somebody noted I should bulk ferment longer so I did.  I also tried to create a bulk ferment checker by putting some of my dough into a clear glass jar, but after 5 hours of bulk fermenting i didn't see any change.  Maybe the jar was too small and maybe the sample was too small and not representative of the dough.  If others have ideas on how to test the bulk ferment would like to here it....here is the recipe and process
Flour:  440g (used all purpose)
Water: 297g
Salt:  10g
Levain:  18/35/35 (100% hydration) (AP flour)
temp for levain, autolease, and bulk was 78F, controlled
Based on my estimate this dough would have a 70% hydration
The starter I used in the levain was being maintained for nearly 2 weeks and was easily doubling in size every 12 hours.  For the levain i used the above amounts and let sit for 6 hours.  A lot of bubbles, more than doubled in size and passed the float test
I autoleased the dough for 2 hours while the levain fermented.  Once done I added the levain and salt to the dough, mixed then did a few minutes of slap and fold.  Then bulk fermented for 5 hours.  I did 3 folds spaced by 15 minutes than 3 folds spaced by 30 mins, then let it rest for the remaining bulk ferment.  It was hard to tell if the dough doubled in size and my test idea above didn't work, but 5 hours seemed like long enough based on the amount of levain in the dough.
Once fermented i did some light shaping, let sit for 20 mins, then did some stich folding before putting into the basket for proofing.  Proofed at 40 degrees for 15 hours.
Hope for some feedback.  I feel like I did things differently this time and getting similar results.  I feel like I am mixing the dough pretty well, but could that be some of the issue?  Not mixing the levain thoroughly enough into the dough.  Maybe I need to move to a rye, stone ground or whole wheat starter???
Thanks again