December 31, 2020 - 8:54am
Broccoli Cheddar Bread Bowls Galore!
I have been trying to make good broccoli cheddar soup for years. I was always disappointed with the results. FINALLY, the stars aligned and I had both an excellent broccoli cheddar soup AND great tasting and great looking bread bowls to boot.
Bread Bowl Ingredients
100g spelt
300g white whole wheat
1000g AP flour
100g starter fed the night before (50:50 hard red)
180g starter from the fridge (1 to 3 days old) (50:50 hard red)
35g salt
85g extra virgin olive oil
85g honey
1150g water (82% hydration not including starter)
Notes:
I needed the bowls done in time for dinner, so the extra starter and honey was intended to speed up my rise. Worked out great, bulk started at 8:54a and I loaded the loaves into the oven at 2:25p.
I really love the smell of spelt, at least I think that is the spelt I smell, a buttery smell.
Used AP flour because I didn't have any bread flour.
I poured the honey right on top of the flour mixture. This caused some problems. Next time I need pour the water in first and then add the honey, just to keep the honey from turning into little honey/flour balls that don't want to incorporate into the rest of the dough.
Process:
8:30a: Mix all ingredients except for starter into shaggy mess, let sit for 15 minutes
8:45a: Smear starter on top of shaggy mess and then knead until all ingredients evenly combined. About 5 minutes of working by hand.
8:54a: Transfer dough into proofing container and cover, also transferred 20g to an aliquot jar.
9:48a, 10:45a, 11:49a, 12:53a: Stretch and fold in bulk proofing container.
1:00a: Pour dough onto counter, split into 10 loaves and preshape, then wait 15 minutes.
1:10a: Preheat both ovens to 425dF (non-convection)
1:15a: Prepare two cookie sheets with parchment. Shape each loaf into a buole. Let proof for 1 hour.
2:15a: Score loaves and load into oven. Put 5 into each oven, spread as far apart as possible on the cookie sheets. Baked for 22-28 minutes (I think I baked mine for 25)
2:40a: Set on rack to cool for at least 1 hour.
Dinner Time: Using sharp knife carve out bowls.
Notes:
Everyone agreed the bread bowls tasted fantastic. They were the right shape and size too. I wasn't as gentle as I should have been when carving out the bowls, but that is ok, because even though on 2 of the bowls I tore the side a bit, the thickness of the soup quickly patched the tear with a beautiful cheesy ooze.
My wife and I were in agreement that a slightly chewier crust and a more tart flavor would have been even better. I will try to make changes to improve on those things next time.
I am getting better shaping boules. This was the second time I felt like I got the boule nice and tight during shaping. But, I should have put more effort into pulling the dough towards me after stitching it, that way the seams from the stitching would disappear under the loaf. I'll try to do better next time.
Broccoli Cheddar Soup:
I started with the following recipe but made a few changes. I chose this recipe because I liked the recipe ingredients and process compared to other recipes.
https://www.foodnetwork.com/recipes/food-network-kitchen/almost-famous-broccoli-cheddar-soup-recipe-1972744
Changes to Recipe:

I did not use a blender at all. This worked out perfectly, in the past I had made similar recipes and blending even a portion of the soup gave the soup a baby food texture. Since the soup already had a roux and creamy cheese, blending was totally unnecessary.
For 1/3 of the cheese I used gruyere instead of sharp cheddar.
I took 1/2 of the carrots and cooked them with the onions. In the original recipe, all of the carrots were added with the broccoli.
I had 3 cloves of garlic to the onion/carrot mixture that was part of the roux.
The broccoli was cut into quarter size pieces, smaller than bite size, but not too small.
Notes:
I would have added diced celery to the roux, but I didn't have any. Outside of that one change, I don't think I would change anything. The soup was excellent. Heck, I don't know if the celery would have improved anything, but I just like celery in my roux.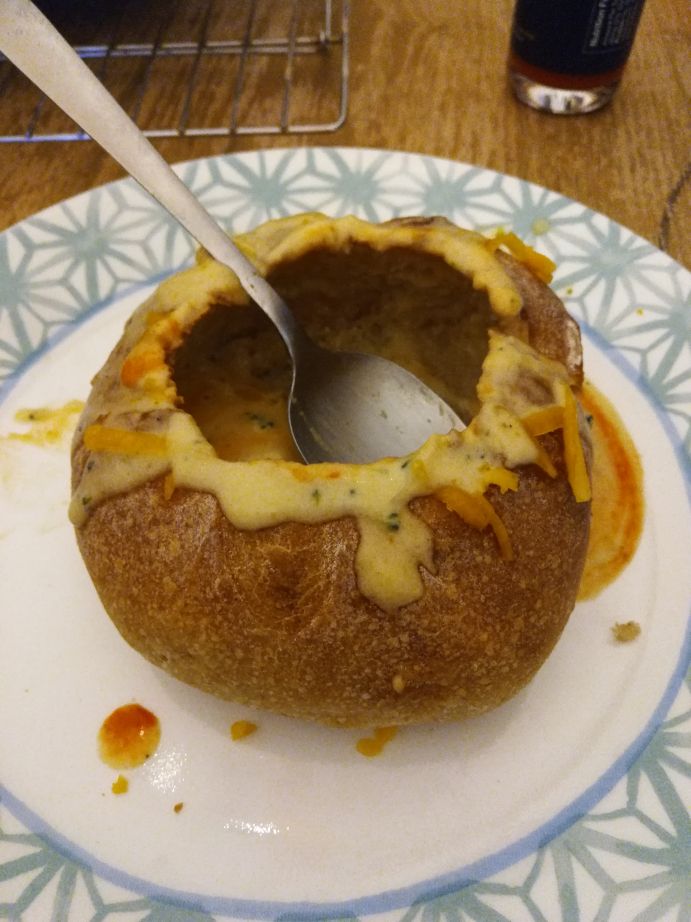 Sorry for the already eaten dirty spoon photo, but I was hungry.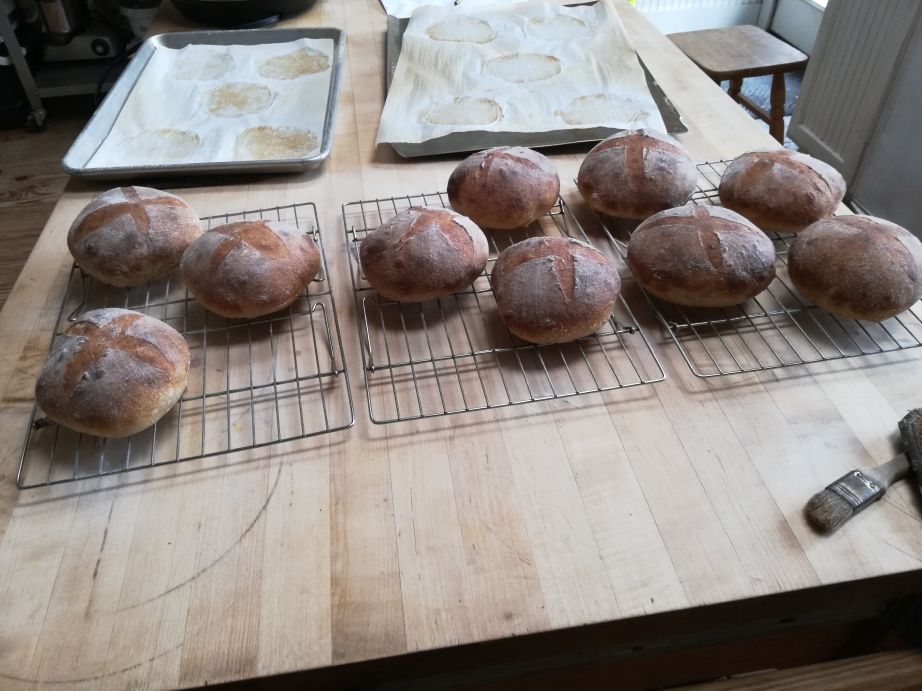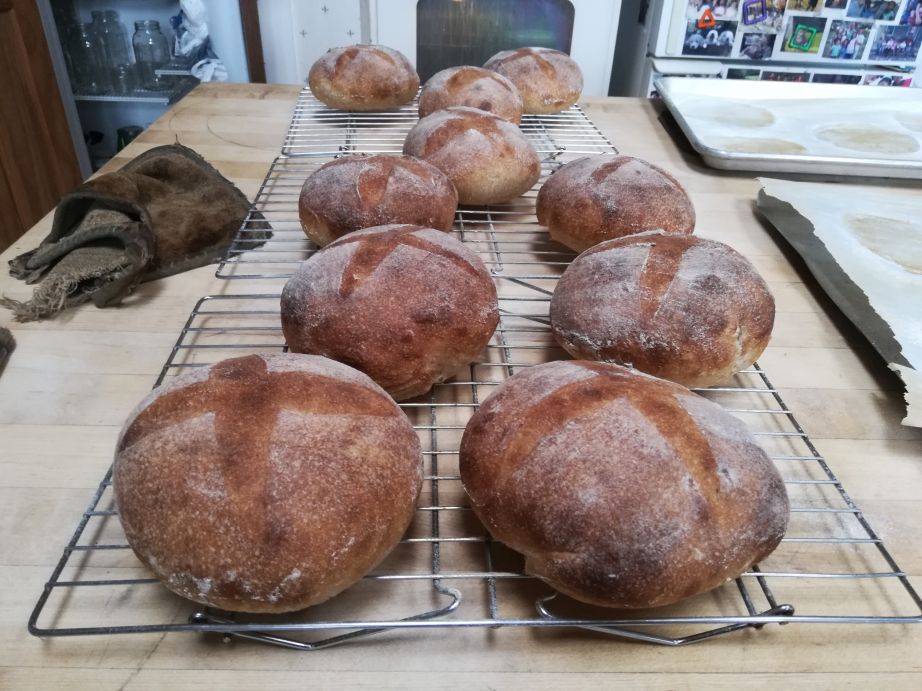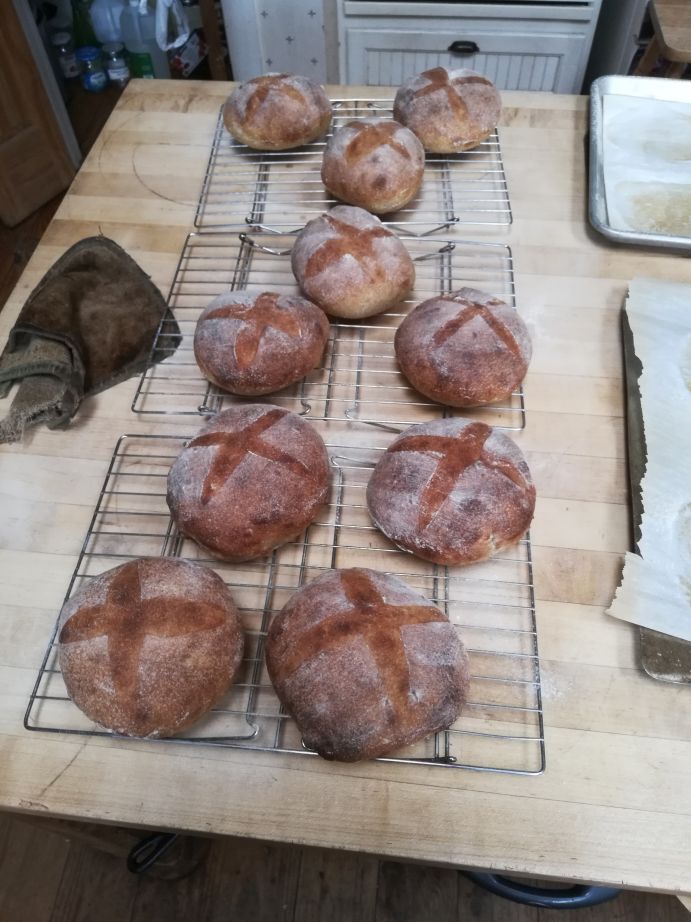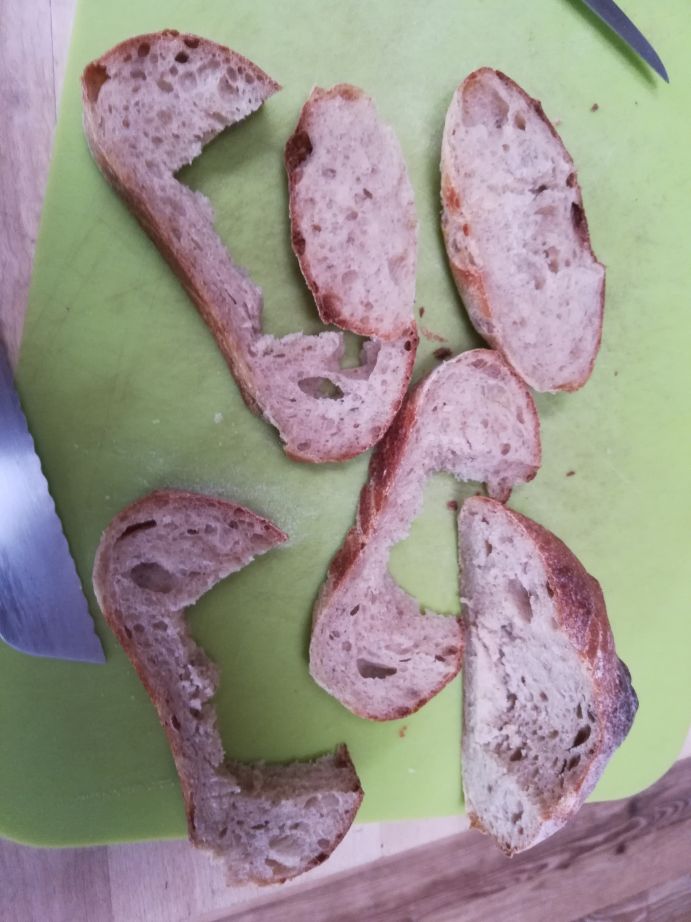 We had 9 mouths to feed and 10 bowls. So I took the smallest bowl and practiced cutting it and got to look at the crumb.