December 13, 2020 - 7:17am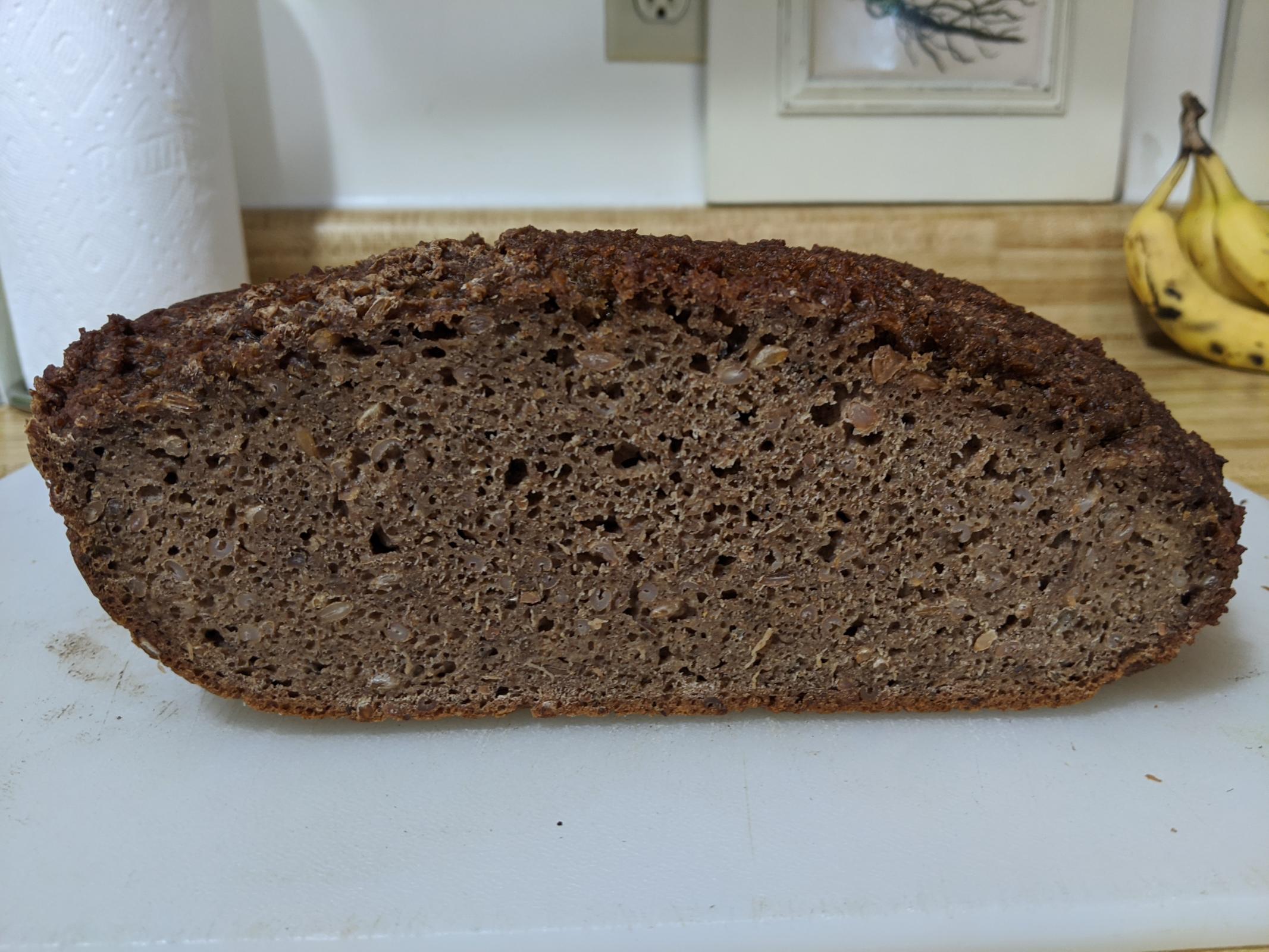 Hey Bakers,
I am a relatively new baker (enforced Work From Home due to COVID during spring 2020), and am very much a fan of good Rye and Pumpernickel breads, and having lived and worked in Germany, my taste buds have become more than a bit snobby; by that I mean, virtually all of the breads if this ilk I've purchased here in the States simply don't measure up.  With this in mind, I've had great success in making a Dark Rye/Einkorn with Caraway bread, so I set about last summer trying to bake a good pumpernickel.  My results were as follows:
First attempt: I searched the internet for a recipe and came up with a number of recipes which call for a dark rye and wheat flour combination with cocoa and/or molasses to provide the dark coloration of the bread.  The end product looked good, but the taste was well wide of the mark compared to the breads I'd eaten in Germany.  Yes, the bread tasted good, but no, not even remotely what I would call pumpernickel.
Second attempt: it turns out a co-worker of mine is of Austrian descent and has lots of cousins in Austria, two of whom are bakers.  She didn't have an actual recipe, but she was adamant cocoa and molasses should NEVER be used in pumpernickel bread.  I tried a 100% dark rye loaf and totally screwed up the hydration, this in turn meant the proof cycles were a bit hosed up as well.  From a taste and color perspective, this loaf was a bit closer to what I was shooting for, but still not there yet.
Third attempt: see attached picture; getting closer, a lot closer!  As you can (possibly) see in the photo, the bread has two types of seeds, caraway and rye berries (loaf 1 above had rye berries, loaf 2 above had caraway), and wow, the combination of the two coupled with 100% stone ground dark rye flour, and then flavor enhanced by a 6-day retard in the refrigerator during the first proof, has yielded the exact taste I wanted.  The crumb however is another matter.  The elasticity of the dough just wasn't sufficient to hold together when I transferred it into the hot dutch oven.  Other notes:

Hydration: I honestly don't know; I started with 2.5 cups of water and then added roughly 8 cups of dark rye flour and the hydrated rye berries.  I say "roughly" because I didn't keep track, I just kept adding flour until I got the dough to the consistency I was looking for.  I then parked the dough in the refrigerator for six days and when I pulled it out, the fermentation had created so much ethanol the previously dough(ish) mixture was more watery than anything else.  Yup, you guessed it, I had to add more flour, maybe as much as 1.5 to 2 additional cups to arrive back at what could loosely be called "dough".  So, hydration percentage?  No clue.
Baking: per my co-worker, her cousins bake in a brick oven and put their pumpernickel in to bake at the end of the day once the fire has been quenched, and don't pull the bread out of the cooling oven until the next morning.  Not surprisingly, I have no access to a brick oven, so I tried to kinda-sorta simulate that a bit.  I pre-heated both my oven and my Dutch Oven to 425°F, dropped the temperature setting to 220°F, and then transferred the dough into the hot Dutch Oven.  I set the timer for 3-hours and went on with my day.  I had expected the bread to take upwards of 5 to 6-hours to bake, bzzzzt, I'm sorry, that is incorrect; after three hours the bread was already over my target of 200°F.
Lessons learned: given how fragile the risen dough structure is following the second proof, I'm thinking for my next attempt to perform the second proof in my lidded porcelain loaf pan, and then start at a lower temperature; say 350°F, dropping it immediately to say, 210°F, and then shooting for the aforementioned 5 to 6-hour bake.