December 3, 2020 - 5:20pm
Things I Learned on My 2nd Loaf and Some Questions on Loaf Size/Baking
Baked my second SD loaf today and had a couple newbie learning experiences...  
The Salt Does Matter
Recipe called for a 30 minute autolyse followed by 6-8 minutes of hand kneading.  Got to the end of the autolyse and started kneading.  Dough never started to stiffen and stayed quite sticky.  At the end of 8 minutes, I was telling myself that my kneading technique sucked and it was time to watch more videos.  Went back and looked at the recipe and saw that one little detail...  Add 16g of salt between autolyse and kneading.  Added the salt as evenly as I could at that point and kneaded for another 3-4 minutes until I got window panes.  Amazing what missing an ingredient can do!  Not sure how that impacted the final loaf qualities.
I Like Using a Baking Stone but a Pyrex Baking Dish Makes a Terrible Water Pot
I have a large pizza baking stone that I used on my first loaf.  Don't have a Dutch Oven.  I used a cookie sheet for the water pan on that first one, but didn't put much water in to avoid overflowing.  Saw a video where they used a porcelain type baking dish for the water pot below the stone and thought it was a great improvement over my cookie sheet.  Didn't have a porcelain dish, but had a glass Pyrex dish.  Preheated to 450 deg F (my oven runs a little hot) and had the loaf scored and on the stone.  Dumped some boiling water into the dish and immediately found out why that was a terrible idea.  The minute it happened I told my self "Duh! You should have known that!" along with many other choice words.  It shattered...  Had to dig glass out of the oven door so I could close it.  Quickly grabbed a cookie sheet, layed it on top of the shattered glass, and put some now below boiling water in it.  Closed up the oven (which was now well below 450 degrees) and hoped for the best.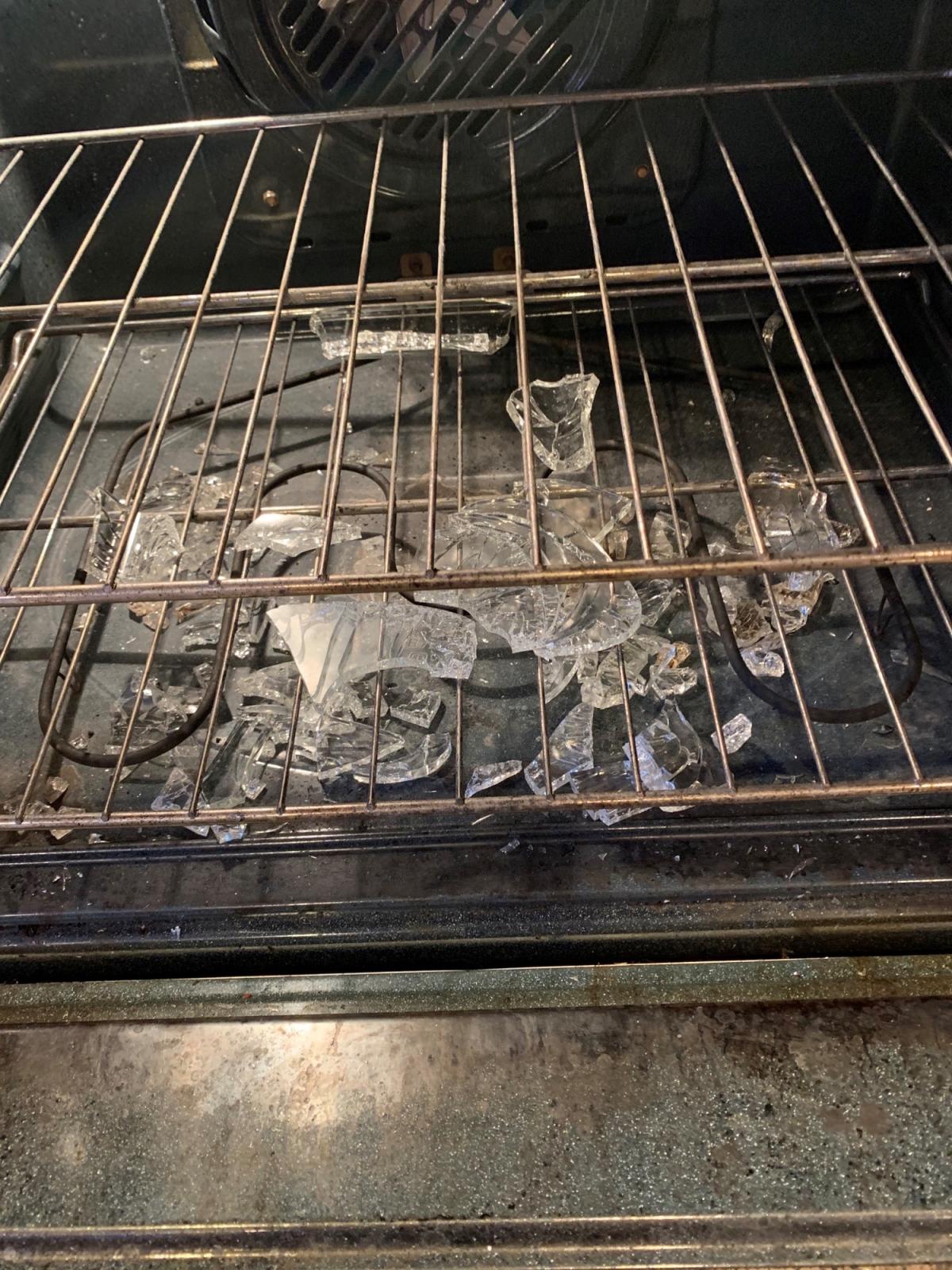 Despite all that, I was much happier with this loaf than my first.  It held it's shape much better and wasn't a frisbee.  Not sure I got much of an oven spring, the crust was not crunchy at all, and I had a slight blow out on the bottom, but overall, it looks good from the outside.  Haven't cut into it yet to see what the crumb looks like.
A couple of questions...
What is the typical size of a loaf that uses 400g of flour?
I used the beginner Vermont Sourdough recipe that calls for a total of 790g of flour (710g bread, 80g rye) and split it (2nd loaf is in the refrigerator and will get baked tomorrow).  Even though the loaf held its shape nicely, I don't think I got much (if any) rise during the final proof.  Not sure how much the lost oven spring would have helped with loaf volume, or how much adding the salt late impacted the rise.  This loaf measures just over 6" in diameter and about 3.5" tall in the middle.  It's a nice little loaf, but seems small compared to pictures I see.  Just wondering if I didn't get the rise I should have during final proofing.
Baking a loaf after being in a refrigerator?
After the Pyrex dish debacle, my plans for baking the second loaf were put on hold.  I put it in the refrigerator after final proofing and plan to bake it tomorrow.  Can I go straight from the refrigerator to the oven, or do I need to let it come to room temp before baking?
Thanks in advance for any help, and I hope other newbies learn from these mistakes!  :-)