November 15, 2020 - 5:02am
Suggestions for improving shape?
Still early days of experimenting here.  Today's loaf was Levain (100 g wet rye starter, 100 rye, 100 water), left for 4 hours in prewarmed then shut off 30C oven to get it going, which it kindly did, then mixed with ((200 water 300 strong bread autoylsed for an hour) plus 100 cornmeal/polenta, and 2% salt added in kneading), wet kneaded for 10minutes, then bulk fermented for about 6 hours again in warmed then shutoff 30C oven, shaped, then proofed in the fridge overnight, allowed to wake up at room temperature (about 18C) for an hour then baked in a dutch oven at 250C for 20 minutes lid on then lid off at 220C for 20 minutes.  The dough was a bit flabby on shaping but it felt quite alive.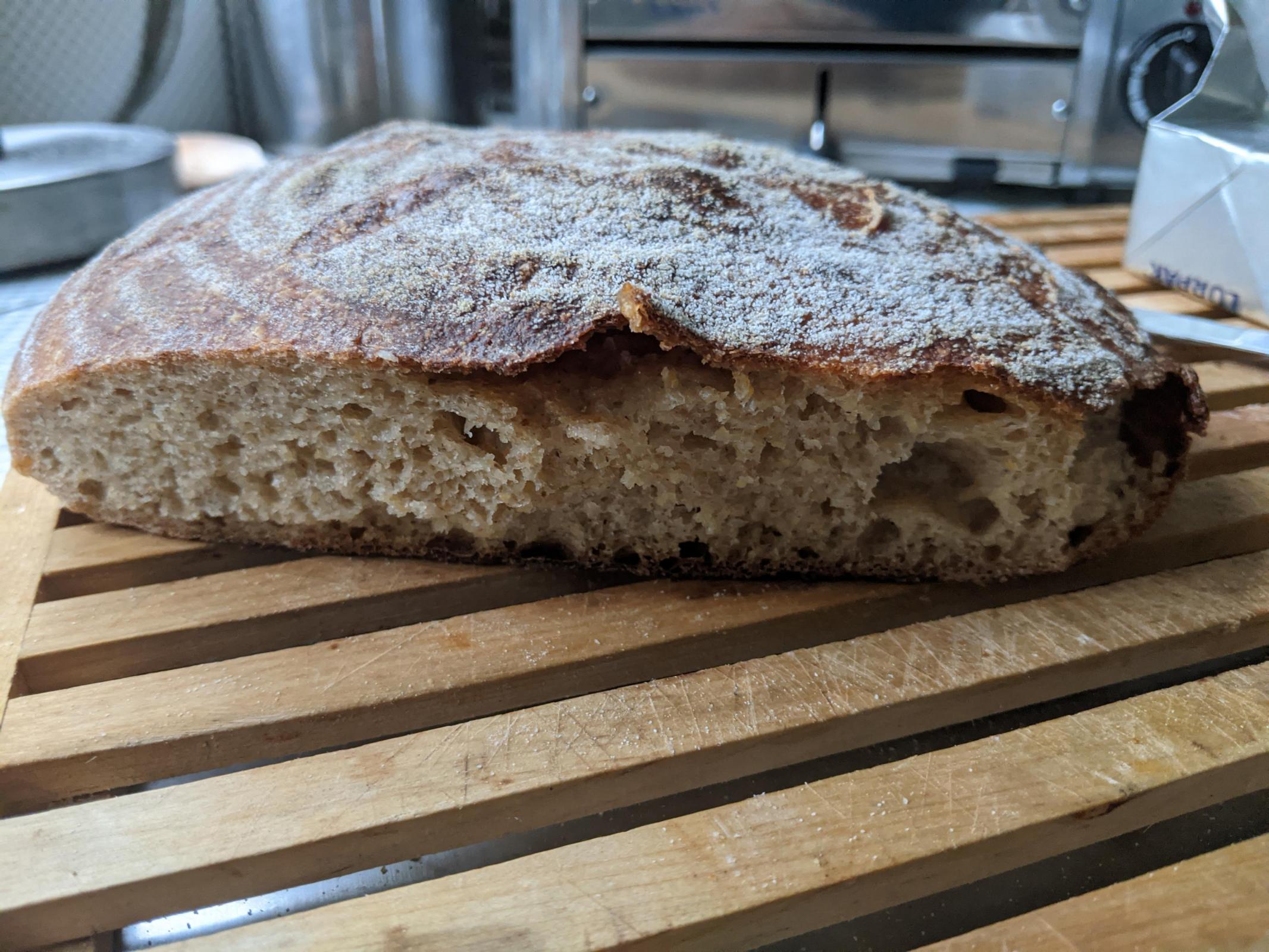 What happened?  Well, the fab bit is that it tastes amazing - the combination of cornmeal, rye and sourdough flavours is a big win - and the texture is very pleasing.  Very crisp crust, and a soft crumb which is a bit open and just the right amount of chewy.  Taste and texture wise it's a personal best.   
However.  As you can see, it's flat flat flat flat.  More like a frisbee than a boule.  What modifications could you suggest I could make to try to keep the good aspects the same...  but end up with a loaf that's less frisbee-like?
Should I keep the recipe the same, but proof it and bake it in a bread tin?  If I did this I couldn't fit it in my dutch oven.  (But I could try on a pizza stone covered with a steel bowl.  Or  I could go back to putting a baking tin of water in a lower rack of the oven... which is how I started out....)  
Should I change my technique, such as it is, and persist with the boule type shaping?   
Should I change the recipe in some direction?
Should I try all three things at once and/or something else?
Thanks as always for your advice!