November 10, 2020 - 11:27am
Bakers Percentages Levain Calculator
Hi fellow bakers-
I maintain a 100% hydration starter, and often find myself using recipes that specify 80% hydration levain.  So after many articles about bakers math/percentages, a few things seem apparent when I convert recipes:
- For completeness, pre-fermented flour (PFF) and water in the levain should be included in bakers percentage calculations.
- When using a levain with a different hydration percentage than called for in a recipe, PFF and dough hydration percentages must be maintained.
- If I add an adjunct not called for in the recipe (e.g. nuts or dried fruit), say 50g of nuts to an 800g total dough weight, then I must decrease all other ingredients by 6.25% (50/800) to maintain the total dough weight.  By doing this, the math shows that my PFF bakers percentage will be maintained.  
Assuming the above is correct, I built a calculator that takes as input flour, water, levain mass and levain hydration (recipe and your own), then builds bakers percentage tables for the existing and modified recipe.  Appreciate any feedback on whether I got this right.  I'll modify the calculator to consider adjuncts and scaling up/down in some future version.  
Here's a screenshot of bakers percentage tables for a recipe calling for 100% hydration levain and adjustments if using an 80% hydration levain.  Note that only starter and water amounts changed in the Adjusted Recipe.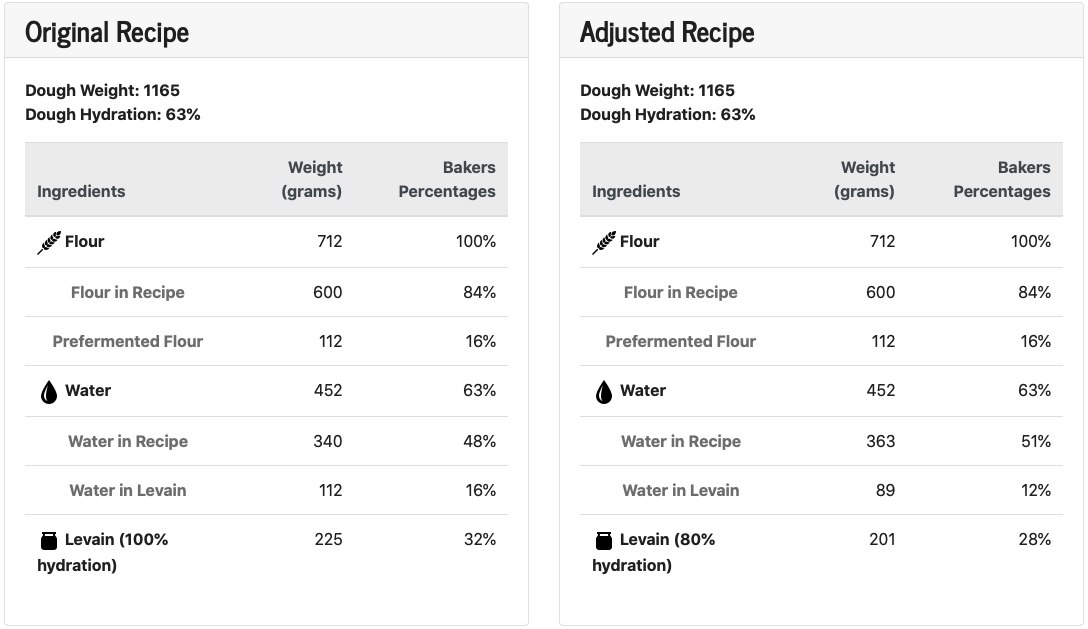 Thanks in advance for any feedback.