September 15, 2020 - 9:41am
21st bake. 09/15/2020. Oats & seeds.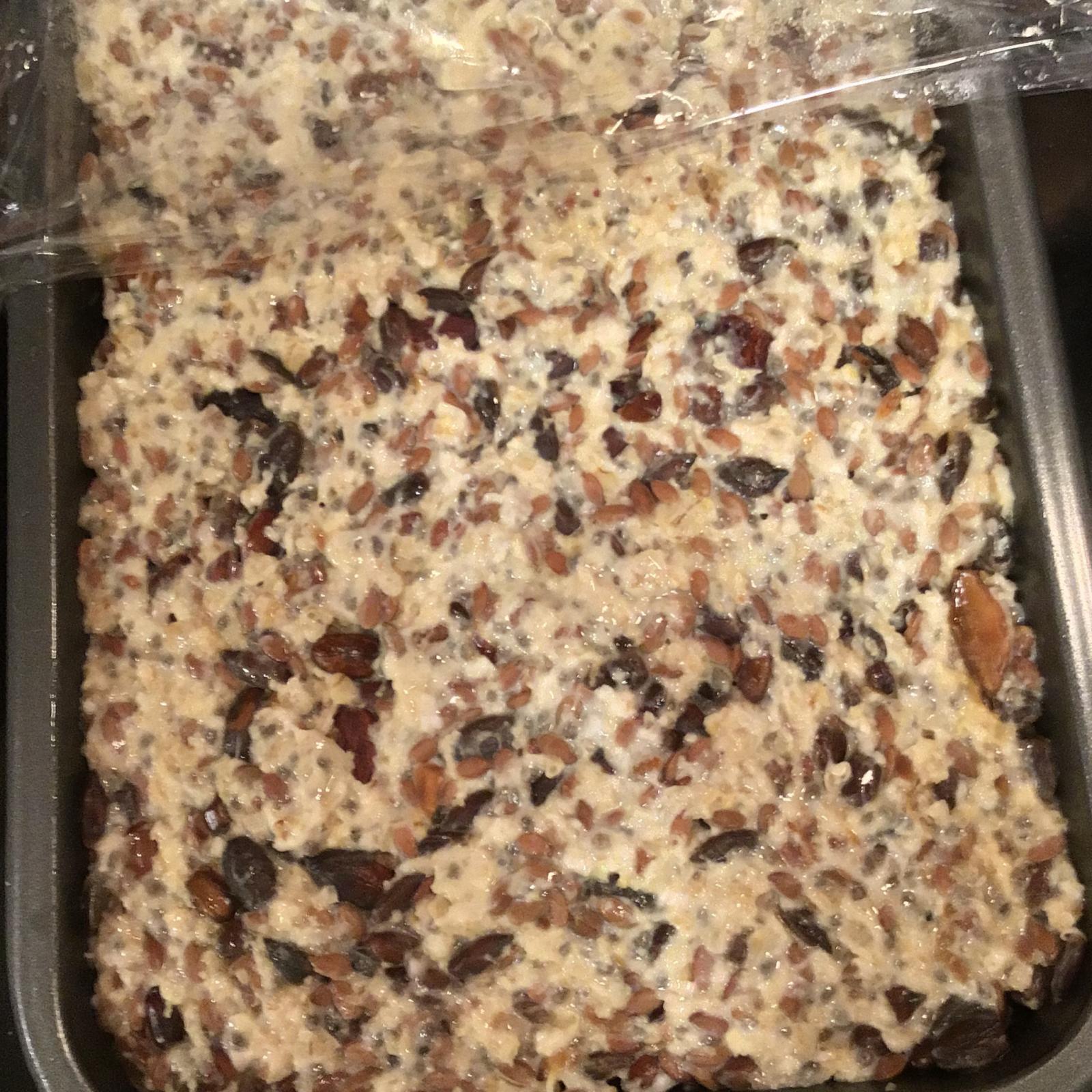 (Above image is pre-cooked, shortly after mixing.)
Sep 15, 2020.
This is the rolled oats and seed loaf, called "Adventure Bread", from "Josey Baker Bread."
http://www.amazon.com/Josey-Baker-Bread-Baking-Awesome-ebook/dp/B00GOJT6LU?tag=froglallabout-20
I needed to make at least one substitution: I don't like the effect that psyllium husk (aka Metamucil) has on my system, so I used some extra chia seed, and added some orange-flavored sugar-free "Citrucel" which is a competing product to Metamucil, and doesn't give me the side-effect that Metamucil does.  I figure the orange flavor won't be too far out of place.
I also used agave syrup instead of maple syrup.
I bought this book in Kindle format when it was recently on sale for US $2.99.
I lucked out and it fit perfectly in my loaf pan, which measures 8-7/8" x 4-7/8" inside measurements at the top, 2-3/8" deep inside. (And it has sloped sides.)  
In cm, it's 22.5 x 12.4 x 6 cm deep.
Ingredients: Uncooked rolled oats (old fashioned, thick, not quick oats) toasted whole sunflower seeds, toasted whole pumpkin seeds, toasted chopped almonds, whole raw chia seeds, whole raw flax seeds, agave syrup, grape seed oil, salt, water.
No leavening, no yeast, no sourdough.
I put it in an oiled  loaf pan, and it's waiting in the fridge for a few hours and will bake tonight, 1 hour at 400 F.
So... it ends up being gluten-free too.