September 14, 2020 - 9:15am
20th bake. 09/13/2020. 100% WW. 1/8 tsp yeast.
This is my first loaf bake in six months. I have been making small flatbreads in the meantime.
I milled seven pounds of flour on Friday the 11th -- 3 pounds of Prairie Gold hard white spring wheat, 2 pounds of Kamut, and 2 pounds of hard red winter wheat.
The goal here was to re-do the previous bake, #19: http://www.thefreshloaf.com/node/62664/19th-bake-3202020-18-tsp-instant-yeast
with a longer autolyse, and a shorter ferment. 
Previous bake had 58 min autolyse, 12 hrs 11 min bulk ferment, and 1 hr 15 min final proof.  That was over-fermented. It also had 90.3% hydration.  I  checked my paper note sheet, and didn't see any mention of it being too wet. I should have re-read my blog entry, where I noted that 90% was too slack.
This had 2 hrs 2 min autolyse (no yeast/no salt), 9 hrs 14 min bulk ferment, 1 hr 22 min proof.   This was also over-fermented, but not as much as previously. Less yeast, or less bulk/final time, or doing part of bulk in fridge may have been the right move. 
For this bake, #20, after adding the salt, the dough mass was very stiff and tight.  But after the bulk ferment, it was too wet and slack.  Hence.... use less water next time too, and wait for it to slacken to do kneading or stretch and folds.  But it was late, after 11pm, and I did not follow my own advice (that I have already blogged about.)
9-13-2020.
9:09 pm. Mix 586 grams home-milled flour (400 g Prairie Gold, 120 g Kamut, 66 g HRWW) and 497 g bottled spring water. 84.8% hydration at this point. It felt just right for an autolyse of WW.
[ 2 hours 2 minutes autolyse.]
11:11 pm. Added 1/8 tsp instant dry yeast, folding it in. Added 32 g bottled spring water mixed with 11.7 g salt (mix of Himalayan pink salt and generic iodized salt.  It became very stiff, but did some gentle kneading and stretch and folds to get it well incorporated.
Total dough weight: 1127 g.
11:23 pm. Finish S&F.  Was very tight still. Should have waited for it to relax and do more S&F.
09/14/2020.
[ 9 hours 14 min bulk ferment. 11:11p - 8:25a ]
8:25 am. Fold and shape. (Forgot to pre-shape.) Put in lined and floured banneton, floured with 1/2 rice flour, 1/2 generic AP flour.
8:33 am. Finish above.
9:06 am. Start oven pre-heat, 495/475 F.*  With Lodge 3.2 qt combo cooker.
9:45 am. Oiled cast iron pot, sprinkle with corn meal.
[ 1 hr 22 min final proof.  8:25 - 9:47 ]
9:47 am. Bake covered, 495/475 F, 10 min.
9:57 am. Bake covered, 470/450 F, 10 min.
10:07 am. Bake covered, 450/430 F, 12 min.
10:19 am. Bake UNcovered, 420/400 F, 20 min.
10:39 am. Bake uncovered, 400/380 F, 2 min.
10:41 am.  Internal temp 209.7 F.
* First number is thermostat setting, second  number is actual.
--
Oven spring was not as good as my better sourdough loaves, but it was better than #19.  I couldn't resist, and cut into the loaf after 1.5 hrs.  It is a little too moist.
---
So next time I use IDY:
1) Bring total dough weight up to 1200 g.
2) Only 1 hr autolyse.
3) 87% final hydration.
4) Wait for dough to relax after adding salt, and do more S&Fs.
5) shorter bulk, or put in fridge.
6) WAIT before cutting open!
---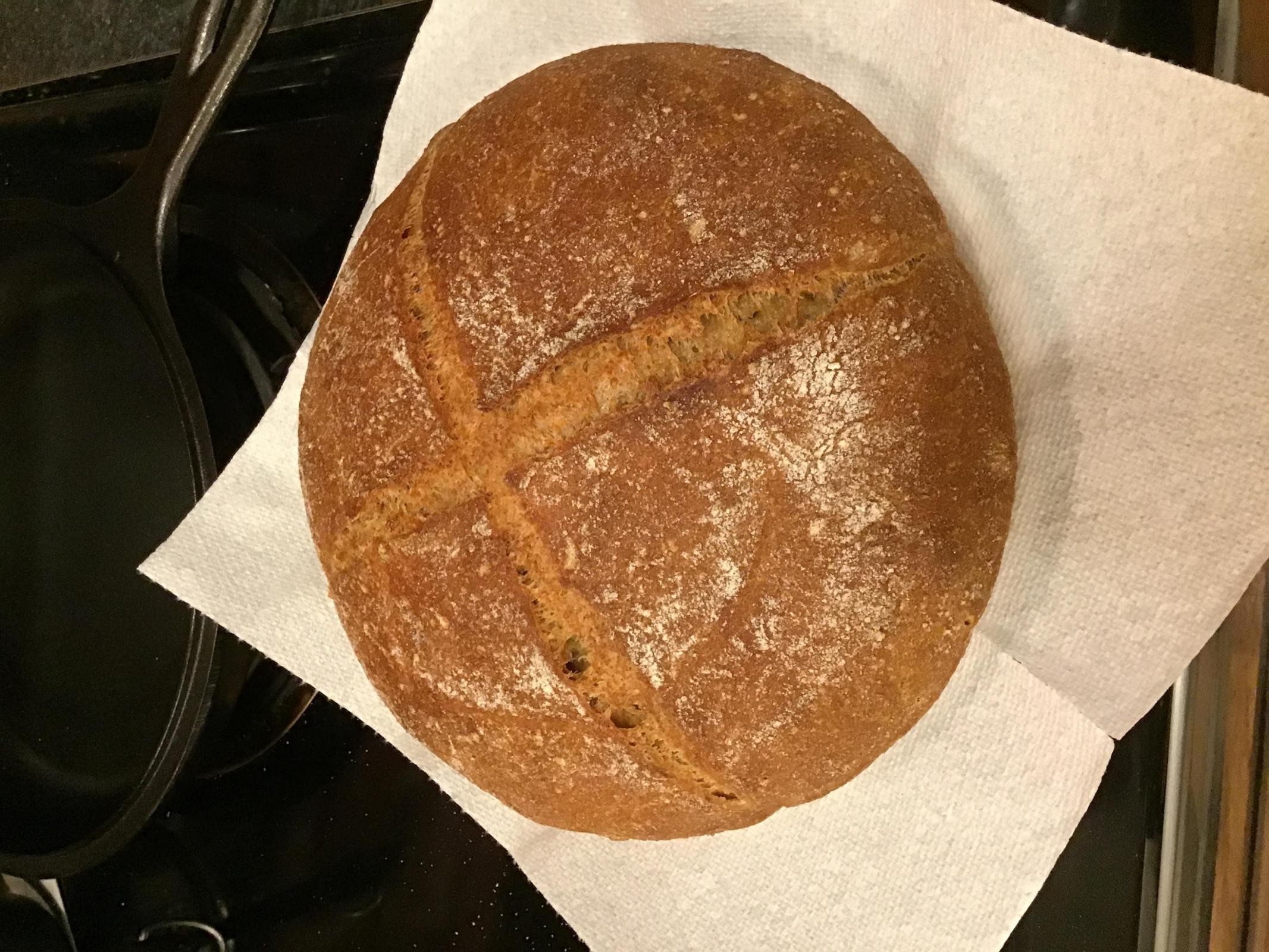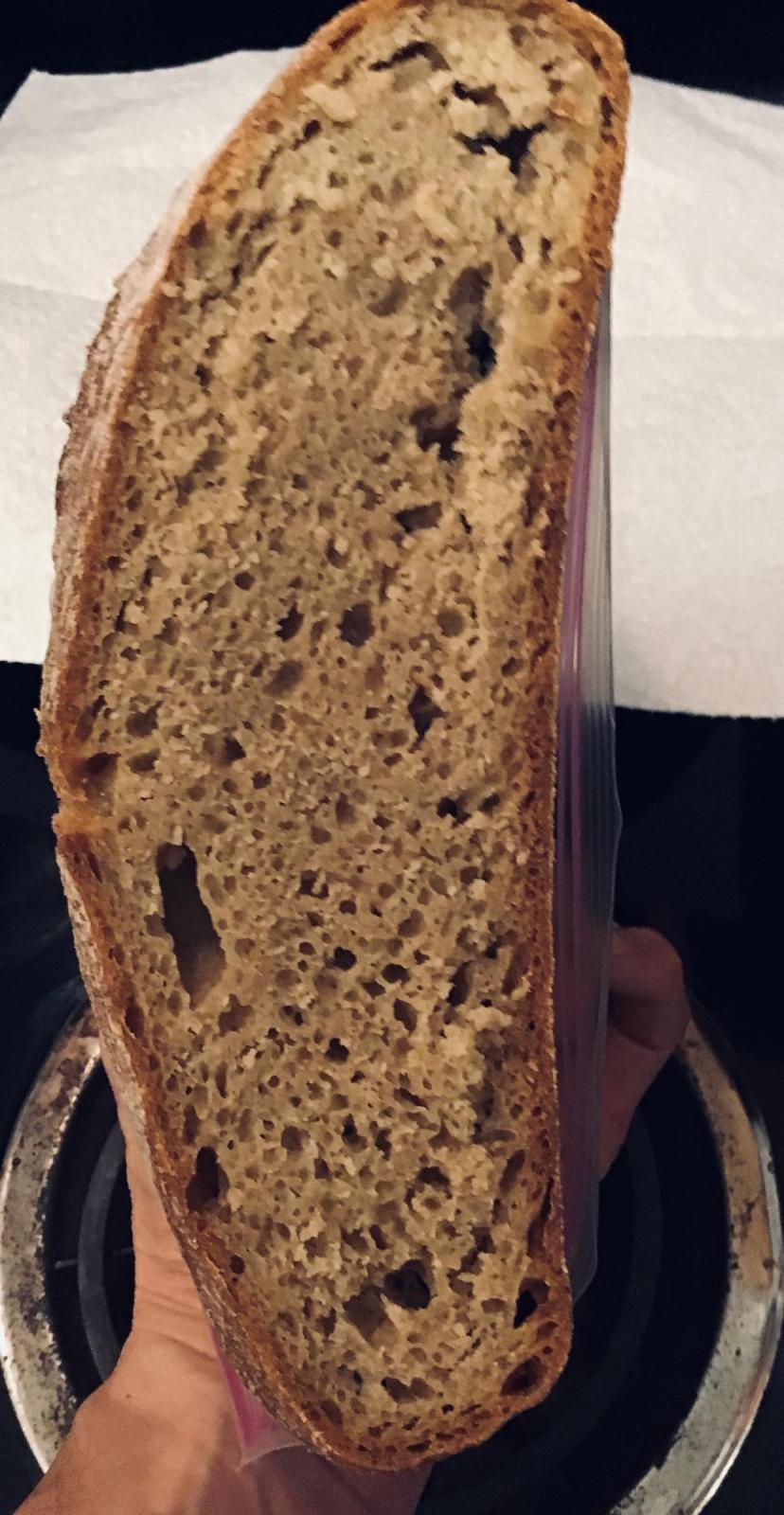 I cut it open way too early, as you can see at the top.