Nightmare on Dough Street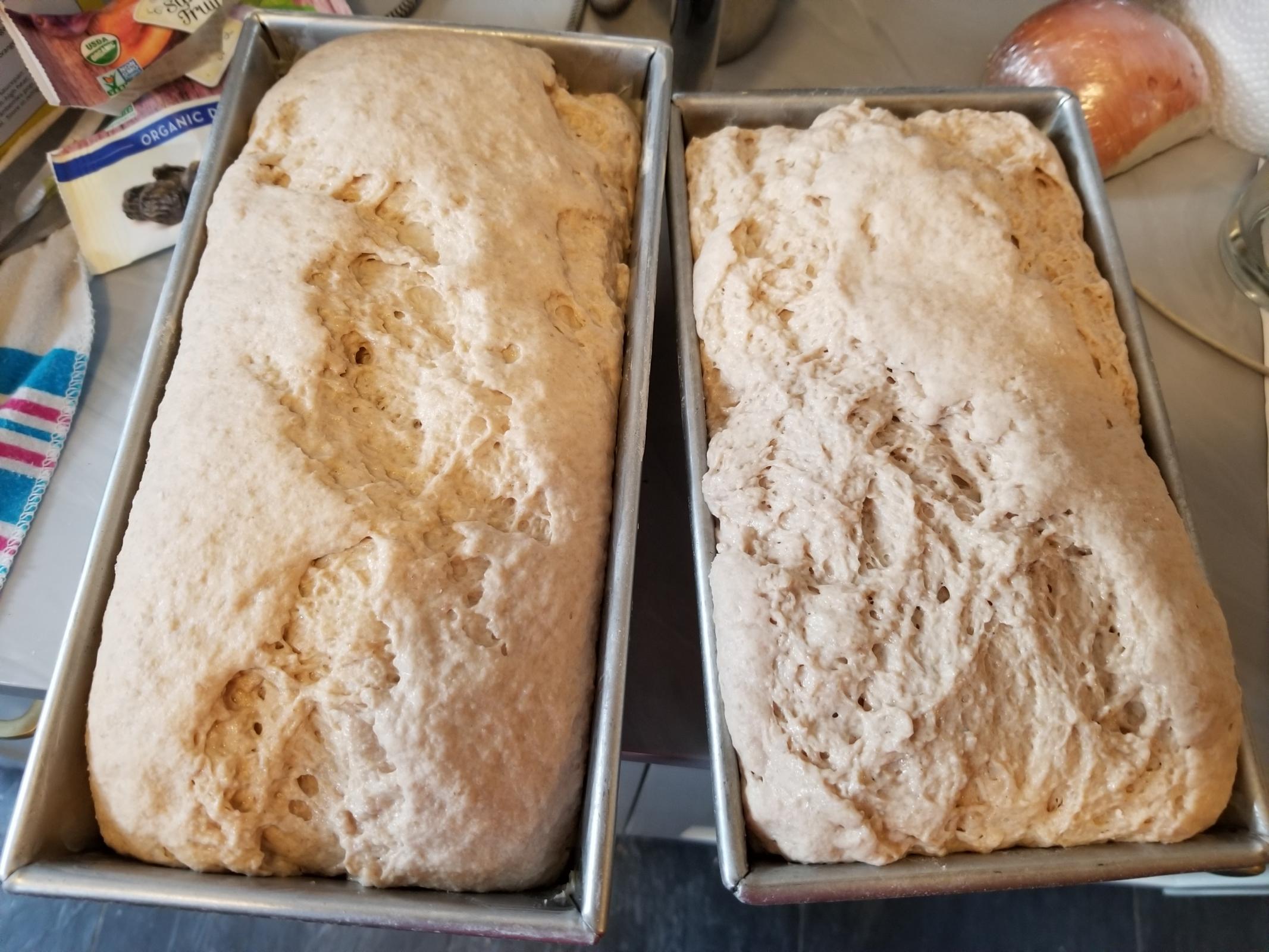 I've had this happen 2 times now. I've been doing lots of experimenting with the ingredients and the method, mistakes were made, but I'm not sure what factor is most responsible. Before I get into the mistakes/theories, here's the method I was going for...
This is a 2 loaf recipe (Totals including 240g starter: Flours 1028g, water 740g,  hydration 72%).
Autolyse:
380g WW Flour
390g AP Flour
138g Oat Flour
620g  Water
1-2 hours later add: 
240g Starter
76g sugar
6Tbs melted butter
30mins later add
10g salt
4 stretch and folds every 30 minutes then cover and refrigerate overnight. In the morning i remove it from the fridge and let it warm up for a few hours, then divide, pre-shape, rest 1 hour, final shape and put into bread pans. Both pans go into plastic bags to rise then score, spritz with water and bake (375° for 15 minutes then 350 for 30 minutes). 
During the final rise in the pans the loaves just opened up as you see in the photo. I did not score them since they were already opening up, just spritzed and baked. Not much additional rising happened in the oven, they just continued to open up and look more and more like Freddy Kruger's face. 
Now the mistakes/theories...
Life got in the way and I wound up out of the house for about 3 hours between the preshape and final shape. The loaves had risen way too much (and had already started bursting open a little) so I degased them, pre shaped them again, waited another 30 minutes, final shaped, and put in the pans. 
The other time this happened I had had a similar unexpected delay in the fermentation process, this time during the stretch and folds. So my first thought was just that these had simply over proofed, but I havent been able to find any similar results from simply overproofed loaves. So now what I'm wondering is if my issue isnt over fermentation but actually lack of gluten development, on account of the fact that I didnt knead the mixed dough. I mix by hand so some kneading happens during incorporating the starter and then the salt but not a whole lot. I had been successfully making a couple all white flour breads with a similar method (stretch and folds but no kneading) and wasnt having this issue. I was under the impression that with the long slow rise of sourdough, stretch and folds were all that was needed to develop a sufficient gluten network. Is that not the case when doing a bread with other lower gluten flours in the mix? I was researching overproofed loaves and wasnt finding any examples of what happened to me so I started wondering if maybe I need to add kneading into this method. Any advice on this or any other elements in my recipe would be greatly appreciated. Thanks!