A beginner "watching the dough"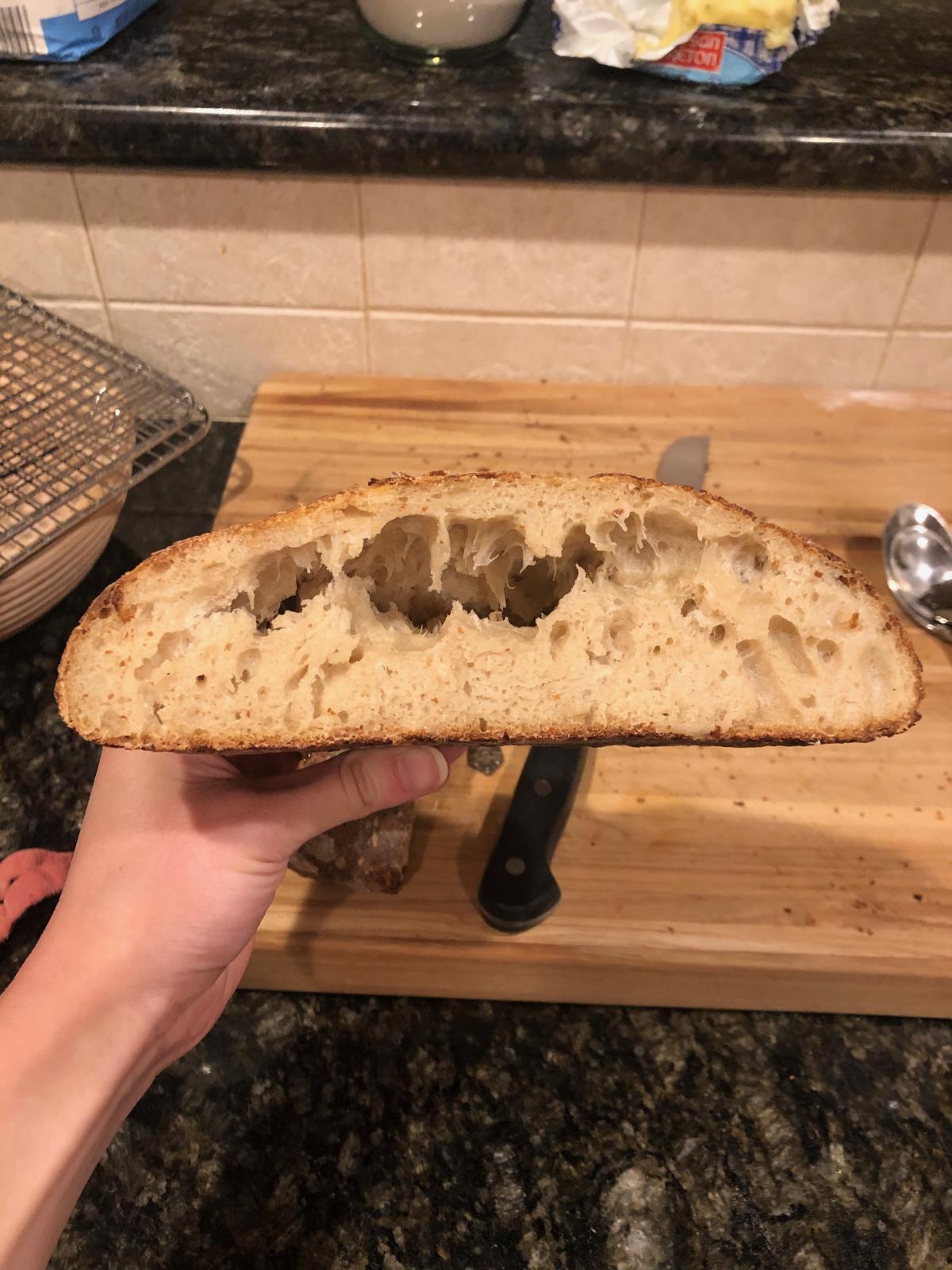 I'm trying to build my intuition about dough. (I call this using "the force".)
Yesterday, I decided to go by sight/touch to decide when the dough was ready to shape, and when it was ready to bake.
I did not succeed. But I will try again.
I have two regrets listed below, and I wonder if the more seasoned bakers on this forum agree.
My recipe:
76% hydration
10% prefermented flour
400g flour (~50g of it was whole wheat, the rest was bread flour)
293g water
7g salt
90g levain (Fed 1:1:1 from the fridge, was active and floating)
My method:
1) Autolysed flour and water only for about 30 minutes
2) Mixed in levain and salt with pinchy fingers and a bit of vigorous slap and fold
3) Did a series of 4 stretch and folds and let it hang out for a total of 4.5 hours until the dough looked kind of jiggly and puffy. Dough temp was about 78F this whole time.

Regret #1: I think I could have gone longer on the bulk ferment, as I didn't see much in terms of bubbles on the side of the glass bowl. When I dumped it out to shape, I didn't see the stretchy spider-webby looking holes that some people get when the dough is clinging to the side of the container. Is that a good sign?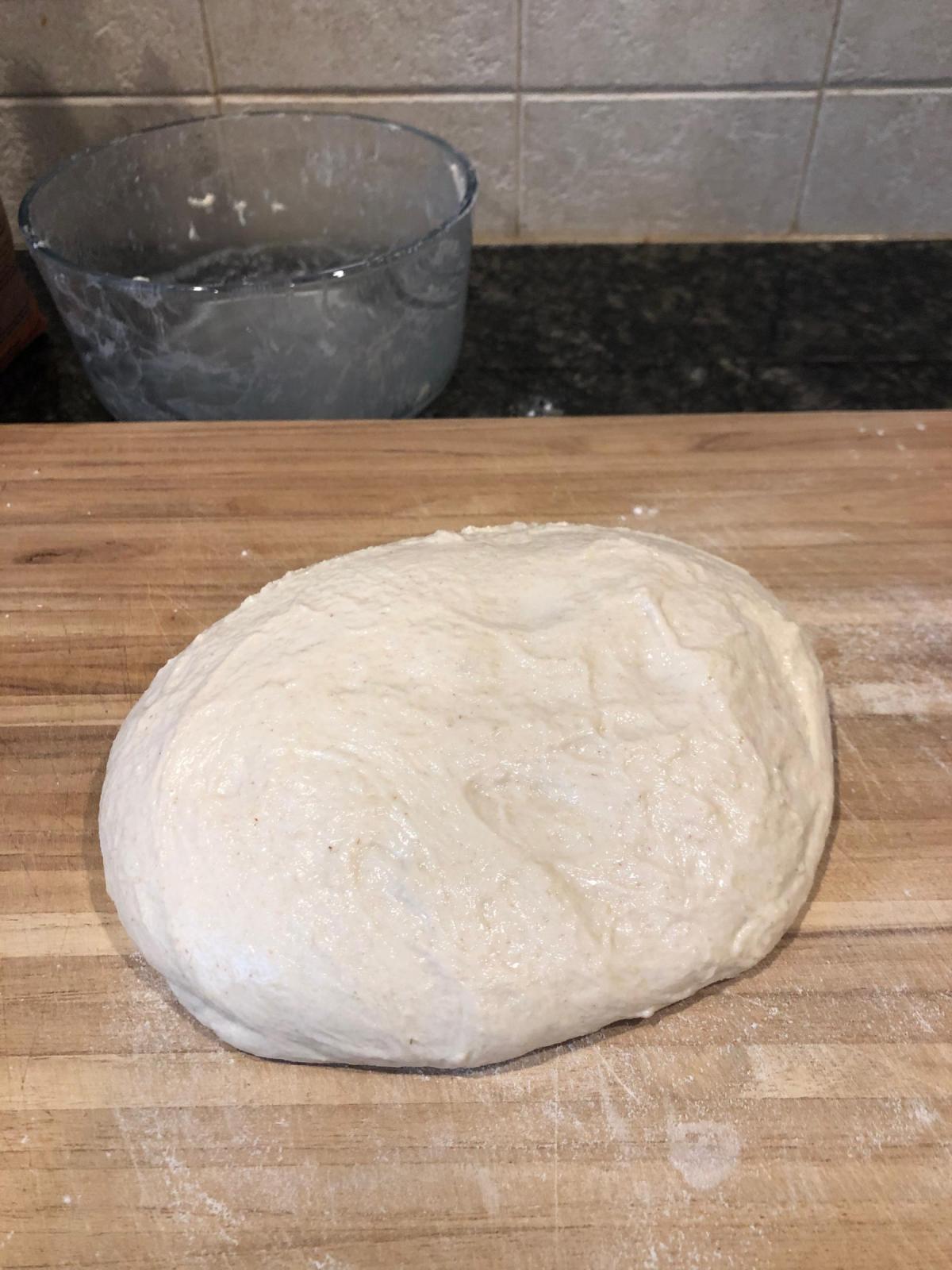 4) When I shaped, the dough was soft and had some air... but it still felt kind of dense. It felt slumpy but responded to my touch when I shaped it into a boule. Once shaped, it was the kind of dough that you like to pat like a baby bottom. It wanted to spread out after resting.
5) When I put it in the banneton, I pinched the seams together, hoping to keep the tension.
6) I covered it in a plastic bag and put the dough in my oven with the light on for the final proof. I kept checking every half hour or so with the poke test.
7) About 3 hours later, it seemed like the dough grew a bit and became more jiggly. My poke test left an indent that came back very slowly. I put it in the fridge while my oven preheated.
Regret #2: I think at this point I should have let the dough retard in the fridge overnight. I'm not sure why, but maybe that could have helped with extending the proof without losing too much shape. Would the yeast make more bubbles and give my dough more puff in the oven? I'm not sure.
8) I turned out the dough and it was pretty flat. Scored it and it didn't spread too much. (Scoring is jagged because I don't have a lame)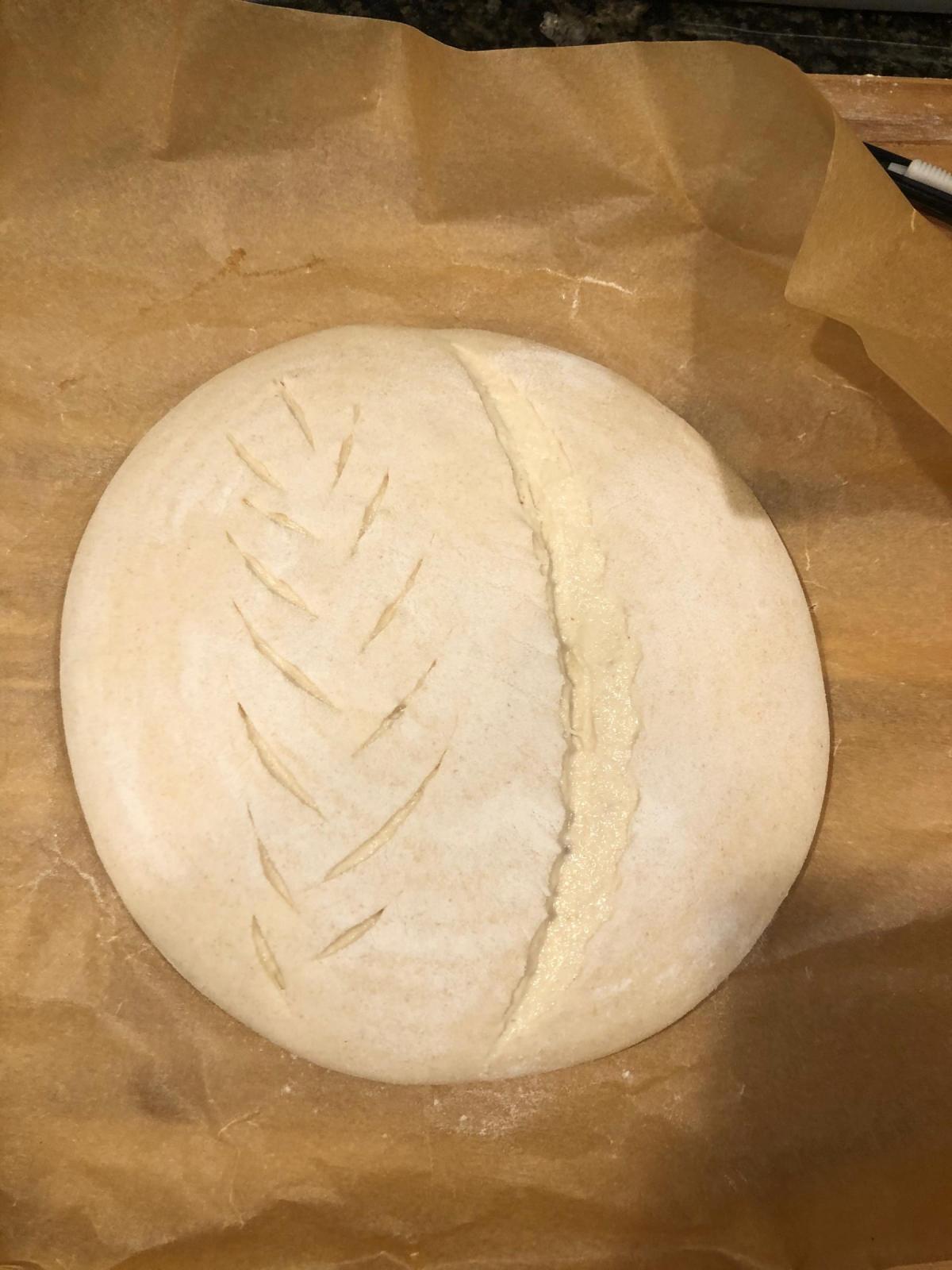 9) Baked in a dutch oven at 475F for 20 minutes lid on. 15 minutes lid off. Very little oven spring....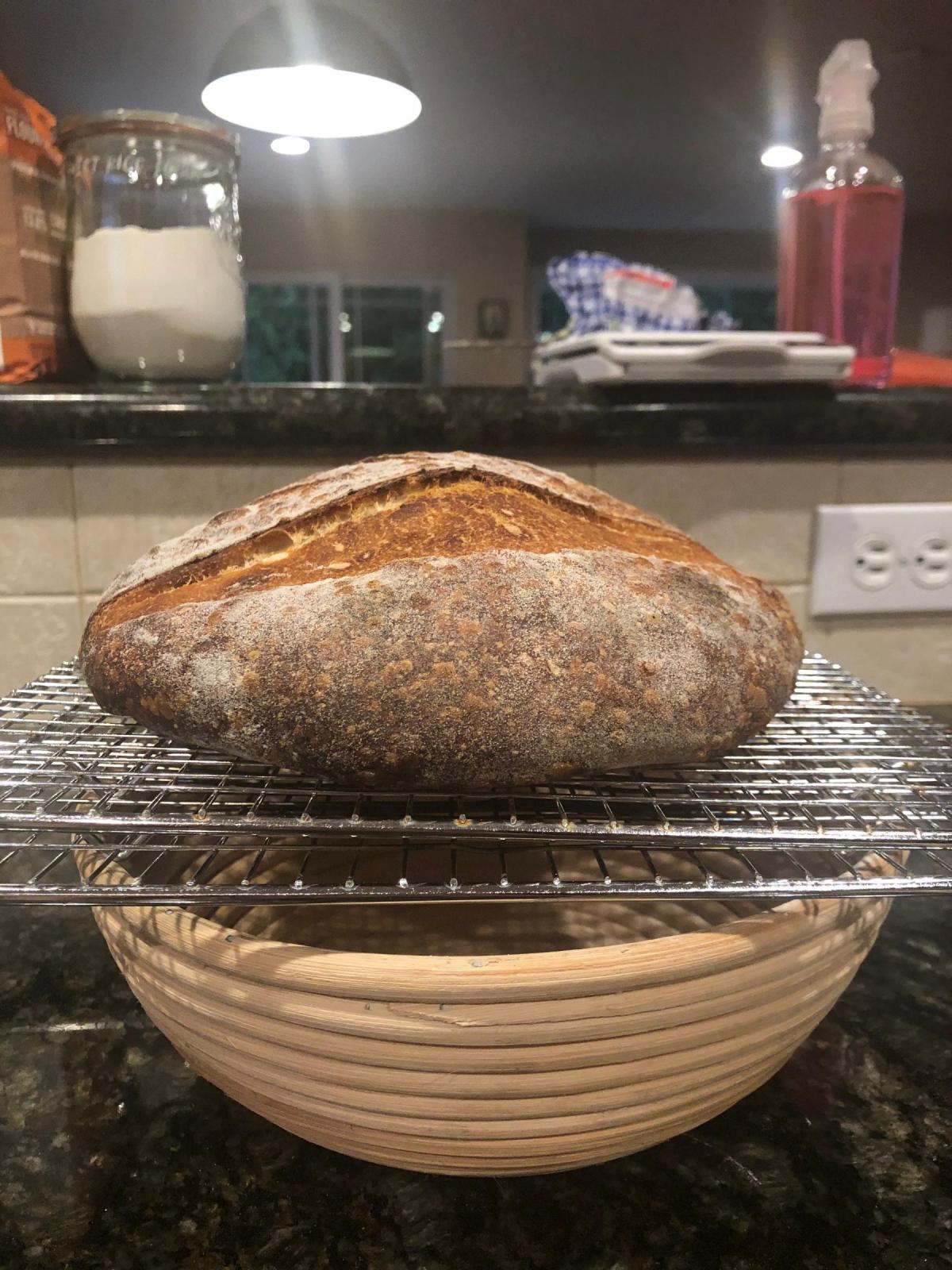 10) And a big tunnel.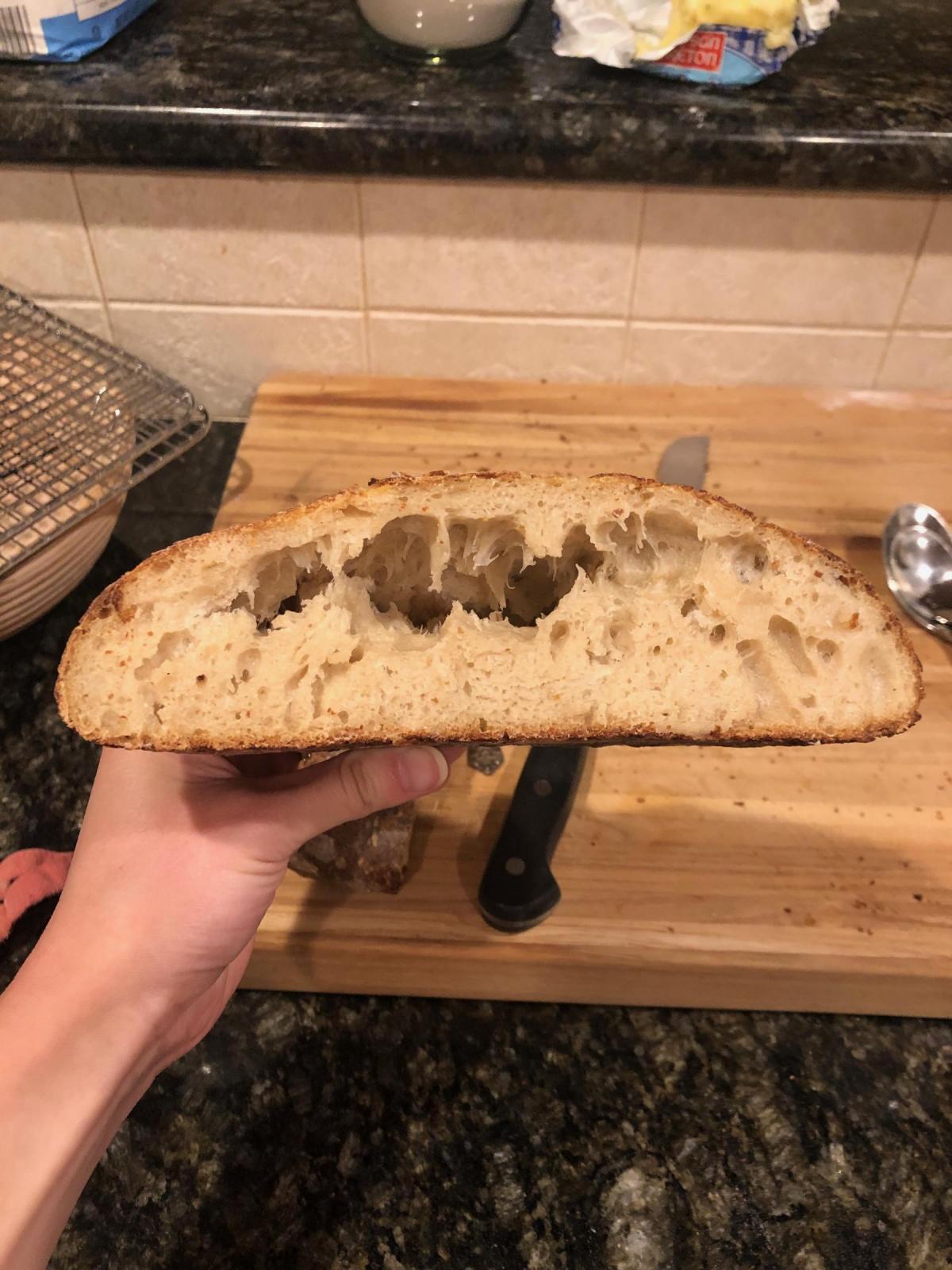 I've been getting lots of big tunneling bubbles in my bread when I try to do a same-day bake. (No time in the fridge). Is this because my dough is very under proofed? Why/how does under-proofing create such BIG bubbles anyway?
Or is my starter affecting my bread in a weird way? Am I misshaping my dough?