Forkish's "White Flour Warm-Spot Levain," but not as white
It has been a while since I have posted on The Fresh Loaf. I have been baking just as much as usual, but I have settled on favorite breads that I have shared at least once already. I decided I would post again only when I baked something new, at least new to me, that I thought was really good and worth recommending to other bakers for them to also try.
A few weeks ago, I baked a new bread from Ken Forkish's Flour Water Salt Yeast, his "White Flour Warm-Spot Levain." It uses a slightly firmer and all white flour levain and ferments the dough at a higher temperature than his other breads. I followed the recipe exactly as written, including going through three levain builds, although I didn't waste any "spent fuel." It made a very nice, mildly sour white pain au levain.
As usual, I watch the behavior of the levain and dough, not the clock. More often than not, the timings Forkish specifies for various fermentation stages are just not accurate for my kitchen.
It seemed to me I would enjoy the bread more with some whole grain flours added, and I didn't see the need for the multiple builds. So, this is what I made this week.


| | | |
| --- | --- | --- |
| Total Dough |   |   |
| Ingredient | Wt (g) | Bakers' % |
| All purpose flour | 700 | 66 |
| Hi protein flour | 223 | 21 |
| Whole wheat flour | 80 | 8 |
| Whole rye flour | 50 | 5 |
| Water | 782 | 74 |
| Salt | 20 | 2 |
| Total | 1855 | 176 |
| | | |
| --- | --- | --- |
| Levain |   |   |
| Ingredient | Wt (g) | Bakers' % |
| Active starter | 50 | 20 |
| Hi protein flour | 225 | 90 |
| Whole wheat flour | 25 | 10 |
| Water (85-90ºF) | 175 | 70 |
| Total | 475 | 190 |
The day before mixing the final dough, dissolve the starter in the water. Mix in the flours until the levain ingredients are evenly distributed.

Ferment at 80ºF until expanded 2 to 2.5 times (6 to 8 hours for me this time).

Refrigerate overnight.
Notes: The starter I used was saved from my last bake about 5 days ago. It was 50% hydration and a 1:3 mix of white and whole wheat flours. I fermented the levain in a Brød and Taylor Proofing Box. If you have a more recently fed starter, you fermentation time for the levain may be shorter.
| | |
| --- | --- |
| Final Dough |   |
| Ingredient | Wt (g) |
| All Purpose flour | 700 |
| Whole rye flour | 50 |
| Whole wheat flour | 50 |
| Water (85-90ºF) | 610 |
| Sea Salt | 20 |
| Levain | 425 |
| Total | 1855 |
Procedure
Remove the levain from the refrigerator and let it warm at room temperature.

In a large bowl, mix the flours and the water to a shaggy mass. Cover the bowl, and let the dough rest for 30-60 minutes (Autolyse).

Sprinkle the salt over the dough and distribute the levain in 4-6 portions over the dough.

Mix the salt and levain into the dough using the combination of pinching and stretching and folding described by Forkish in FWSY (Similar to the method of Chad Robertson described in his books).

Transfer the dough to a clean, slightly oiled container that is large enough to hold the dough when it has fully expanded.

Bulk ferment the dough at 80ºF until it has expanded to about double its initial volume. (3-4 hours). I did stretch and folds in the bowl at 45 minutes and 75 minutes. I then did a stretch and fold on the board ("lamination") an hour later. The dough was then left alone until it was ready to divide and shape (another 85 minutes, in this case).

Transfer the dough to a floured board. Divide it into two equal pieces and pre-shape as rounds.

Cover the pieces and let them rest for 10-30 minutes.

Shape into boules or bâtards and place in floured bannetons, smooth side down, if you plan to score the loaves or seam side down, if you are going to let the loaves open chaotically. (Note: Forkish says the bakery from which he took this formula used it for baguettes. I imagine that would be really good. I'll try it sometime.)

Proof at room temperature for about an hour, then refrigerate for 8-36 hours. (A longer cold retardation will result in a more sour bread.)

When ready to bake, transfer the loaves to a peel or to the base of your Dutch ovens. Scored as desired.

Bake in cast iron Dutch ovens covered at 475ºF for 30 minutes, then uncovered for another 20 minutes at 460. Alternatively, pre-heat your oven to 500ºF for an hour with a baking stone and steaming apparatus in place. Turn down the oven to 460ºF. Bake with steam for 15 minutes. Remove the steaming apparatus. Continue to bake for another 30-35 minutes. (Note: My preferred method, after I remove my steaming apparatus, is to bake at 440ºF with the convection fan turned on.)

The bread is done when nicely colored, and you hear a hollow sound when you thump the bottom of the loaf. The internal temperature should be at least 205ºF.

Cool completely before slicing.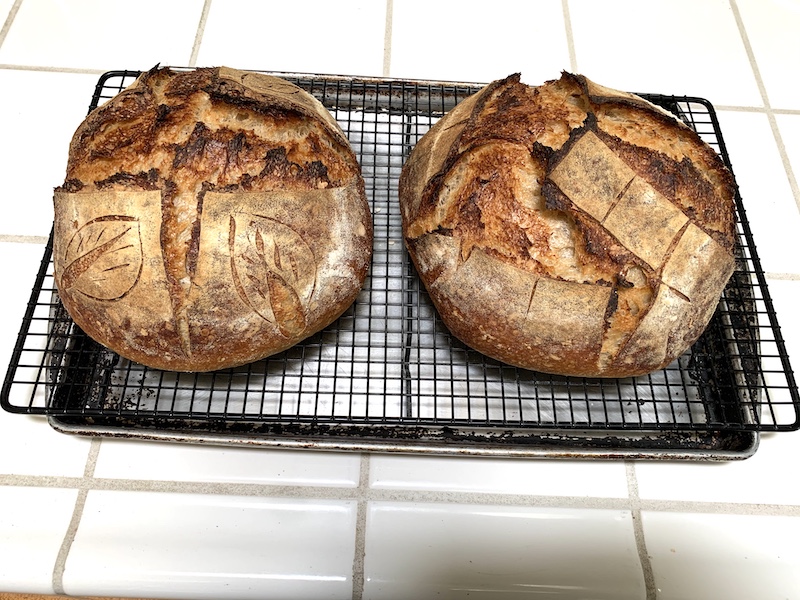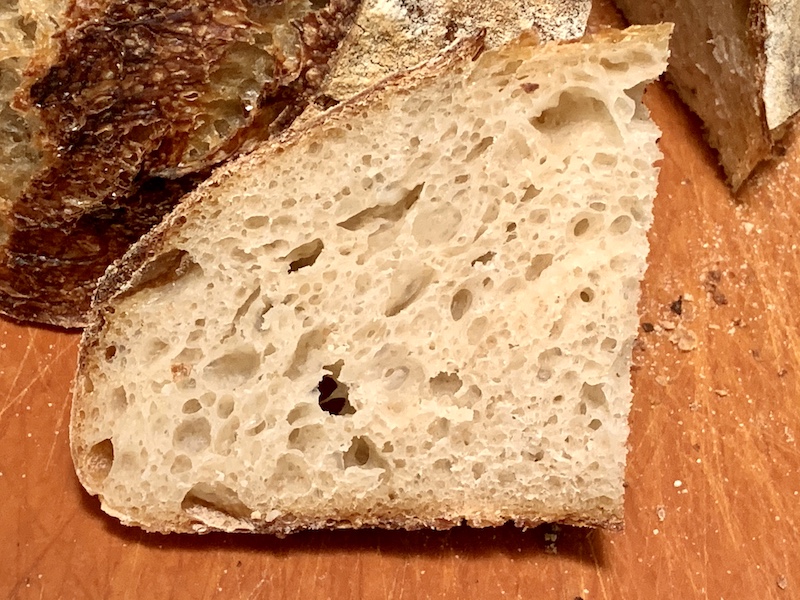 These loaves were cold retarded for about 40 hours. I tasted it when completely cooled. The crust was crunchy-chewy. The crumb was moderately chewy and moderately sour with a nice, wheaty flavor with a little sweetness.
Note that the flour mix used in this bake is very similar to my San Joaquin Sourdough. Of course, the method is very different.
Enjoy!
David