Hi from Paris... and help with possible overproofing?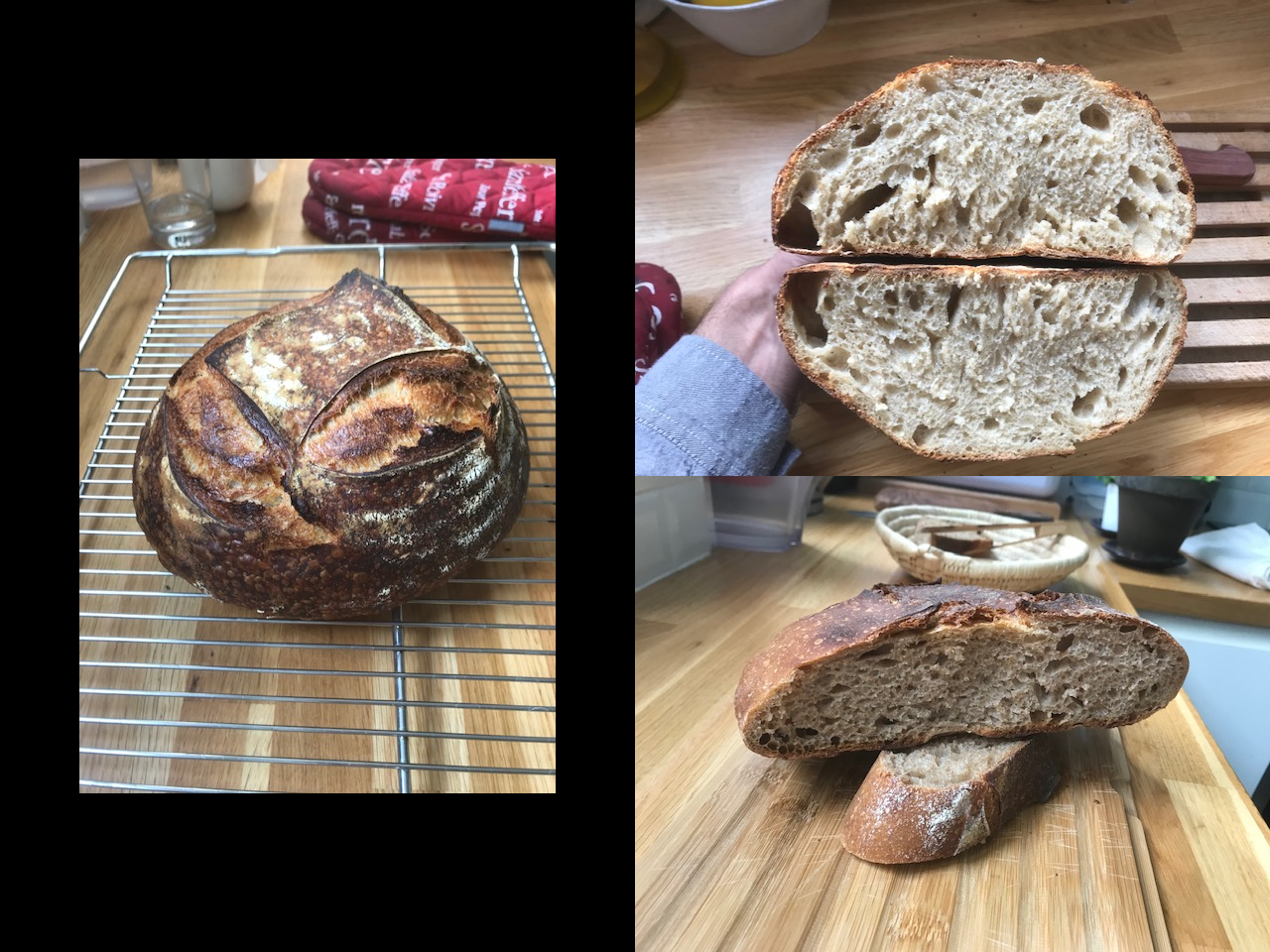 Hi all,
As many others, I decided to tackle sourdough baking during these two months of lockdown. These forums have been of great help as I always ended up reading the discussion on these forums when I was looking up some information or trying to clear up a doubt.
My first sourdough loaf was glorious--picture on the left and upper right. I of course hailed myself as the sourdough whisperer and spammed all my friends and family with photos of my baby.
The second one was almost as good as the first one.
And then the bread gods might have got wind of my insolence and since then every loaf has been a slightly larger disappointment than the previous one: my oven spring is gone. Look at the sad loaf that I baked this morning, lower right picture.
Although the taste is great, I am going crazy with the lack of volume and I'm here begging for help.
After some research I would say that my sourdough is overproofed. If that's the case, should I decrease my bulk, room temperature fermentation or my retarded proofing in the fridge?
I'm going to describe my method below but the only difference between the first two loaves and the rest has been the introduction of french kneading (slap and fold). The only difference that I'm aware or that I'm introducing consciously.
----
The method.
I'm basically using the famous country bread tartine method (or other similar recipes). I actually started with the beginners sourdough of the perfect loaf.
- I use an already mixed farine de campagne, which contains a ~10% of rye flour and a percentage of whole wheat flour too.
- ~75% of water
- 15% of active starter (100% hydration, with 50% wheat flour and 50% rye flour). (I have also tried 10% and 20%)
- 2% salt
I autolyse flour and water for 20 minutes to 1 hour. Add starter at peak of activity. Let it rest for 20 minutes. 5 minutes of slap and fold (not for the first two loaves). Bulk fermentation with folds every 1/2 except for the last hour. Total bulk fermentation, ~3 hours. I check that it's increased in size and has bubbles on the side. Then, lightly pre-shape into a ball, let it uncover on the counter for 20 minutes. Final shaping, down to the banneton and to the fridge for retarded fermentation for ~12 hours (at ~8 C).
For baking, I use the dutch oven method. Pre-heat oven at 260 for 1 hour. Score, place in dutch oven, spray with water, close lid. 15 minutes at 235 C with closed lid and 20 or more minutes at 220 after removing the lid.
----
If my sourdough is indeed overproofed, should I rather reduce the bulk fermentation or the retarded proofing?
I'm also confused about the timing around the fridge step. Is it better to let the dough sit in the banneton for 15 minutes before putting it in the fridge? Is it better to remove the dough from the fridge 30 minutes before baking, or to place it in the oven straight from the fridge? I have the feeling that this might be an overlooked critical step.
By the way, when I look at my dough before putting it in the oven, it looks right to me. It's kind of puffy, it reacts well to the poke method... I guess I don't know how to recognize an overproofed dough.
Please, help!
By the way, I've learned a lot watching some superb video tutorials from a Fench bakery school. I would share them with you but I'm not sure links are allowed here.
PS: And I'm really sorry for this block of text. I had written this post as my introduction but it's probably too long. I'm therefore posting it to the Sourdough subforum.