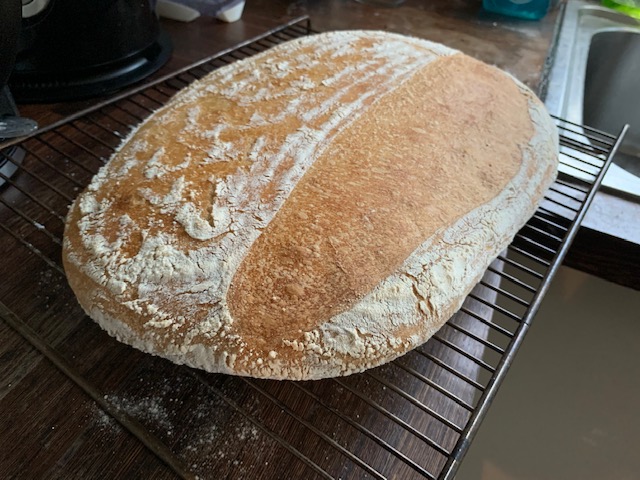 Hi All, 
I'm new to the forum, though I've seen quite a few posts here before and I love it. I've been baking for a while at home, bread, pizza, naan, buns etc, and being in lockdown I thought I'd try my hand at sourdough.
I followed Patrick Ryan's youtube vid on sourdough, and the starter worked perfectly and was super bubbly and bursting out the jar on day 7. However (my fault), I did not follow his recipe, and did my own thing (mistake 1), and I would really like to know what I've done wrong so I can do better next time. 
I mixed 500g bread flour + 320g of water + 320g starter.
Left in the fridge overnight for about 10hrs.
Took it out, let it rest about an hour, then started stretch and fold in the bowl, having added in about 13g of salt. Did that a few times over a couple of hours. The dough felt very wet and extensible, it was very stretchy towards the end.
I found it very hard to shape it and had to sprinkle flour liberally because it just kept relaxing and spreading, managed to get some kind of shape out of it by stretching the corners and sides and 'stitching' at the back
Let it prove in the banneton for about 3hrs (it grew maybe 1.5x in size)
Oven on at 220 deg C, tray at the bottom for water to create steam, baking tray on the middle rack for the bread, and a big tray turned upside down over the top to create a convection catch for the steam.
Semolina on the bottom of the dough, flipped over and baked for maybe 30mins, removed water and top tray for a further 20mins approx. 
As soon as I put the dough in it flattened like something out of a cartoon. 
I know I should've followed a recipe (and next time i will 100%), but I would greatly appreciate it if anyone can explain what went wrong and why, and the science behind it. 
I have a feeling that i just baked 100% pre-ferment (I saw something like that in another post.) If that's correct, how did I end up making a big preferment? I thought I was just making the final dough.
I also think my percentages are totally wrong. I thought that I could use 10-30% starter, but it seems that its % of flour, not total dough weight which is what I did. 
Confused about hydration. Using IDY was never an issue, so I thought sourdough starter 1:1 would factor into hydration %, another video I saw (Pro Home Cooks) gives 1kg flour, 770g water (77% hydration) and 150g starter (1:1). Wouldn't 75g flour and 75g water tip hydration to 78.6%?
Why was my dough so difficult to shape,
and why did it spread?
I'm also having problems with the crumb.

It's never open enough, even if I try to get steam in the oven, and it seems to dry out quickly.
Also I sometimes seem to get tiny grains  that feel gummy (though the dough itself is not gummy).
Thanks everyone, this is a fantastic forum and I look forward to learning from you all!
Stay Safe!