January 25, 2020 - 7:15am
How to get more height in 100% whole wheat sourdough?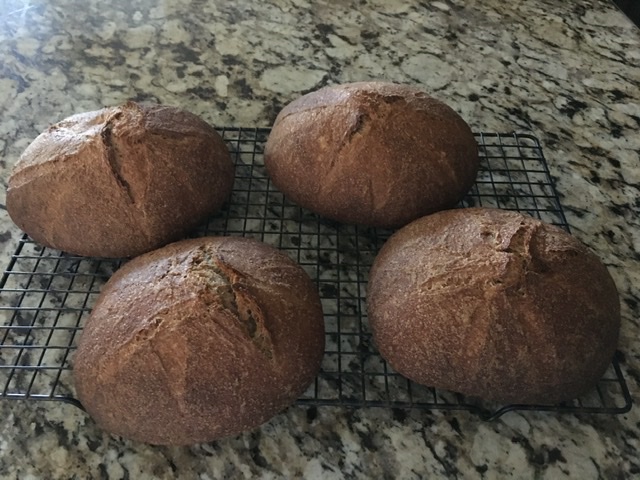 I make a nice whole wheat sourdough, but I can't seem to get more than 2-3" of height regardless of the moisture content or size of loaf.  Any ideas? I use the following recipe with a kitchen aid mixer and water on my hands and board, so no added flour.  Makes 4 1lb. Loaves.  Flour is freshly ground.  90% white wheat, 10% red wheat. 
300g starter (homemade and maintained with equal weights water and flour)
880g flour
777g water (from reverse osmosis)
20g sea salt
i feed starter 12 hours earlier.  When doubled, I mix by hand flour and water and autolayse about half an hour.  I then measure out and add starter and salt.  I mix with hook 17 minutes until forms nice ball.   I rise until double at room temperature.  Preheat oven and stones to 400 deg for hour with steam while forming loaves on parchment paper for second rise.  I slice tops and spray with water right before putting in.  Remove paper at 15 min.  Take out to cool when reaches 210 deg.