September 14, 2019 - 5:47am
It is common practice among bread bakers to reduce the heat of the oven at some point during the bake. The idea being, high heat initially to produce huge oven spring, then lower heat to prevent burning. A recent test seems to indicate that what WE THINK is happening, isn't.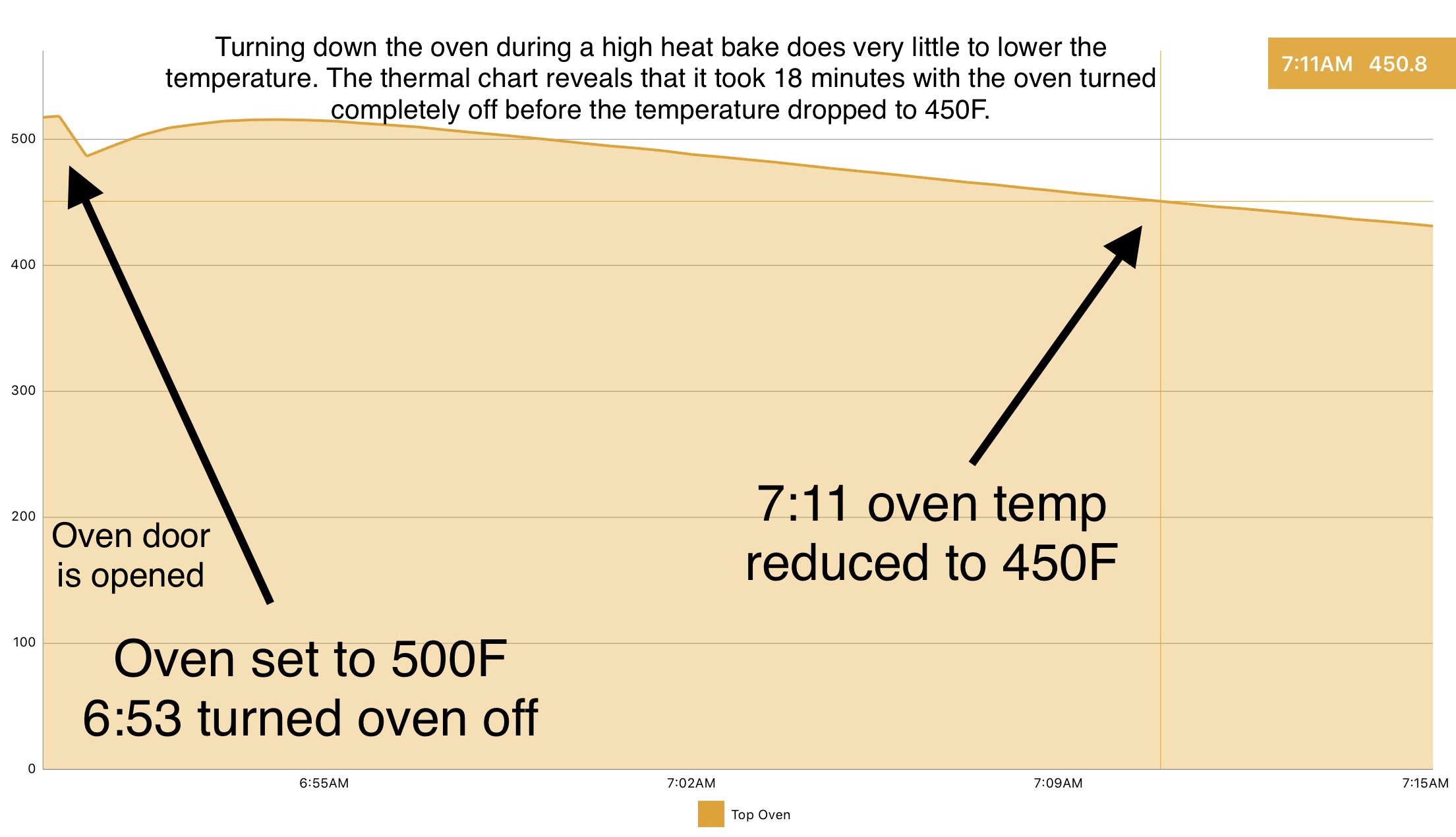 The chart above was logged with the temperature probe placed 1 inch away from the baking stone. The oven had already baked 2 loaves and remained set at 500F for at least a coupe of hours. At 6:53 the oven door was opened and at that time the oven was also turned completely off. It took 18 minutes with the oven off for the temperature probe to register 450F. The actual drop was 67 degrees F.
From this I conclude that if we want to noticeably reduce the oven temperature during a bake, it is best turn the oven off and open the oven door for a predetermined time. As of yet I have no idea what that duration of time might be. The top left side of the chart above shows a quick reduction in temperature when the door is opened, but recovers quickly once closed.
- - - I am challenging another concept. The pros do, so we do it. Inject steam initially, then at some point vent the oven to remove it. I use a home oven so we know that it is not a sealed unit. But recent test of never venting the oven during the duration of the bake is producing very good results. My breads have a very chewy crust. This method seems to tenderize the crust ever so slightly. - - -
I hope other bakers will challenge the status quo. It is not irreverent to question the things we hold dear. Instead of being insulted when our beliefs are proven wrong, shouldn't we rejoice in the truth? The truth needs no crutch, and it sets us free...
With that said, maybe my observation above is wrong. And if it is, I want to know...
Danny