Oat Porridge SD (Community Bake)
I followed most instructions of Maurizio with a few minor changes:
1. Using extra thick rolled oats instead of regular oats. Yes, Maurizio emphasized on using regular oats but I always use what I have on hand. Why didn't I coarsely pulse them in my food processor? Well, who wants to dirt it up for 60 g of oats? Not me... Therefore, I upped the water for the porridge slightly.
2. Adding cold porridge to the dough. I made the porridge ahead of time and refrigerated it. The trouble of letting it warm to room temperature was just too much for me.
3. Subbing half of the whole wheat with spelt. To compensate, I held back 10 g of water (approximately 4.2% of dough hydration excluding porridge).
4. Upping the leaven from 15% to 20% to suit my schedule.
5. Reducing the amount of salt from 2.5% to 2.08%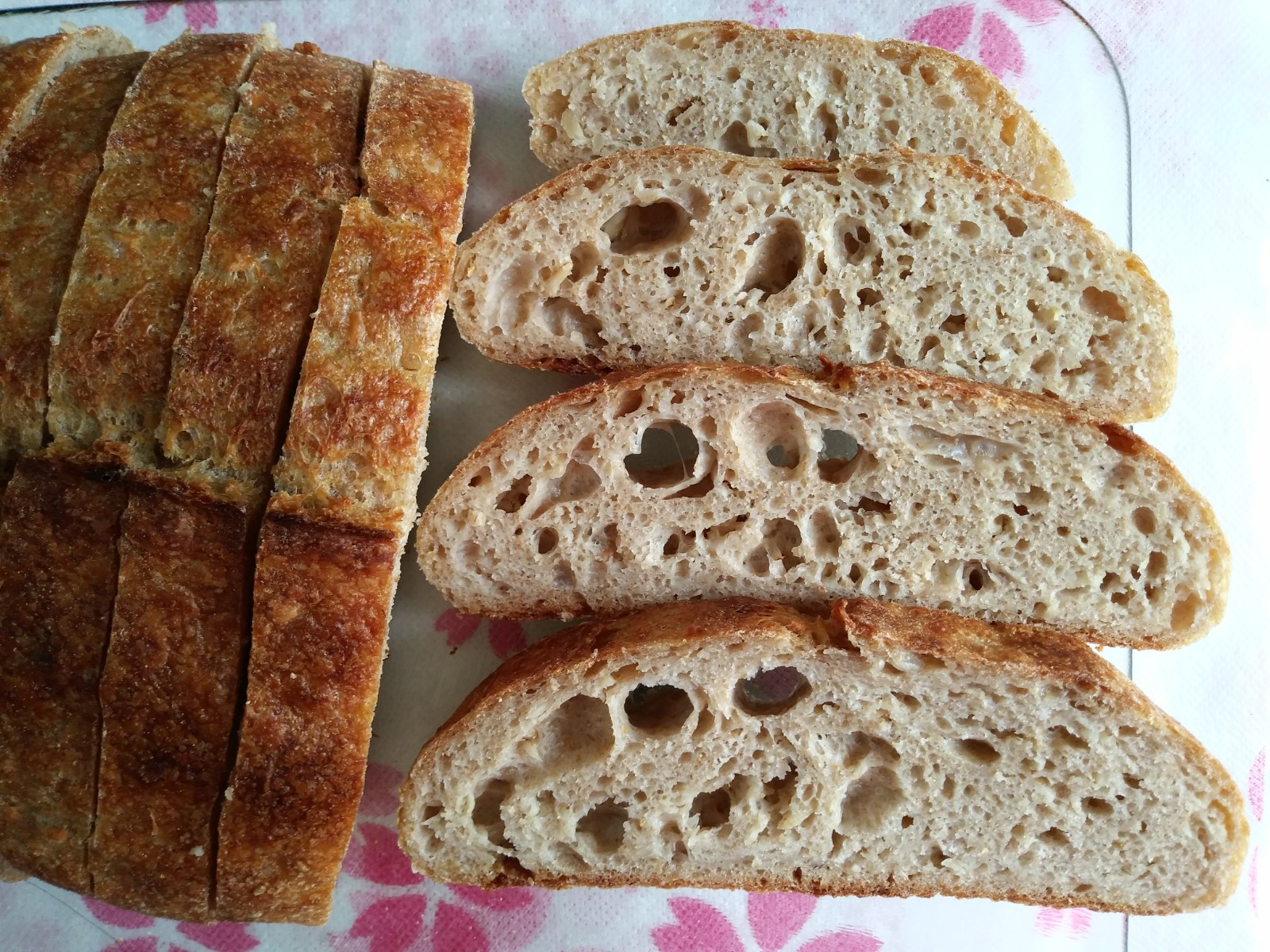 (Almost) Maurizio's Oat Porridge Sourdough
Dough flour:
168g      70%       Bread flour
36g        15%       Whole Red Fife wheat flour
36g        15%       Whole spelt flour
For porridge:
60g          25%       Extra thick rolled oat
125g     52.1%       Water
For leaven:
8g          3.3%       Starter (half rye, half whole wheat, 100% hydration)
20g        8.3%       Bran sifted from dough flour + extra whole wheat/spelt flour from dough flour
20g        8.3%       Water
For dough:
220g      91.7%       Dough flour excluding bran + flour for leaven
150g      62.5%       Water
48g           20%       Leaven
5g          2.08%       Salt (1.67% including porridge)
__________
244g      101.7%       Total flour (dough flour + starter, excluding porridge)
174g        71.3%       Total hydration (excluding porridge)
304g      126.7%       Total grains (including porridge)
299g       98.4%       Total hydration (including porridge)
First, I sifted out the bran from the whole grain flour (8 g) and supplemented with additional whole grain flour (12 g) to yield 20 g. Then, all leaven ingredients were combined and let sit until doubled, around 3 hours (28°C). 
Make the porridge by bringing the water to a boil and pour the oats in. I turned off the flame and let them sit for 20 minutes. It was then refrigerated until used.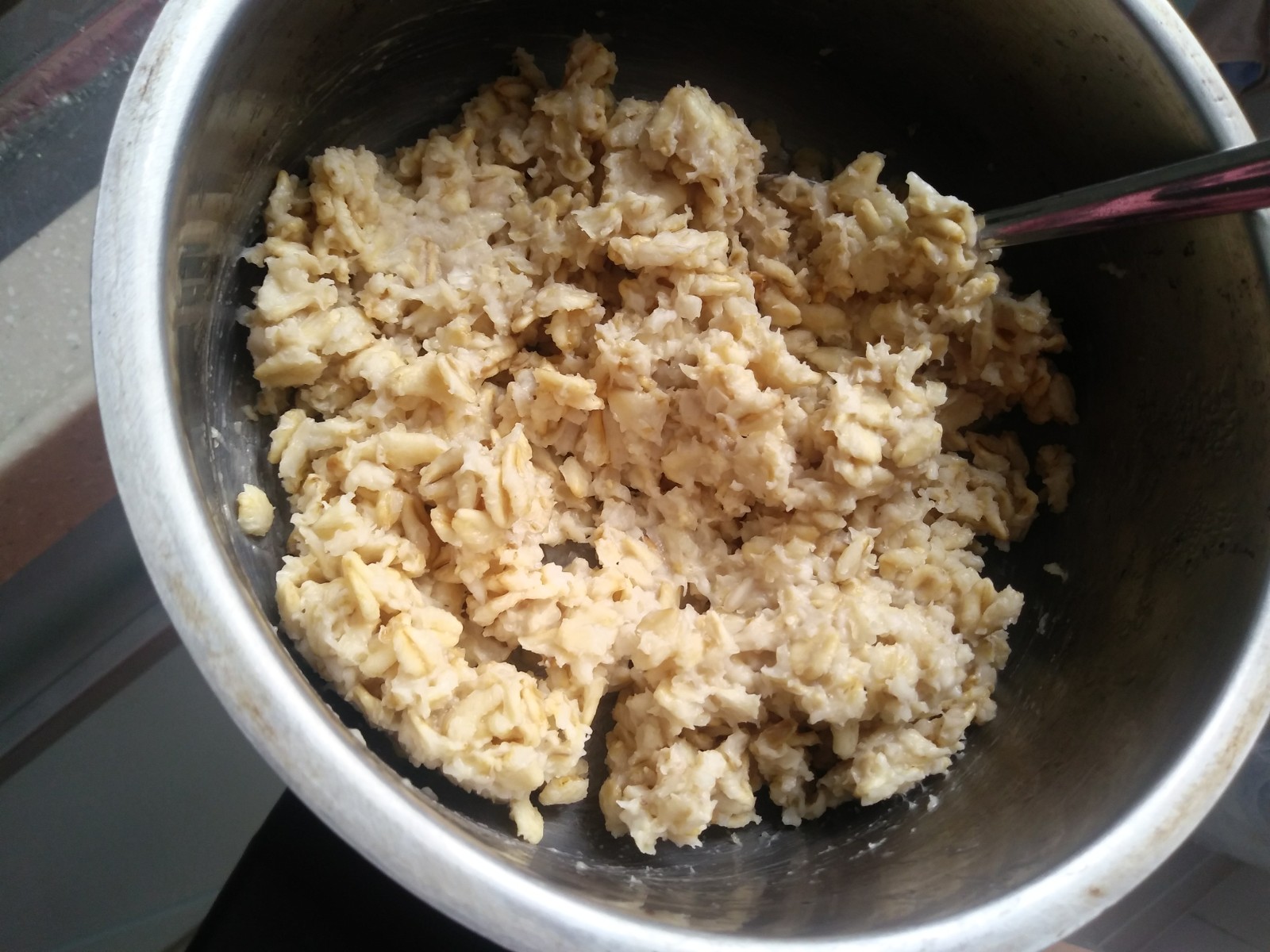 Cooked porridge
After that, all dough ingredients except the salt were mixed for 1 hour psedo-autolysis. The salt and cold porridge were then folded in to ferment for 3 hours 15 minutes longer. A total of 3 sets of stretch and folds were constructed at the 1 hr, 1 hr 30 minute and 2 hour mark.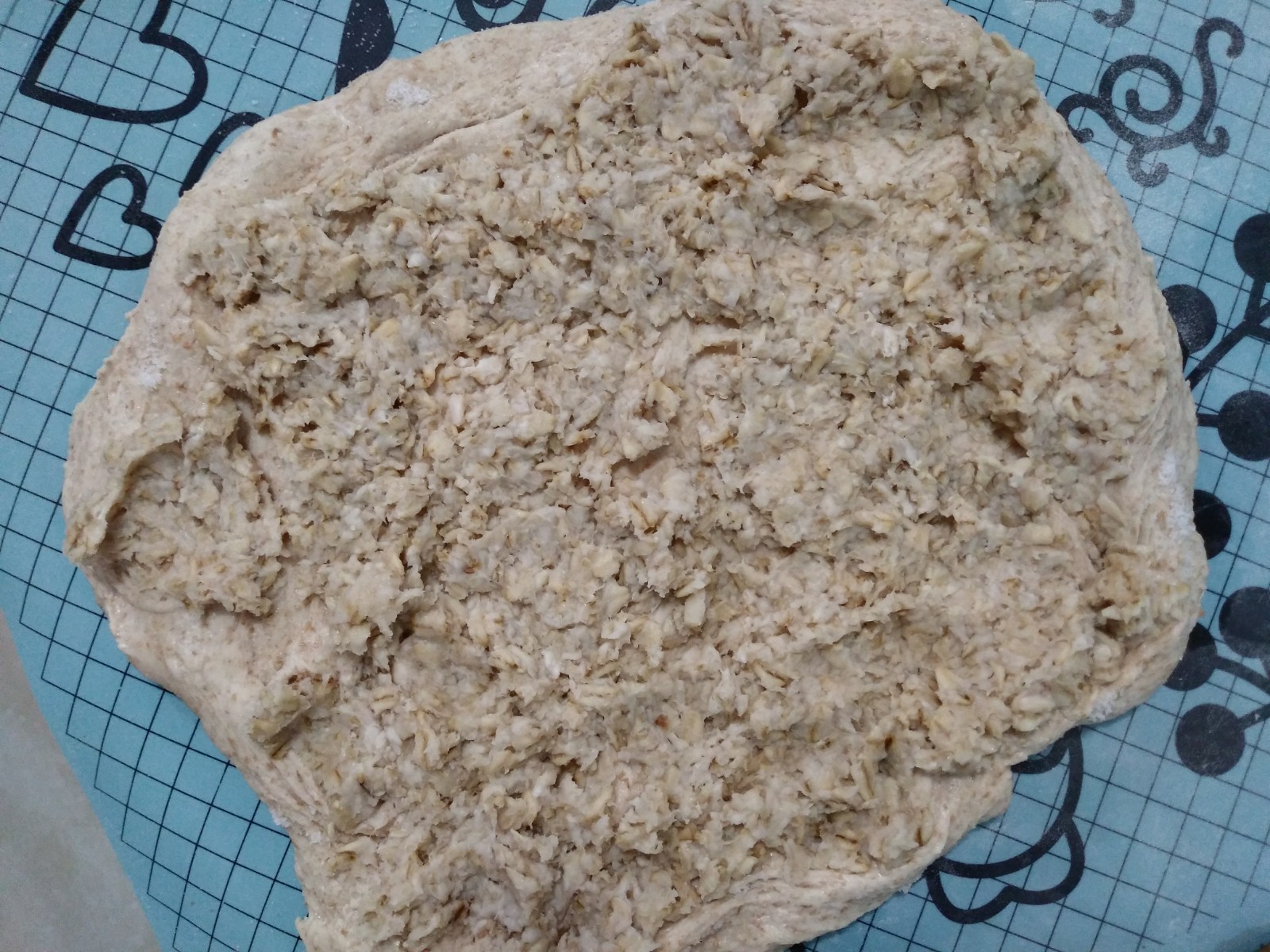 Incorporating the salt and porridge
The dough was directly shaped (no pre-shape because it didn't need it) and put in into a banneton. It was retarded for 9 hours.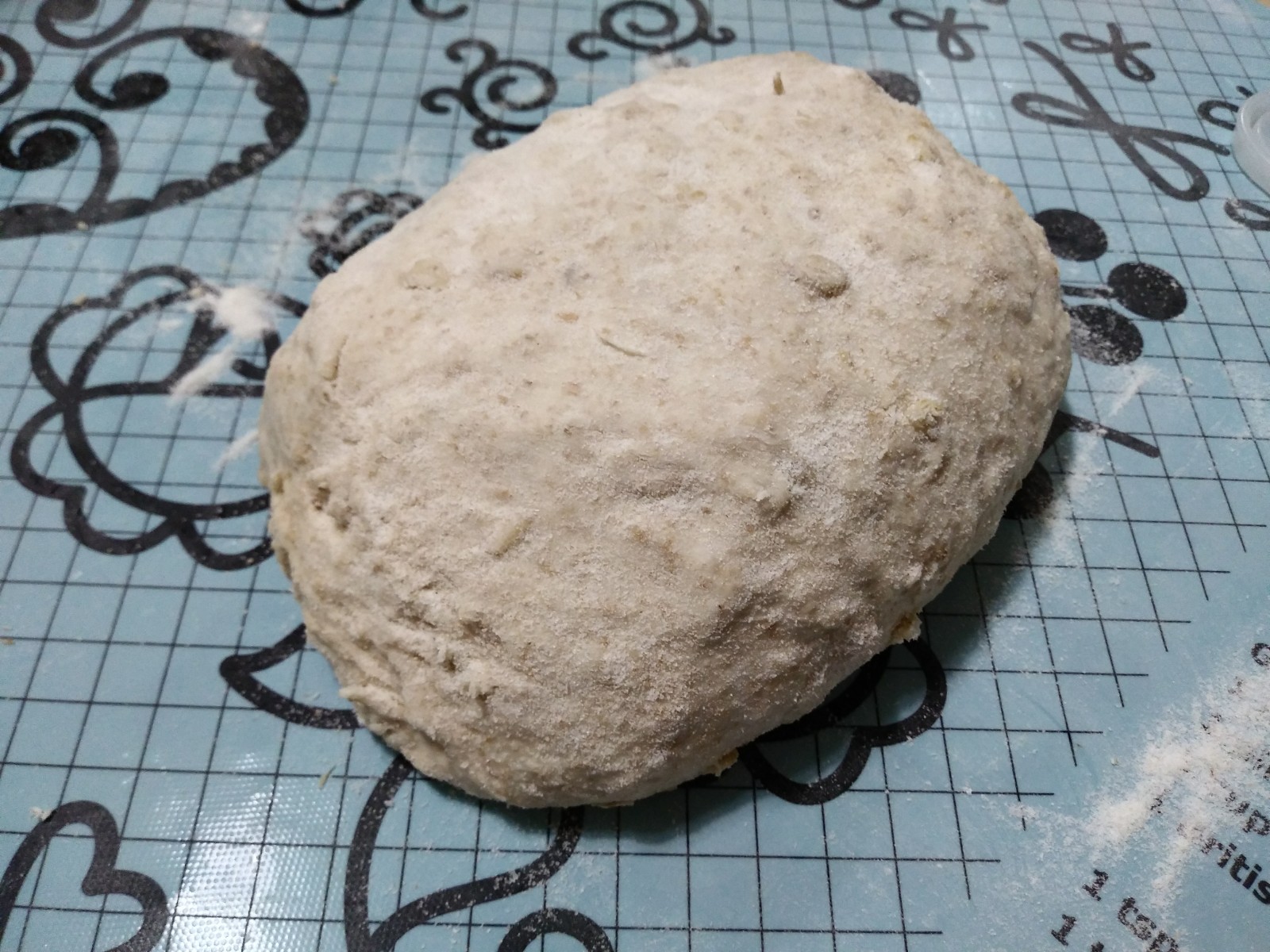 Shaped dough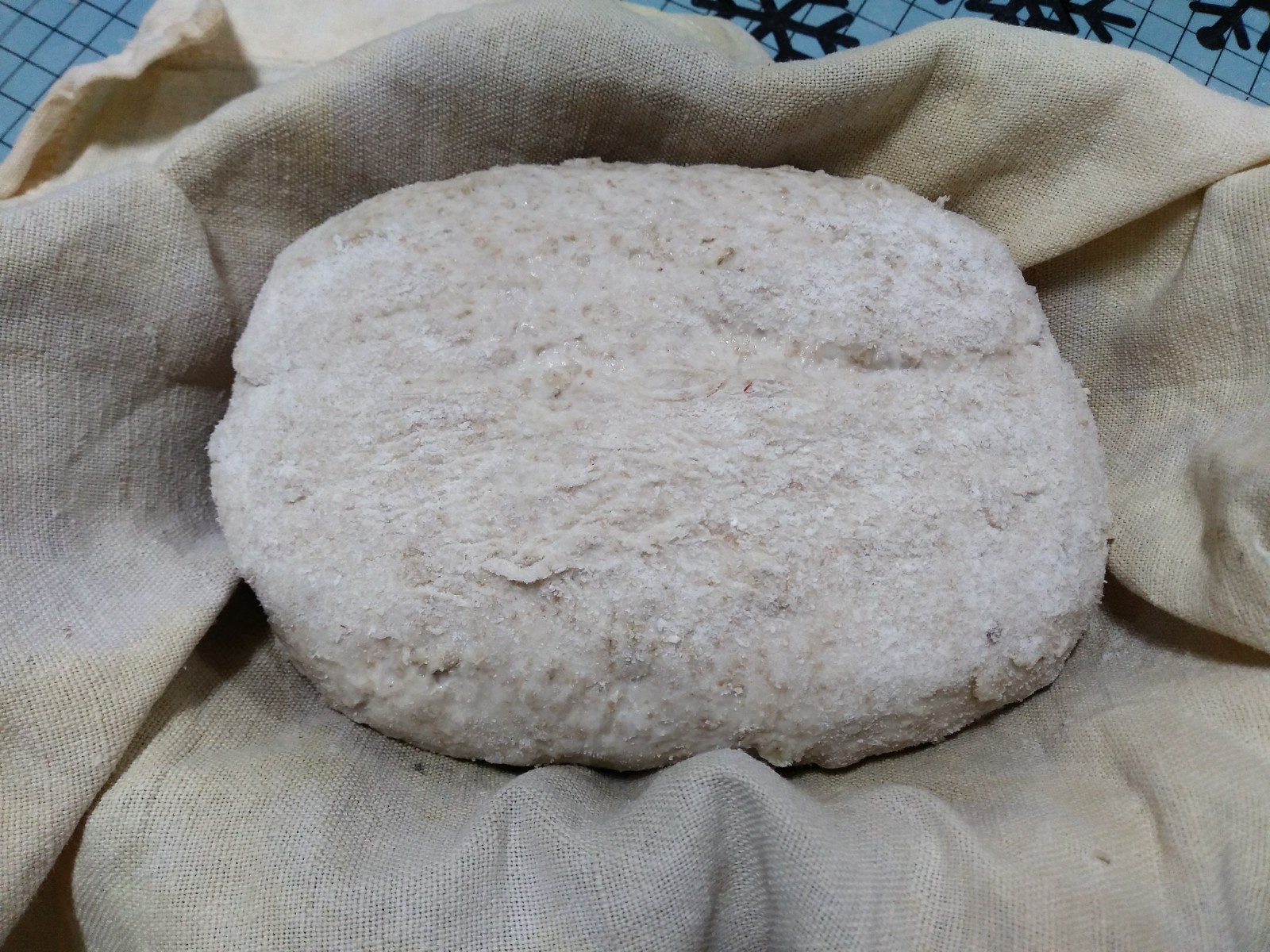 Before retard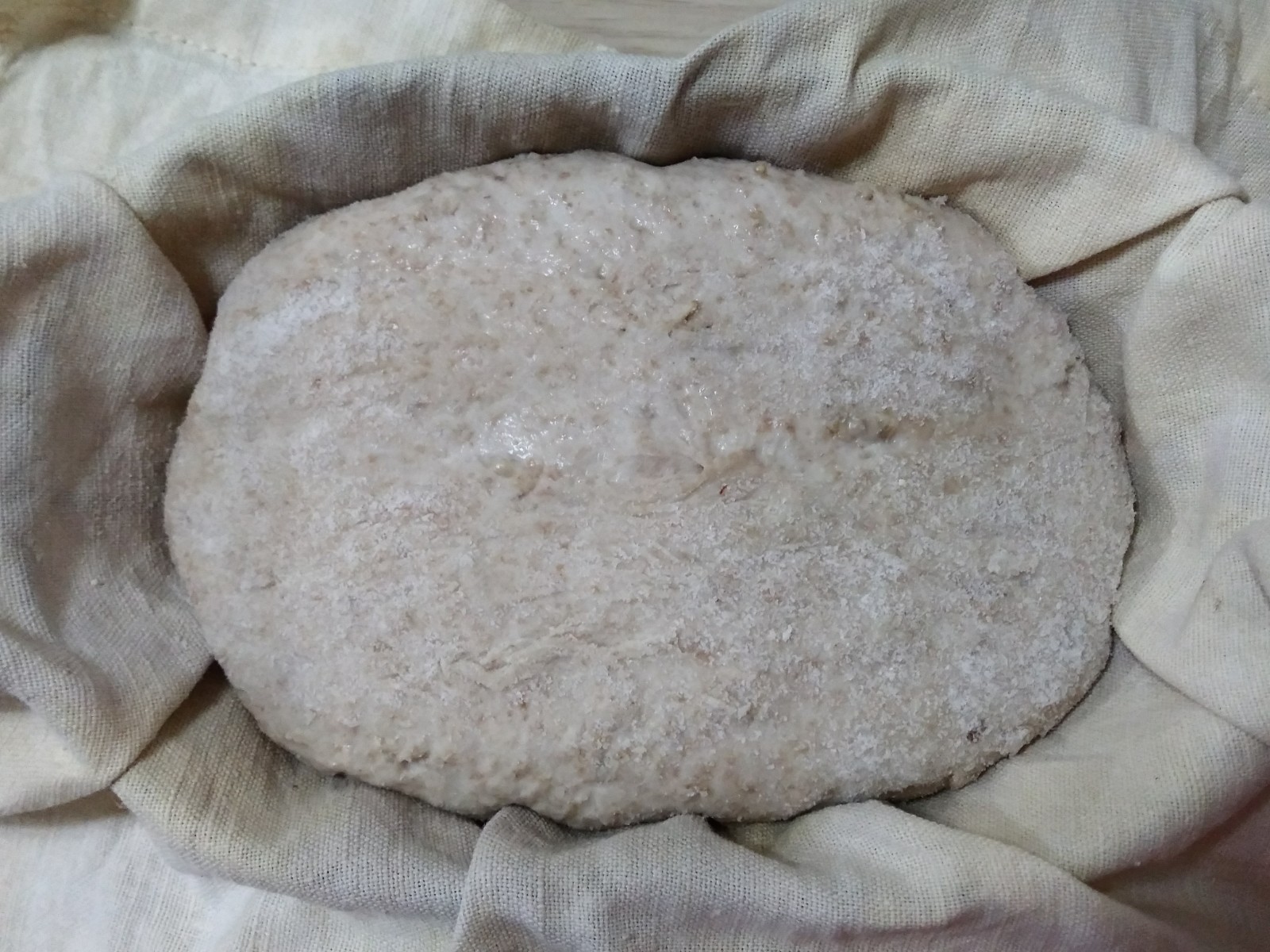 After retard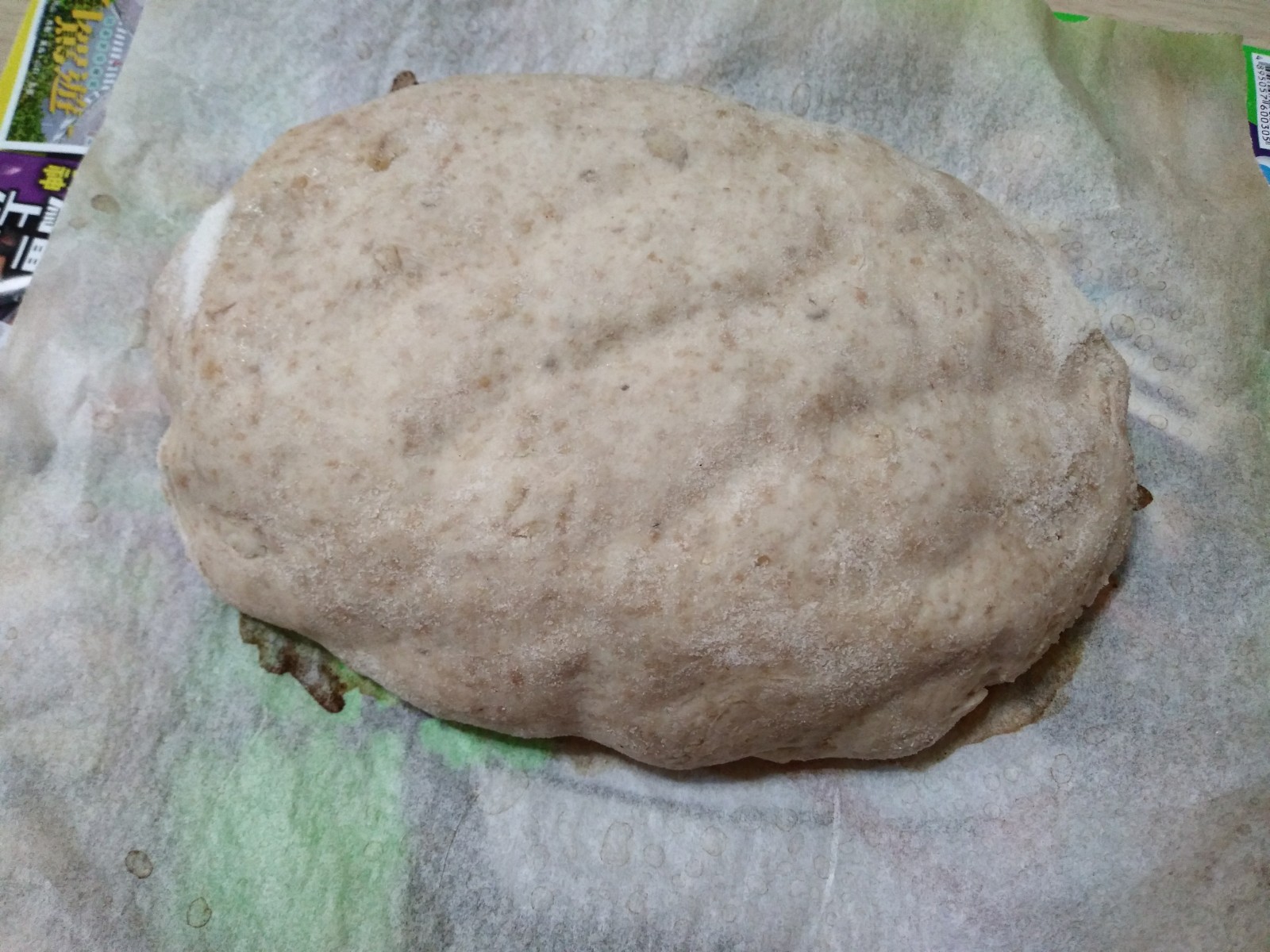 Unmolded, before slashing
The oven was preheated at 250°C/482°F. I scored and spritzed the dough, and baked it directly from the fridge at 250°C/482°F with steam for 20 minutes then without steam for 20 minutes more until the internal temperature reached 203°F. It was cooled for 1 hour before slicing.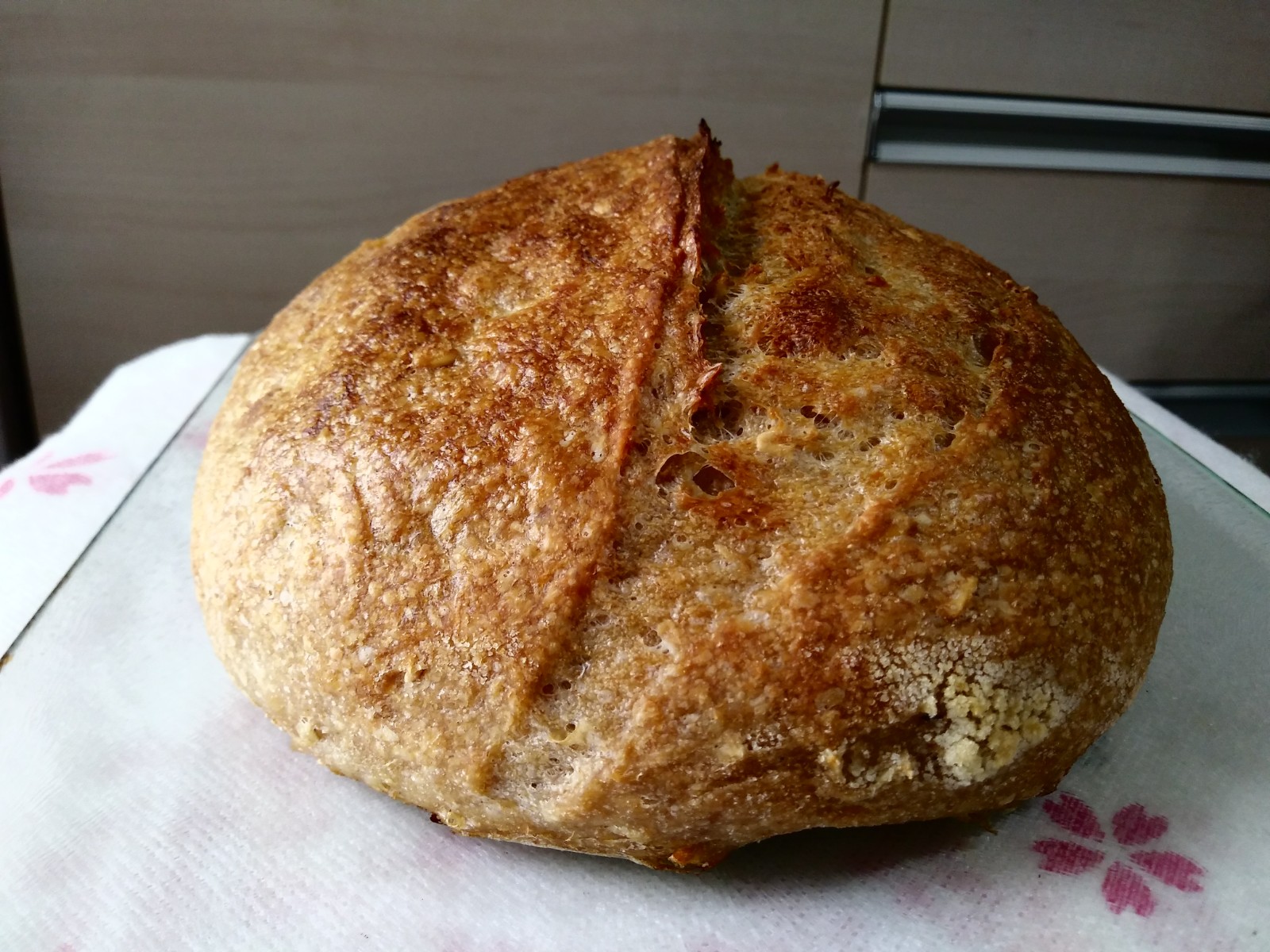 The dough was a bit sticky but quite stiff, probably because I lowered the hydration and used extra thick rolled oats. It was way less extensible than my usual 30% whole grain dough so I reduced the set of folds constructed.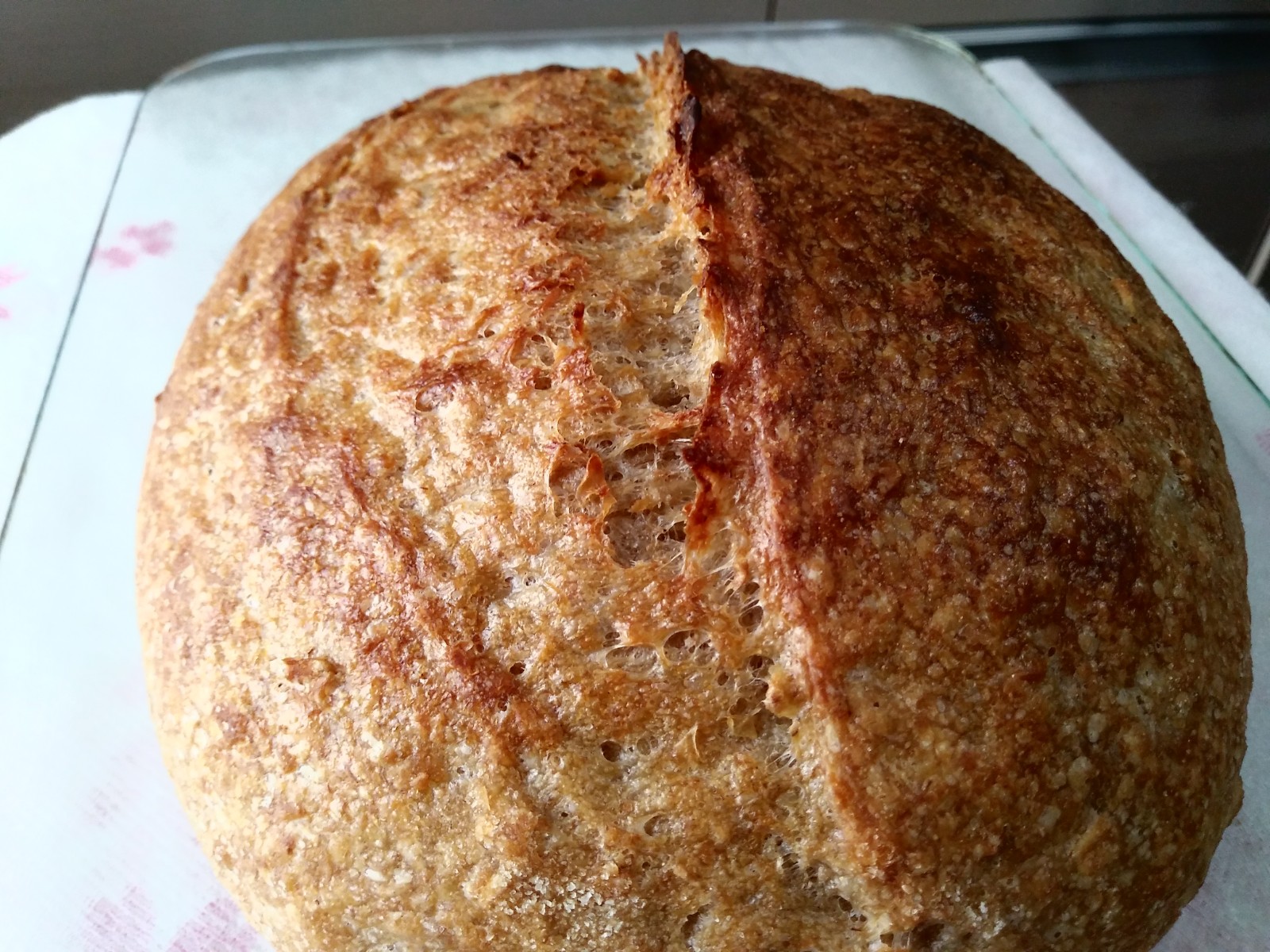 The texture is typical of porridge bread: very moist and springy. The bread tastes rather flat compared with my regular bread. It's slightly sweet but has almost no acidity. Of course it wouldn't be fair if I'm comparing it with my sprouted and freshly milled 100% whole grain bread. However, its taste is still milder than my other 30% whole grain loaf. I guess the oats, which are pretty bland, muted the overall flavor…. Hmm…perhaps I should have toasted the oats…?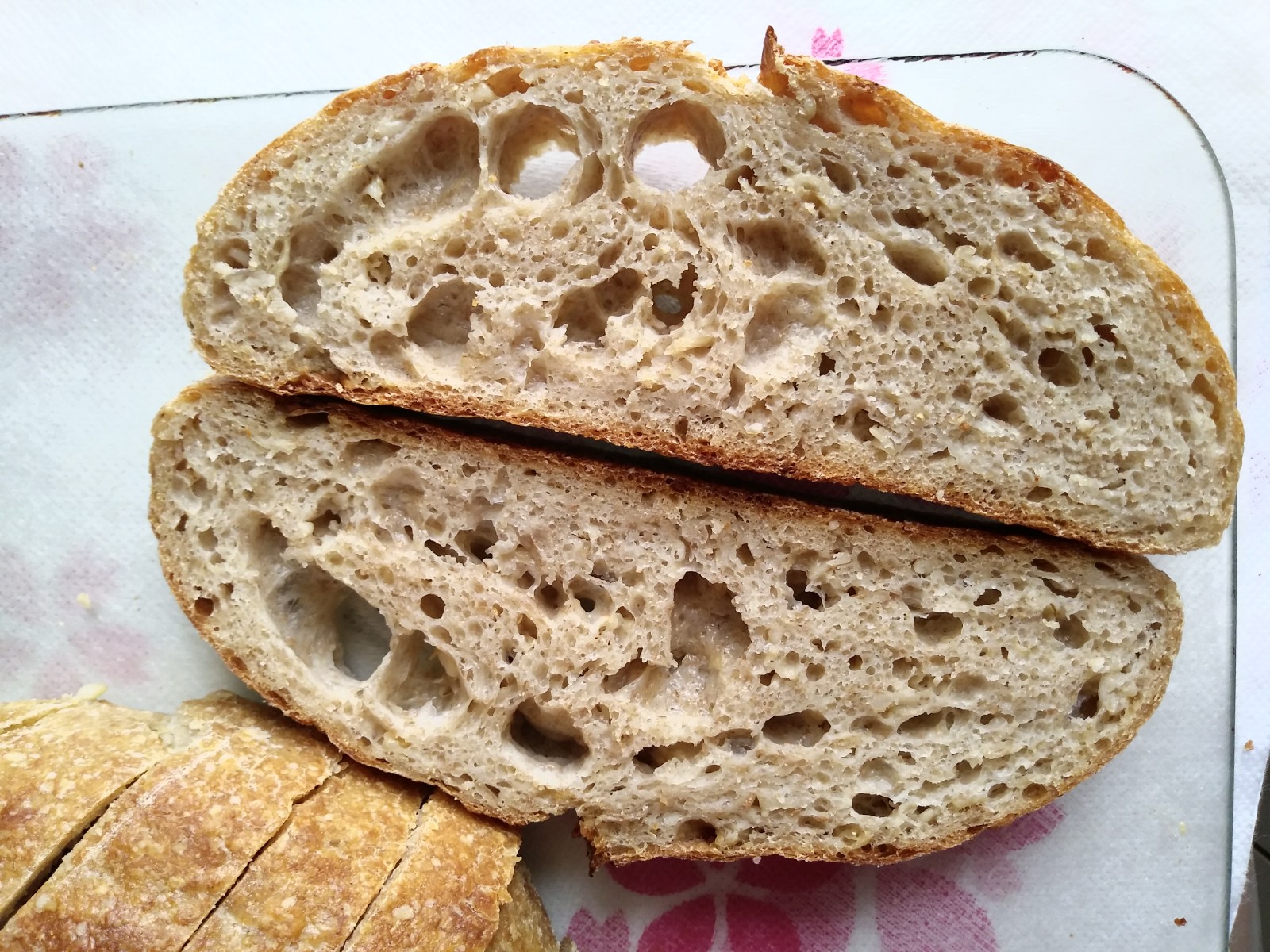 Under-proofed :(