February 26, 2019 - 2:37pm

I decided the time had come for a little experiment to try and shed some light on the dark art of bulk fermentation and the influence different percentage volume increases might have on the final loaf.

I started with a pretty standard dough recipe as follows:

Initial mix

    10% wholegrain emmer flour
    10% emmer flour sifted #40
    80% bread flour
    7.7% prefermented flour @ 56% hydration
    0.15% diastatic malt
    75% hydration (69% + 6% bassinage)
    1.8% salt
  


Process  

    20 mins autolyse + 10 mins fermentolyse
    Add salt, then malt
    Mix 2 mins LS, 2 mins HS (Famag)
    Add bassinage on lowest speed
    Bulk ferment at 25C (see below)
    Preshape to 2 x 900g, BR 20 mins
    Shape to 2 batards
    Overnight retard in fridge
    Morning bake at 230C with steam for around 30 mins.


Bulk Ferment Details

    1st bake:
    Coil folds at 1hr & 2hr
    Duration: 5hrs 05min
    Volume increase: 71%
   
    2nd bake:
    I had to go out during most of bulk time, so I was only able to do one coil fold at 20 mins, so I increased HS mix time to 2mins 30secs
    Duration: 3hr 55min
    Volume increase: 40%
   
Differences

Both bakes produced good loaves, but with some differences:

1st bake
more spread on the peel
less loft
less oven spring
more open crumb

2nd bake
kept its shape better on the peel
more loft
more oven spring
slightly less open crumb
browned quicker in the oven
took slightly longer to cook
First bake: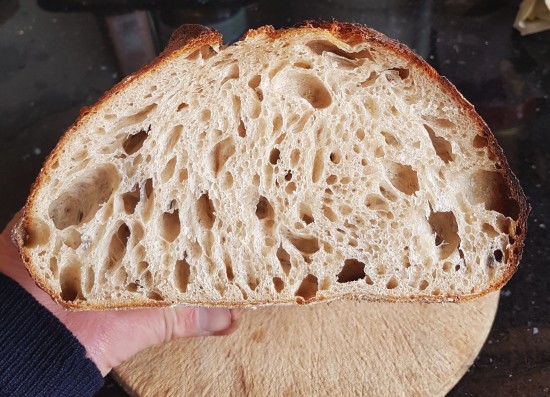 Second bake: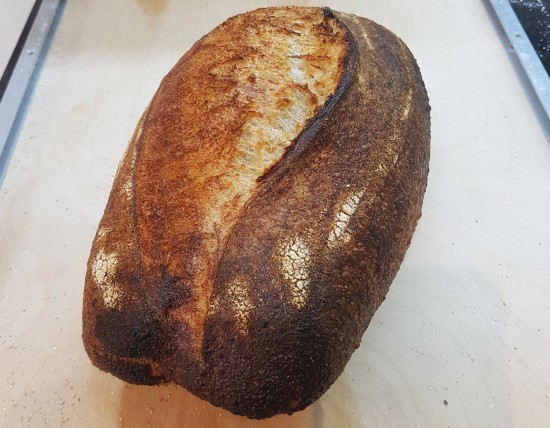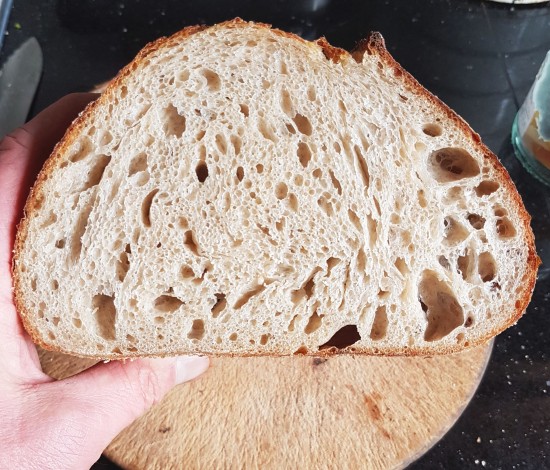 Summary
It appears that there is flexibility in bulk volume increase, as you would imagine, but you can expect differences in the final loaves. These differences will no doubt become more pronounced if higher percentage volume increases are allowed to happen.
Lance