January 13, 2019 - 11:50am
Troubleshooting Zingermans Raisin and Pecan Sourdough Bread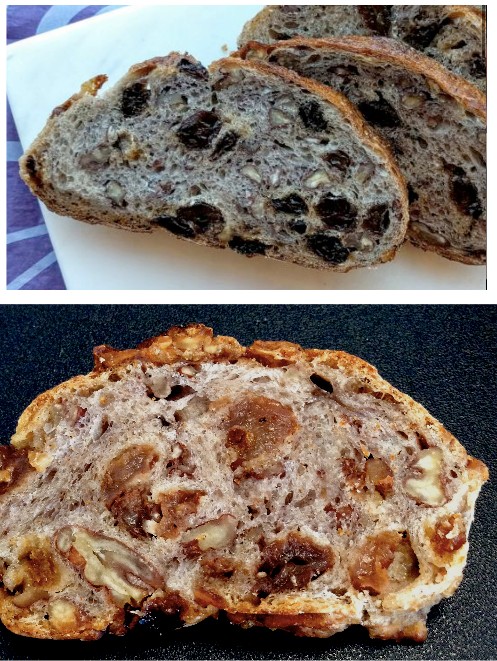 Hi There,
I've been experimenting with Zingermans Bakehouse cookbook and tried making their Pecan and Raisin sourdough bread. The above photos display the difference between Zingermans bread (taken from their website) and my baked bread. The top photo is Zingermans and the bottom is my little abomination.
I'm not really happy with the crumb ... it seems less 'holey' or open(?) as Zingermans. Is it underproofed, improper handling of dough during bulk fermentation, underbaked? Or is this as good a crumb as can be expected given that there is such a high volume of raisins and pecans? The ratio of pecans and raisins to flour was 1.3 by weight. Any help would really help. I'll detail some specifics of the procedure below in case it helps any:
1. Mix starter with water, flour, salt and knead by hand for 6 mins. -- I kneaded until the dough could hold it's form but was still sticky.
2. Knead raisins and pecans into dough for another 2-3 mins.
3. Ferment dough for 1 hour.
4. Stretch and fold and ferment for 1 hour.
5. Stretch and fold and ferment for 1 hour and 45 mins.
6. Stretch and fold and ferment for 1 hour. 
** The internal temp of bread during bulk fermentation was between 79 - 85 degrees. The dough seemed a little on the tighter side vs. loose during bulk fermentation but the dough had good elasticity based on the window pane test. I know the window pane test isn't always accurate but the dough didn't immediately tear ... which was what I wanted to avoid. **
7. Shape dough into baton and proof for 2.5 - 3 hours. ** I ended up proofing for 2 hours 15 mins. after checking it via the poke test and seeing how large the bread had expanded. The recipe specifically said to test the bread via these visual cues in order to judge doneness.
8. Bake at 450 degrees. ** I baked at 400 degrees because my oven runs hot.
** I bake in a toaster over (I know ... weird) and as a result I can't use a steamer system or a dutch oven (too large). I do preheat the oven with a tray which I then fill with water as the bread goes in to bake. It's not much but it's the best I can do create some steam.
** I used my starter vs. the starter recipe that was suggested in the recipe. My starter, Odo, is a year old and is vigorous. I have made Tartine sourdough breads with him in the past without too much trouble.
I would appreciate any help in figuring out why my bread isn't as airy. Any notes on technique or what I should be looking for in the bread dough during bulk fermentation or proofing ... Is this what's to be expected when making a sourdough bread with fillings like fruit and nuts? Thank you to anybody reading this and willing to help.