October 29, 2018 - 4:41am
Do Nothing Bread by Yohan Ferrant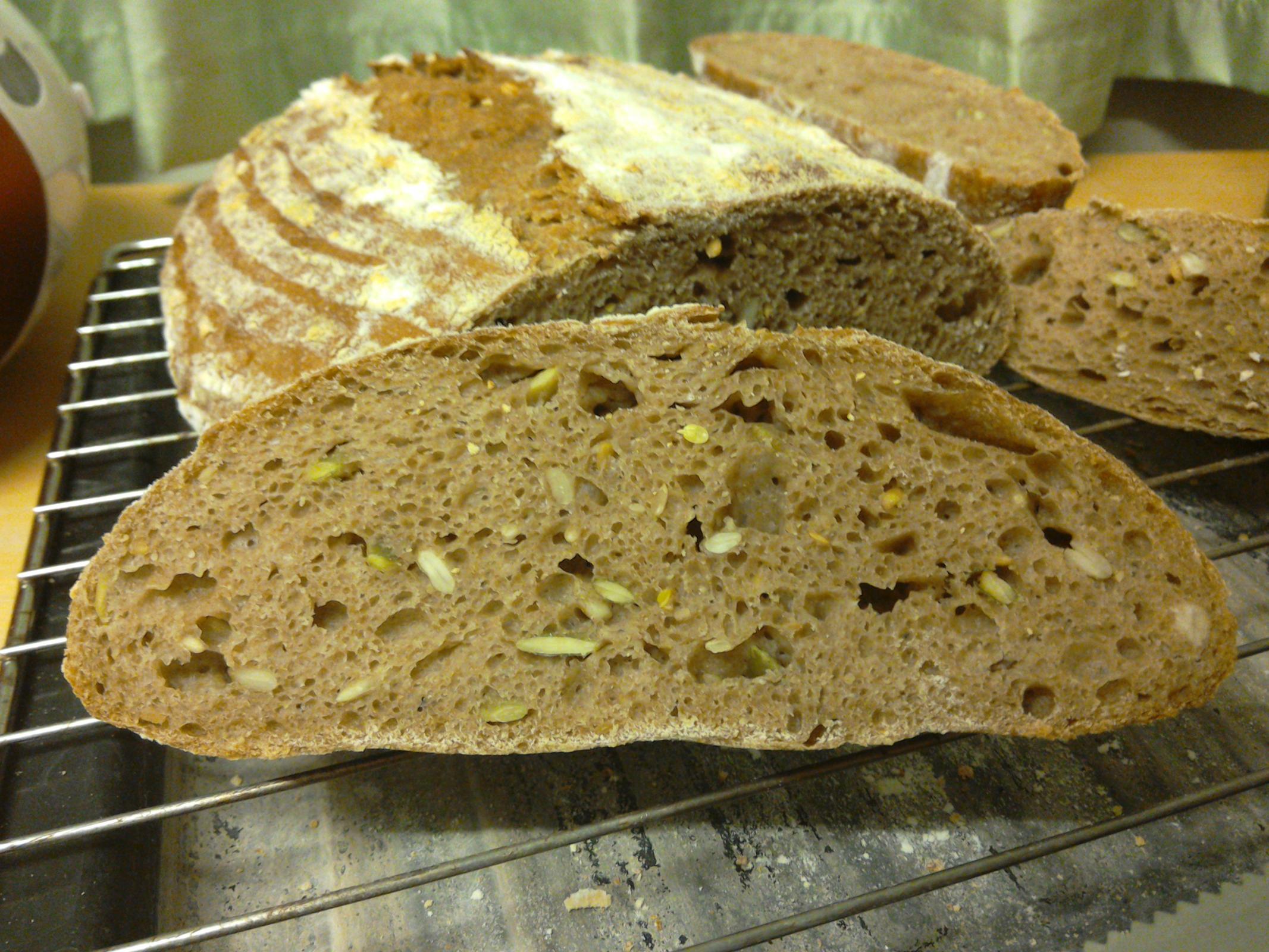 Formula:
Flour 100% (60% whole-wheat, 40% bread flour)
Water 90%
Salt 2%
Starter 1-2% (after re-watching the video he actually used 0.5% so what the actual formula is another discussion)
Recipe:
Turkey Red flour 270g
Bread flour 180g
Water 405g
Salt 9g
Starter 4-5g
+ seed mix (sunflower, flax, pumpkin and sesame)
Method:
Mix flour and salt *
Disperse starter into water.
Add the water to the flour and combine.
Bulk ferment for 24 hours [although I should point out that many find 24 hours too much and mine was ready within 16 hours even using just 1%].
The recipe calls for one set of stretch and folds around half way through but I did a couple more to ensure the seeds are dispersed well.
Shape and final proof for 1 hour or so - the shaping doesn't call for a pre-shape and nor does it require the same level of "perfection" as one usually finds but rather a quick "no fuss" shaping. However I did the usual with a pre and final shape.
Bake.
This is the recipe that Teresa Greenway has based her San Francisco style bread on. The results are very nice indeed. Very flavoursome with a pronounced tang but the Turkey Red and seeds bring other flavours to the final loaf which compliment each other. Crumb shot to follow.
* Please note that while I did sit through the videos sometime ago the masterclass is quite a lot of talking without any "walking through" the recipe. For this bake I went from memory and from Teresa's video on the recipe where she starts after the bulk ferment with some explanation as a follow on from Yohan's class. My friend has just pointed out there is an autolyse which I assume is with the starter and minus the salt. I'm assuming the 1% starter would be part of the autolyse as it'll be difficult to distribute afterwards.