100% WW Cooperative Baking with Texasbakerdad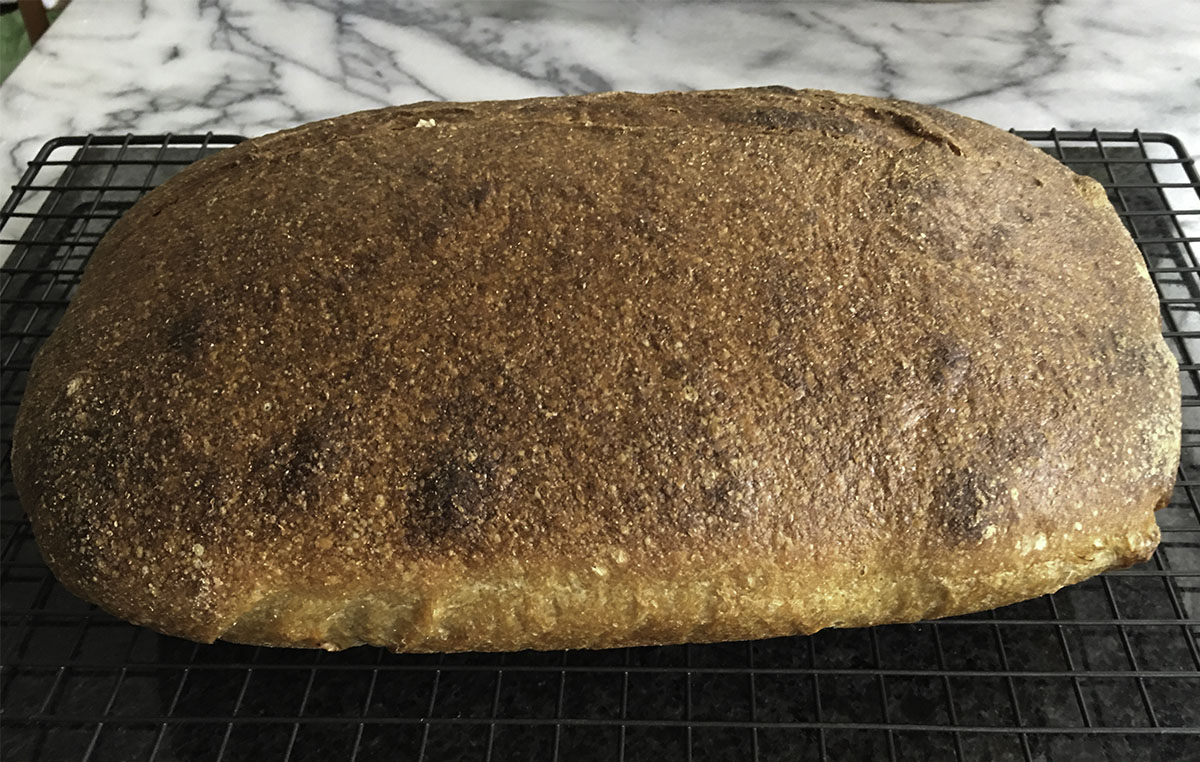 Same recipe, different results! Well, at least it tastes much better than it looks -- even the texture! When I first sliced it open, I thought it was going to be really dense and gummy. Thank goodness it doesn't taste that way. And it was even my fussy eater who remarked, spontaneously, that the texture didn't taste at all the way it looked like it would. But I didn't get anywhere near the lovely results that texasbakerdad did. And, while we won't have any difficulty eating this, my goal is to bake lighter, airier loaves than this one.
I just lost a whole post trying to edit things to get all my photos in the right spot in relation to the text, so I'm going to write it all out first and put the photos of the details at the end. I'm hoping that someone can help me figure out where I went wrong (I do have some ideas, but don't know if they're correct).
We started with this recipe, from PiPs: http://www.thefreshloaf.com/node/33735/home-bread-fighting-gravity
The main changes I made to it are as follows: I cut the recipe in half; I retarded in the fridge for 15 hours rather than 12; my proof was unavoidably at about 10F warmer; and I decided to try texasbakerdad's suggestion of baking in a cold DO/clay baker, when I realized that my banneton would not hold all the dough once it started to rise -- I figured that would make our experiment more comparable, anyway.
So, for half a recipe:
"Final starter" (levain): 46g starter + 93g freshly milled 100% organic Hard Spring White Wheat (used throughout) + 60g water.
AL: 950g white WW + 804g water
Final dough: 174g final starter + AL, French fold for 5 minutes, then
add 22g salt and 50g water, mix and French fold for 10 minutes.
All ingredients were used at room temp.
Day before: refreshed my rye starter with a mixture of leftover white whole wheats (Hard Spring Winter Wheat and White Sonora) and a tiny bit of spelt, twice, refrigerated fairly young.
Day of: starter out of fridge at 6am, at
11am someone still sleeping in in the living room, preventing milling of wheat, so refreshed starter again, with Red Fife.
3pm -- mixed "final starter" (levain). ambient temp 80.6.
5pm -- started AL, ambient temp 82.6F
6pm -- mixed final starter and AL. Dough very wet, shaggy, and loose, very challenging to do slap&folds because it kept wanting to come apart, I hoped the salt would tighten it up.
Mixed in the salt and the 50g of water that had been held back. By
6:22pm -- started on the next round of slap&folds. The more I worked with the dough, the shaggier and looser it got until it just completely came apart. I let it rest 10 minutes; when I started again, it was more cohesive, but after just a couple of minutes got loose, shaggy, eventually coming apart again. I repeated the 10-minute rest, and this time the dough stayed cohesive longer, but was pretty loose by the 50th slap&fold and was coming apart by the 80th. At this point it was more than 30 minutes since I'd mixed in the salt, so I decided I should stop. I didn't think I was harming the dough, because it became more cohesive after each round of kneading and resting, but I don't really know.
7:10pm -- in tub for bulk proof.
8:10pm -- stretch & fold -- the dough felt both more cohesive, and a little airier, although it didn't look different than it had an hour before.
8:11pm -- into 37F fridge.
Day 2:
11:00am -- out of the fridge; it had risen a little, some bubbles present, felt lighter and airier, came out of its tub easily and in a cohesive mass
Preshaping was a dream with chilled dough
11:08am -- 30-minute bench rest, with the dough holding its shape throughout
11:38am -- Shaping: I had difficulty flipping such a large mass of dough smoothly, so my shaping came out a little uneven, but it was so much easier to work with the still-chilled dough than with warm dough, I would a convert to retarding the bulk for that reason alone; the other (surprising to me) reason is that the dough tasted much sweeter after spending the night in the fridge than it did before it went in
11:43am -- into a piece of parchment paper on a cold clay baker to proof. Ambient temp 82.6F, 10F warmer than recommended in recipe, which proofed for 1.5 hours. My dough would continue to proof in the preheating oven, so at
12:13pm -- when I can see that it's already looking proofy, I think, score, spritz, and
12:19pm -- it's in the oven, turned on to 500F so that it will eventually reach 480F
1:03pm -- finally at 480F; I notice a crusty smell, check under the cover and the crust is formed and brown, so I remove it
1:17pm -- the crust is very dark brown, I turn the heat down to 425F
1:56pm -- internal temp 210.6F, I take it out to cool, seriously disappointed with the lack of oven spring and bloom when compared to texasbakerdad's gorgeous photos.
9pm -- I slice it open, and panic because it looks gummy. Thank goodness it doesn't have a gummy mouth feel when eating!
The main differences between what I did and what texasbakerdad did:
I used freshly milled flour. We both used white whole wheat.
It looks like he used all 199g of the levain, I used the 174g specified by the recipe.
He mixed by machine, I mixed by hand; he omitted the kneading, I valiantly tried to make it work, though the dough was behaving very strangely, getting looser instead of more cohesive with kneading, and tighter rather than more relaxed with resting.
My bulk ferment was one hour at room temp, fifteen in the fridge; his was 1.5 at room temp, 1 in the fridge, 2 at room temp.
He divided his dough in half and baked two loaves, I baked one large loaf.
He proofed for 4 hours before putting into the oven, I proofed for 30 minutes.
He soaked his Romertopf lid; my baker came with instructions not to soak, so I didn't, but did spritz the dough.
He doesn't mention how long it took his oven to get to 480F per recipe, or if he went all the way to the 550F he set it for. My oven took almost 45 minutes to get to 480F.
He 
He waited 6 hours before slicing, I waited 7.
So, is my loaf underproofed? Or overproofed, as usual?
The levain in this recipe is at 18%. That seems like a lot, especially in my kitchen, where nearly everything overproofs?
Why did the dough behave the way it did during kneading? What, if anything, should I have done differently at that point?
Should I have subtracted my extra kneading time from the initial 1-hour bulk ferment at room temp?
Could I have taken it out of the oven at some point early in the preheat and scored it, instead of before putting it in the cold oven? Would that have made any difference?
Any other thoughts?
Final starter:
Bulk into fridge:
The next morning:
Before preshaping:
Preshaped:
Beginning proof:
Crumb shot:
For some reason the crumb shots landed above the shot of the dough, scored after a half hour of proofing, but I've already spent hours trying to get this post up, so I'm going to leave it as is.
Hopefully all these photos will help someone figure out where I went wrong.