Lesson Learned pretaining to Slap & Fold
Looks like a number of us have recently jumped aboard the Slap & Fold train. The technique is not new, and many of us were late to join. I thought it good to share our experiences here so that we can exponentially increase out knowlegde concerning this technique.
All I know so far is what I've learned from others that came before me. HERE is a VIDEO for those that are new to the techniques.
1 - Others have mentioned the value of resting the dough for short (5-10) minutes or so inbetween sessions. I just finished resting and then continuing the Slap & Folds. Boy, did the dough get nice and supple during the rest. Too bad I didn't think to take pictures.
2-  Be careful when returning to Slap & Folds after rest. My dough went from supple to slight gluten shredding after only a few fairly aggressive cycles. UPDATE -Originally, I failed to mention I am using KA AP flour. That mght have an affect on the shredded dough. Maybe, as Dab mentioned below I should have rested the dough longer. - End UPDATE (I hope others will elaborate on this) Be gentle after resting...
UPDATE - I elected to use Coil Folding instead of gentle Slap and Folds to replace Stretch & Folds after the initial dough development attained from Slap & Folds.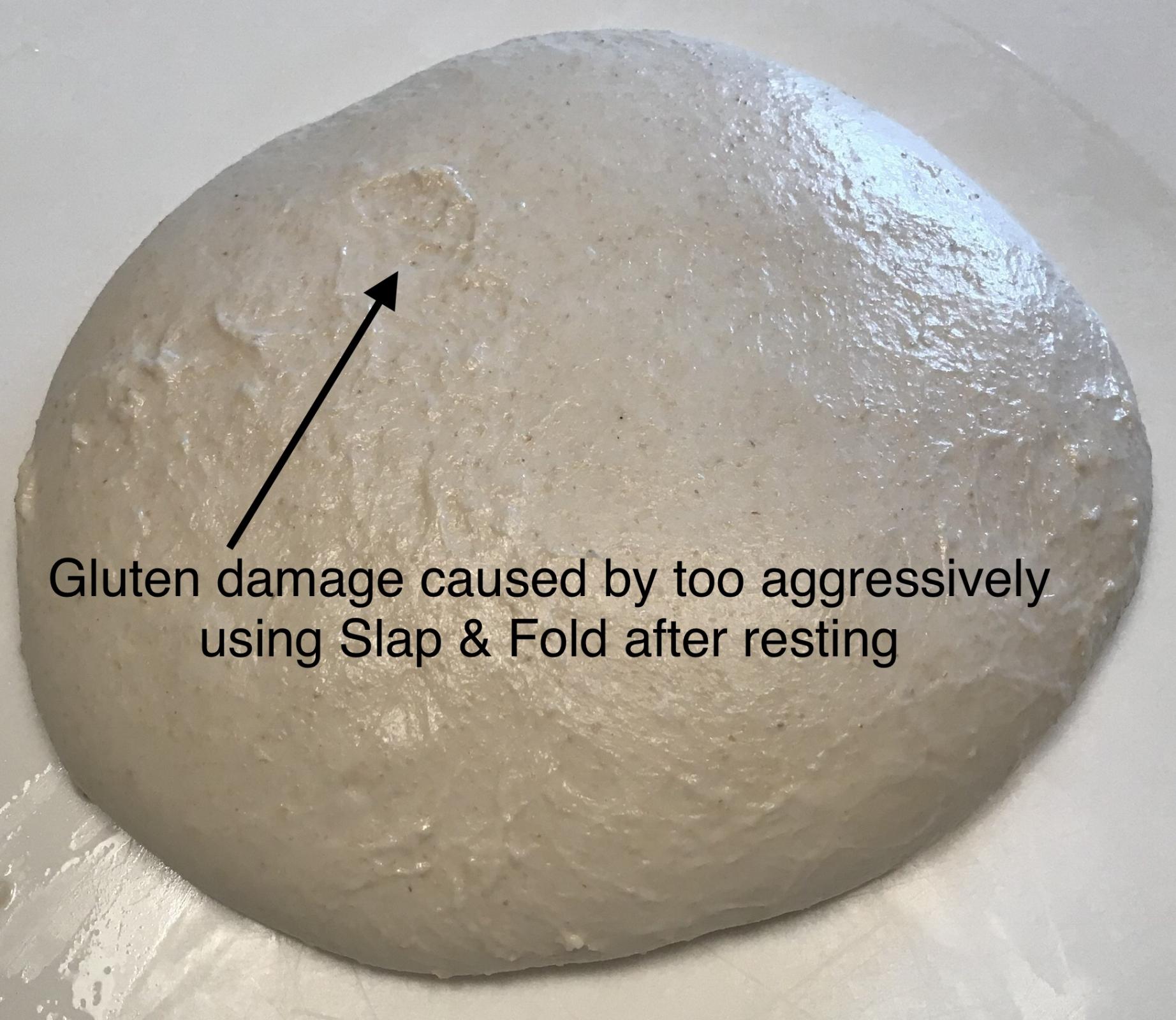 A
3-  I think I stumbled on to something really nice. I am preparing a 123 SD. I choose Slap & Folds (because they are so much fun) but the dough is somewhat dry for this procedure. Since I was willing to increase the hydration, I decided to try wetting my hands in order to introduce more water. Low and behold, it worked great. I was able to slowly and precisely increase the hydration to a point were the Slap & Fold "sweet spot" began. I imagine "Double Hydration" or "Bassinage" would be the correct term for adding additional water to the dough.
The reason for this post is definitely not to promote myself as an authority on Slap & Fold. I am in the infant stages of learning this technique. Hopefully others will join in with personal observations, lessons learned, and other valuable information that will enable us to learn this technique more thoroughly together.
Dan