Jeff Hertzberg, the co-author of Artisan Bread in Five Minutes a Day writes in his introduction that the quest for an authentic deli-style rye bread like what he grew up eating was what started his obsession with bread baking. The result is an extremely tasty rye bread that even the most inexperienced baker ought to be able to bake successfully.
Jeff Hertzberg's Deli-Style Rye
Makes 4 one pound loaves

Dough:
3 cups lukewarm water
1 1/2 tablespoons dry yeast
1 1/2 tablespoons salt
1 1/2 tablespoons caraway seeds
1 cup rye flour
5 1/2 cups unbleached all-purpose flour

Wash:
1/2 teaspoon corn starch
1/2 cup water

Topping
1-2 tablespoons caraway seeds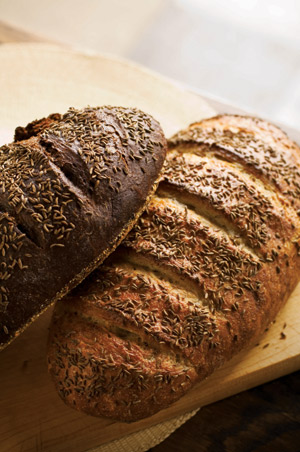 Photo: Mark Luinenburg
Mix the yeast, salt, and caraway seeds with the water in a large bowl or container. Mix in the remaining dry ingredients with a spoon until they are thoroughly combined. Don't worry about kneading, but you want to mix until there are no more lumps of dry flour. Use wet hands to do this, if necessary.
Cover the dough loosely and allow it to rest at room temperature until the dough rises and collapses, approximately 2 hours.
The dough can be used immediately, though it is recommended to cover it and refrigerate it for anywhere from 1 day to 2 weeks.
On baking day, dust the surface of the refrigerated dough with flour and cut off a 1 pound chunk (roughly the size of a grapefruit). Dust the piece with more flour and quickly shape it into a ball by stretching and rotating it. Elongate the ball into an oval-shaped loaf. Allow to rest and rise on a cornmeal-covered pizza peel of cookie sheet for at least 40 minutes.
Twenty minutes before baking, preheat the oven to 450 with a baking stone on the middle rack. Place an empty tray on another shelf in the oven.
Using a pastry brush, paint the top crust of the loaf with the wash and sprinkle on the additional caraway seeds. Slash deep parallel cuts across the loaf using a serrated bread knife.
Slide the loaf off of the tray onto the baking stone. Pour 1 cup of hot water into the other pan and quickly close the oven door. Bake for about 30 minutes, until the loaf is deep brown and firm. Allow to cool before slicing and eating.
More tips on baking this recipe on artisanbreadin5.com.
Read a Q & A with Jeff Hertzberg and Zoë François, the co-authors of Artisan Bread in Five Minutes a Day.
Jeff Hertzberg's Deli-Style Rye