Abel's Ziggy as sesame semolina
Another in Abel's ongoing postings of embarrassingly wonderful bakes:  His Ziggy stoneground loaf from mid-January caught my fancy, and I was sure that when the time was appropriate, I'd try my hand at his scoring technique here.  Well, the time is appropriate.  With neighbors coming over for some wine, bread and cheese this afternoon, I figured, why not now?
This is my version of the Hamelman 125% liquid levain hydration semolina loaf.  I use a rye levain instead and apply a boatload of sesame seeds in the way that I learned from David Snyder's post from oh, so long ago.  Baguettes were scored with my curved razor lame.  Ziggy was scored with my ceramic knife - another new tool for my baking toolbox, and another new scoring technique for my baking pleasure.
25% Bread Flour, 60% Durum, and 15% Rye (all in the levain).  At an overall hydration of 67%, this bread is a little hard to French Fold after a 20 minute "autolyse" with the levain included, fighting me along the way.  
Once the bulk rise begins, it become very manageable and extensible.  Two hours with folds at 40, 80 & 100 minutes in my warmer than most kitchen.  Then the standard routine, overnight nap in the refrigerator, divide and shape in the morning, couched and then shoved back in to retard for a few hours more.  Probably in the vicinity of about 15 hours total retard. I dunno, didn't pay too much attention to that small detail.
460dF oven for 13 minutes with mega steam, and then rotate and 13 minutes more with 2 minutes of venting.
I likely scored Ziggy a little deep, but really can't complain about the eye-candy effect of it at all.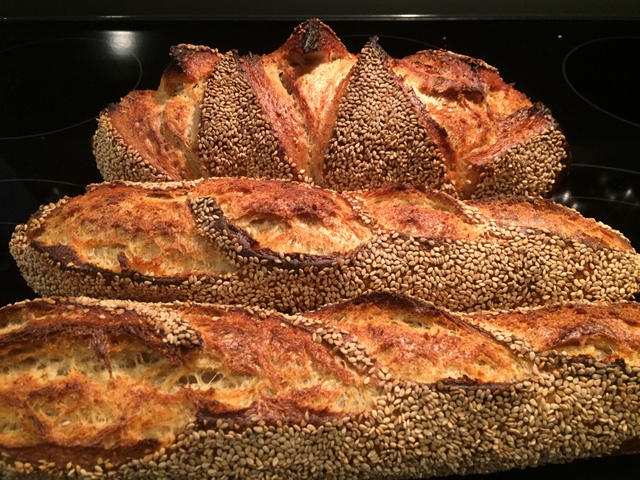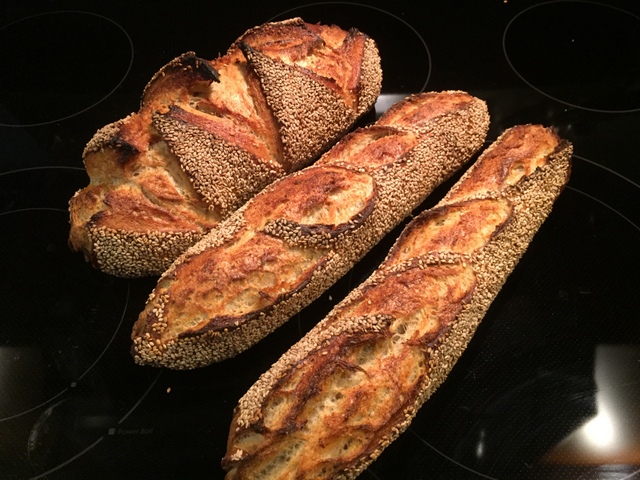 1x700g batard, 2x400g long batards/baguettes
alan