December 18, 2007 - 4:42pm
Cranberry-Orange Oatmeal Drops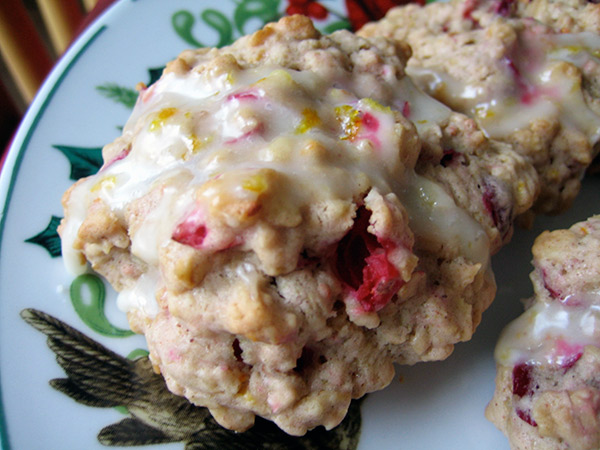 I made these for the first time this year. They are excellent!
The recipe is from an old Better Homes and Garden cook book
.
Cranberry-Orange Oatmeal Drops

1 cup all-purpose flour
1 teaspoon baking powder
1/2 teaspoon ground cinnamon
1/4 teaspoon ground nutmeg
1/2 cup softened butter
3/4 cup brown sugar
1 egg
1/4 cup milk
1 teaspoon shredded orange peel
1 1/2 cups rolled oats
3/4 cup chopped cranberries
1/4 cup chopped walnuts

Orange Glaze

1 cup powdered sugar
1/2 teaspoon shredded orange peel
1/4 teaspoon vanilla extract
1 to 2 tablespoons orange juice
Cream the butter, brown sugar, milk, and eggs. Mix in dry ingredients (flour, oats, baking powder) and spices. Mix in the nuts and cranberries.
Drop tablespoon scoops of dough onto a greased baking pan. Bake at 375 for 11-14 minutes.
As the cookies cool, make the glaze by mixing together the sugar, orange peel, vanilla, and enough orange juice to make the icing drizzle-able. Glaze the cookies with the icing and allow to cool.